Seven UCD researchers awarded IRC funding under COALESCE programme to confront societal challenges
Posted 02 November 2020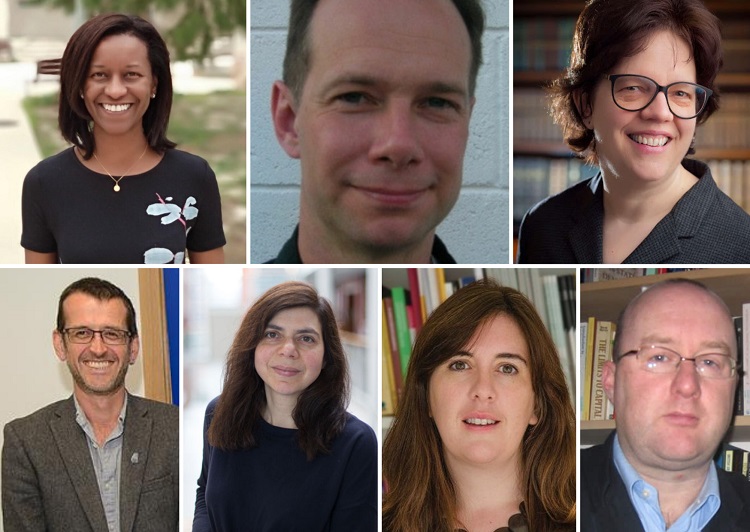 Dr Flavia Santos, Dr Graham Finlay, Professor Kathleen James-Chakraborty, Professor Graeme Warren, Professor Eugenia Siapera, Dr Karen Keaveney and Associate Professor Declan Redmond
Seven UCD researchers have been awarded funding under the Irish Research Council's programme to confront national and global societal challenges.
The Collaborative Alliances for Societal Challenges (COALESCE) scheme will see a total of €5.3 million invested into a number of projects covering a range of issues, including public health information during COVID-19, the effects of the climate crisis on migration, and the right to conscientious objection.
Each project is led by a Principal Investigator in Social Sciences or Humanities in collaboration with a co-applicant in STEM.
In total 21 awards were granted, of which UCD researchers were awarded seven – the highest number among Ireland's higher education and research institutions.
The UCD Awardees are:
"We are very proud to see UCD's achievements in this year's COALESCE scheme, which highlights the great value and impact of social sciences disciplines in tackling key societal issues nationally and globally," said Professor Colin Scott, College Principal of UCD College of Social Sciences and Law, and UCD Vice-President for Equality, Diversity and Inclusion.
"Our researchers are known for taking innovative approaches and collaborations in diverse themes ranging from economic policy, child and youth well-being and health to identity conflict and inclusion and geographies, societies and the environment. We wish our awardees every success in these significant projects."
Acting College Principal of UCD College of Arts and Humanities, Professor John Brannigan added: "We welcome UCD's success in this year's scheme, its aim to enable and drive innovation and interdisciplinarity in societal challenge research echoes the core principles of our own research strategy for 2020 to 2024 at UCD College of Arts and Humanities.
"We offer congratulations to Professor Kathleen James-Chakraborty and Post Doctoral researcher Dr Zhengfeng Wang, also of UCD Humanities Institute, and all the other awardees announced this week.
"Arts and Humanities research in STEM collaborations can achieve genuine policy impact and meaningful, positive change in people's lives."
Since its formation, the COALESCE programme has run in partnership with various government departments and agencies, including: the Central Statistics Office; the Irish Human Rights Equality Commission; the Health Service Executive Sexual Health and Crisis Pregnancy Programme; the Department of Children and Youth Affairs; Geological Survey Ireland; the National Parks and Wildlife Service; Met Éireann; and the Department of Foreign Affairs.
Now in its third cycle, the research fund and its partners have to date invested €11.8m in projects focused on societal issues.
"The COALESCE fund provides a unique opportunity for researchers to break down barriers between different disciplines and collaborate with peers across different sectors and departments, which will deliver results that will benefit every facet of Irish society," said Director of the Irish Research Council, Peter Brown.
"Addressing these challenges is a key priority for us at the Irish Research Council... [the] research carried out under the COALESCE fund has the potential to make a significant contribution to public policy in Ireland and further afield.
"Government departments are moving towards expert-led, evidence-based research in response to current priorities and policy needs. The call for 2021 will see even more government departments partnering with the fund, which will open up new areas for research."
By: David Kearns, Digital Journalist / Media Officer, UCD University Relations