UCD graduate who co-developed COVID-19 vaccine honoured at 2021 UCD Alumni Awards
Posted 22 November 2021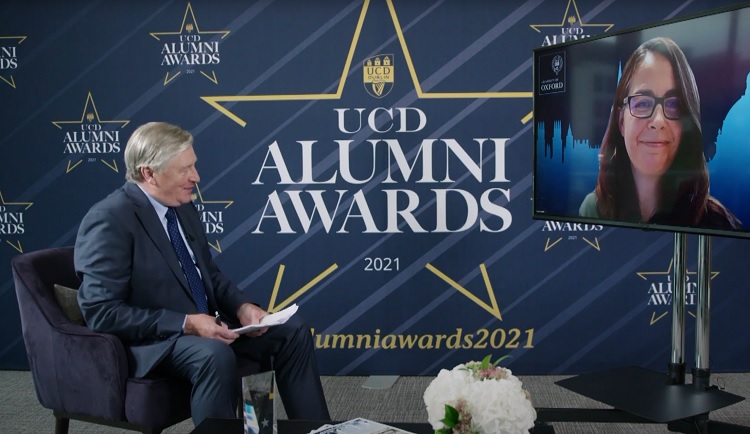 A graduate from University College Dublin who played a pivotal role in the fight against COVID-19 has been recognised at the 2021 UCD Alumni Awards.
Associate Professor Teresa Lambe was the Principal Investigator at the Jenner Institute, which oversaw the University of Oxford's development of Oxford-AstraZeneca – a vaccine that has been administered to nearly half a billion people worldwide.
The Kildare native worked for 10 months to co-developed the vaccine, leading the pre-clinical studies required to allow clinical trials to commence in April 2020.
Professor Lambe, who completed her graduate studies at UCD in 2002 as well as studied pharmacology and molecular genetics at the University in 1997, is an Associate Professor and Principal Investigator in the Medical Sciences Division at the University of Oxford.
She was awarded the 'UCD Alumni Award in Science' at this year's Alumni Awards, and was one of nine high achievers from UCD whose outstanding accomplishments were recognised.
The other worthy recipients of the 2021 Alumni Awards were:
UCD Alumni Award in Arts and Humanities: Neil Jordan, BA 1972.
UCD Alumni Award in Health and Agricultural Sciences: Dr Michael Ryan, MPH 1992.
UCD Alumni Award in Business Olivia Maguire, BComm: 1997 & MBS 1998.
UCD Alumni Award in Law: Fiona McEntee, BCL 2005.
UCD Alumni Award in Sport: Leo Cullen, BA 1999.
UCD Alumni Award in Research, Innovation and Impact: Ann O'Dea, BA 1990 & MA 1992.
UCD Alumni Award in Engineering and Architecture: Liam Madden, BE 1979.
UCD Alumni Award in Social Sciences: Caitríona Palmer, BA 1993.
Introduced in 2014 to acknowledge the achievements of notable gradates in a wide variety of fields and disciplines, this year's awards were held digitally in a virtual ceremony hosted by Pat Kenny.
Neil Jordan, BA 1972 - UCD Alumni Award in Arts and Humanities
Born in 1950 in Sligo, Neil Jordan began his career as a writer. His first book of stories, Night In Tunisia (1976) won the Guardian Fiction prize.
Since then he has published eight novels: The Past (1979), The Dream Of A Beast (1983), Sunrise With Seamonster (1994), Shade (2005), Mistaken (2011), The Drowned Detective (2015), Carnivalesque (2017), and most recently The Ballad of Lord Edward and Citizen Small.
In 1982 Jordan wrote and directed his first feature film Angel, and has written, directed and produced more than fifteen films, including Company of Wolves (1984), Mona Lisa (1986), The Crying Game (1992), Interview With The Vampire (1994), Michael Collins (1996), The Butcher Boy (1997), The End Of The Affair (1999), In Dreams (1999), Breakfast On Pluto (2005), Ondine (2009), Byzantium (2013) and Greta (2018).
He has also written, directed and produced the two-time Emmy winning television series The Borgias (2011 – 2013). His films have been honoured with numerous awards worldwide, including an Oscar (Best Original Screenplay – The Crying Game), BAFTAs, Golden Globes, A Golden Lion from The Venice Film Festival (Michael Collins) and a Silver Bear from the Berlinale.
Associate Professor Teresa Lambe, BSc 1997 & PhD 2002 - UCD Alumni Award in Science
Teresa Lambe is an Associate Professor and Principal Investigator in the Medical Sciences Division at the University of Oxford. She completed her graduate studies at University College Dublin, Ireland, before continuing her post-doctoral training in 2002 under the guidance of Professors Richard Cornall and Sir John Bell at the University of Oxford, moving to the Jenner Institute in 2009.
Her chief research interests involve collaborative 'team science' approaches to move from basic insights to globally impactful healthcare interventions against emerging and outbreak pathogens, in the shortest possible time.
Her specific areas of expertise include zoonotic disease description and clinical trial assessment of interventions, and she continues to work on vaccines against globally important diseases including Ebola, Influenza, Nipah, MERS, and Crimean-Congo haemorrhagic fever.
She is one of the Principal Investigators overseeing the University's COVID-19 vaccine programme.
In January 2020, she co-designed the vaccine before leading the pivotal pre-clinical studies required to allow clinical trials to commence in April 2020. She then played an integral role during the clinical trials overseeing the immunological assessment of vaccine responses and supporting regulatory approval of the vaccine in late 2020.
The vaccine has now been delivered to nearly half a billion people worldwide and has played a pivotal role in the fight against the virus.
Dr Michael Ryan, MPH 1992 - UCD Alumni Award in Health and Agricultural Sciences
Dr Mike Ryan has been at the forefront of managing acute risks to global health for nearly 25 years. He served as Assistant Director-General for Emergency Preparedness and Response in WHO's Health Emergencies Programme from 2017 to 2019.
He first joined WHO in 1996, with the newly established unit to respond to emerging and epidemic disease threats. He has worked in conflict-affected countries and led many responses to high-impact epidemics.

He is a founding member of the Global Outbreak Alert and Response Network (GOARN), which has aided the response to hundreds of disease outbreaks around the world.

Dr Ryan served as Coordinator of Epidemic Response (2000-2003), Operational Coordinator of WHO's response to the SARS outbreak (2003), and as WHO's Director of Global Alert and Response (2005-2011).
He was a Senior Advisor on Polio Eradication for the Global Polio Eradication Initiative from 2013 to 2017, deploying to countries in the Middle East.
He completed medical training at the National University of Ireland, Galway, a Master's in Public Health at University College Dublin, and specialist training in communicable disease control at the Health Protection Agency in London and the European Programme for Intervention Epidemiology Training.
Olivia Maguire, BComm 1997 & MBS 1998 - UCD Alumni Award in Business
Olivia is a portfolio manager at J.P. Morgan Asset Management (JPMAM) in London. She joined the firm on the technology graduate programme in 1998, moving to Asset Management in 2004 and is a CFA Charterholder.
An expert in short term fixed income markets, she is currently a member of the Bank of England Money Market Committee as well as the Bank of England SONIA Stakeholder Advisory Group and chaired the Investment Committee of the Institutional Money Market Fund Association.
Olivia has a passion for social responsibility, both from a business and a personal perspective; she sits on the JPMAM Sustainable Investment Leadership Team, the JPMAM Philanthropy & Employee Engagement and Volunteering Committee, and is current Chair of the CFA UK Inclusion & Diversity Committee.
She has also worked with organisations and charities across the globe to champion equity and improve opportunities for people and communities including in the UK, Detroit and her own home neighbourhood on the Northside of Dublin.
In 2019 she was a recipient of Investment Week's Women in Investment Fund Manager of the Year, and in 2020 was named Women in Finance Wealth Manager of the Year, and #16 on Yahoo Finance's HERoes Women Future Leaders List.
Fiona McEntee, BCL 2005 - UCD Alumni Award in Law
Fiona McEntee is an award-winning, nationally recognised immigration attorney. She is the Founder and Managing Attorney of McEntee Law Group in Chicago.

Fiona and her team of passionate advocates represent individuals and families, as well as the world's leading musicians, artists, athletes, innovative entrepreneurs/startups, and multinational and U.S. companies.
She is also the Chair of the Media & Advocacy Committee for AILA National, the bar association with over 15,000 immigration lawyer members. She regularly appears on national/international media including MSNBC, CNN, The New York Times, BBC, and RTÉ. She also counsels other immigration attorneys about leveraging the media to fiercely advocate for clients.
Fiona has particular expertise with the "extraordinary ability" O-1 visa and with immigration options for startups, and was recently asked to submit a statement to Congress – the House Judiciary Committee's Subcommittee on Immigration and Citizenship – on the need for a startup visa and how the outdated U.S. immigration policies push entrepreneurs and startups to other countries.
Fiona has won many awards including the ISBA Elmer Gertz Award and the Chicago-Kent College of Law Outstanding Pro Bono Service Award (O'Hare Airport Attorneys -Muslim Travel Ban). In 2019, Fiona was inducted into the Irish American Hall of Fame in the Irish American Heritage Center in Chicago.
Last year, she wrote and published her first book – Our American Dream – a children's book on immigration.

As a mom of two young children, an immigrant, and an immigration lawyer who fights for justice every day, she wrote Our American Dream to explain the importance of a diverse and welcoming America.
Leo Cullen, BA 1999 - UCD Alumni Award in Sport
Former Leinster captain Leo Cullen first appeared in blue in 1995 but made his senior debut during the interprovincial and Heineken Cup matches of the 1998/99 season.
In 2001/02 the Celtic League appeared on the scene and it coincided with one of the best seasons in Cullen's fledgling career and a fantastic year for Leinster that saw them capture the title. That summer he was included in the Ireland squad to tour New Zealand, appearing for the national side in June against the All Blacks.
The Wicklow man gained 32 Irish caps during his career and had the honour of captaining his side during the 2011 Rugby World Cup.
Cullen also enjoyed huge success at Leicester Tigers as the English side took home the Guinness Premiership and EDF Energy Cup in 2007. The following season saw Cullen tempted back to the Leinster set-up and under coaches Michael Cheika and Joe Schmidt, the influential lock played a vital role in transforming Leinster from nearly-men to consistent performers and determined winners.
Early signs were shown when the side won the Celtic League that season. For 2008/09, Cullen was handed the captain's armband. Nine months later, he was raising the Heineken Cup trophy aloft after a memorable win over Leicester at Murrayfield.
Further success in Europe would follow in 2011, when Cullen captained Leinster to an astonishing comeback win at the Millennium Stadium, and in 2012 when his team retained their title. In lifting the trophy at Twickenham, Cullen became the first man to captain a team to three Heineken Cup Final successes.
His final two seasons as a player saw Cullen lift three more trophies with Leinster. The Amlin Challenge Cup and RaboDirect PRO12 titles were won on two consecutive weekends at the end of May in 2013 and in Cullen's final appearance for the province he lifted the RaboDirect PRO12 title for a second season in succession, alongside fellow departee Brian O'Driscoll.
With his years of experience in the game, Cullen was asked to join the Leinster backroom staff by head coach Matt O'Connor after his retirement and he became the Leinster forwards coach in July 2014.
Cullen was appointed Leinster Rugby Head Coach in August 2015 and led the province to the top of the Guinness PRO12 table and to the PRO12 Final. Having reached the semi-finals of both the Guinness PRO12 and the Champions Cup, a year later in 2018, in his third season, Cullen became the first man to win a Champions Cup title as a player and as a head coach as he presided over a first ever Guinness PRO14 and Champions Cup double for Leinster.
He was awarded the Guinness PRO14 Coach of the Year Award in recognition of the team's achievements that season.
Since then Leinster Rugby, under his stewardship, have added further titles and have won a record fourth Guinness PRO14 title in succession.
Ann O'Dea, BA 1990 & MA 1992 - UCD Alumni Award in Research, Innovation and Impact
Ann O'Dea is CEO and Co-founder of Silicon Republic, one of Europe's leading technology and innovation news services, reporting online since 2001.
She was also the founder of the award-winning international event, Inspirefest, which celebrated its fifth year in 2019. In October 2020, the event took place in a new Hybrid format and under its new name, Future Human, showcasing the people and enterprises shaping the next phase of human existence.
Ann is a fellow of the Institute of Art, Technology and Design, a fellow of the Irish Computer Society, and has been named 'Media Woman of the Year' at the Irish Tatler Women of the Year Awards.
In 2015, she was the first and only woman to be inducted into the Irish Internet Association's Hall of Fame. In March 2013 she launched the Women Invent initiative on Silicon Republic, which has seen a remarkable woman in STEM profiled on the site every week for the past eight years.
In 2018 she won the Outstanding Contribution to the Digital Sector award from ITAG. Ann sits on the Advisory Board of Teen Turn which empowers underrepresented young women through internships in major tech companies.
Ann is a former board member of the IIBN (Irish International Business Network), the Digital Youth Council and of the Royal Irish Academy's Scientific and Mathematics Council. A long career in journalism saw her interview luminaries from Steve Wozniak (co-founder, Apple) to Richard Branson, from Mark Benioff to Gary Hamel.
A long-time champion of women and minorities in STEM, Ann is in high demand as an international speaker on Innovation, Future of Work and Inclusion, completing speaking tours of US, Asia, and Brazil where she addressed the UN's Global Forum on Innovation & Technology for Sustainability, on the financial and economic imperative of diversity and inclusion.
Liam Madden, BE 1979 - UCD Alumni Award in Engineering and Architecture
Liam Madden is executive vice president and General Manager of the Wired and Wireless Group at Xilinx, currently focused on 5G products.
He leads a world-wide organization of engineering, sales and marketing professionals, including teams in Dublin and Cork.
Liam has spent more than 35 years in the US semiconductor industry where he has contributed to a range of industry leading products and technologies.
Based in Silicon Valley, he has worked with established companies and start-ups, including a leadership role in a successful IPO.
Liam has extensive experience incubating novel technologies, including commercializing the industry's first 3-D stacked computer chip for which he received the 2103 Semi Award.
He holds five patents in semiconductor technology and is a regular keynote speaker at international conferences.
He graduated with a BE from UCD, an M.Eng. from Cornell University, is a Board member of Science Foundation Ireland, a Fellow of the IEI and an Adjunct Professor at UCD.
Caitríona Palmer, BA 1993 - UCD Alumni Award in Social Sciences
Caitríona Palmer is the author of two bestselling books, the memoir, An Affair with my Mother: A Story of Adoption, Secrecy and Love (Penguin, 2016) and Climate Justice (Bloomsbury, 2018), co-written with former President of Ireland, Mary Robinson.
A human rights investigator, advocate, journalist, and author, Caitríona has drawn attention to the plight of people overlooked and marginalized through her work with survivors of the Srebrenica massacre, survivors of historical abuse in Ireland and in documenting the effects of climate change.
An adoptee, Caitríona is a frequent commentator on national and international media on the legacy of secrecy and shame generated by Ireland's closed adoption system.
Caitríona is currently a Senior Consultant on Climate at the World Bank and formerly Deputy-Director, Physicians for Human Rights (USA, Bosnia); Special Assistant, Office of Prosecutor at the International Criminal Tribunal for the Former Yugoslavia and a correspondent for the Irish Times (Iran) and the Irish Independent (USA).
A native of Dublin, Caitríona graduated from University College Dublin with a BA in History and Politics '93 and holds an MA in International Relations from Boston College '97.
She is the recipient of a Fulbright award, a KPMG John F. Kennedy Scholar award and was the 2017 Ireland Fund Writer in Residence at the Princess Grace Irish Library in Monaco.
She lives in Washington, DC with her husband, Dan, and three children.
By: David Kearns, Digital Journalist / Media Officer