UCD AFC returns to Premier Division winning promotion-relegation play-off against Waterford
Posted 29 November 2021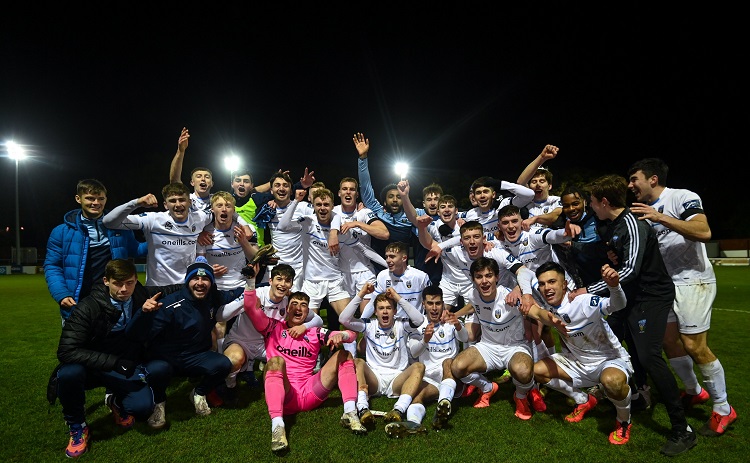 UCD AFC will play Premier Division football next season following their promotion-relegation play-off against Waterford at Richmond Park.
The Students secured a 2-1 win over the Munster side with goals courtesy of two players signed from Waterford's own academy, Dara Keane and Colm Whelan.
The pair sealed their former club's fate, coming from behind to score twice in succession before the half following an early lead for the Blues.
UCD responded well after going a goal down five minutes from kick-off, and they found their way back with a 26th minute equaliser after Keane converted a low cross in from Liam Kerrigan.
WE ARE GOING UP!!! pic.twitter.com/nXxFPQvBnY

— UCD AFC (@UCDAFC) November 26, 2021
Shortly thereafter at the 35 minute mark Keane found space against Waterford's defence to help Whelan secure his 27th goal of the season.
Waterford efforts to change their fortune in the second-half came to naught as the side struggled to fend off their forthcoming relegation.
What an achievement that is from @UCDAFC!

The Students were deserving winners at Richmond Park, coming from behind to book their place in the Premier Division for the 2022 season

Sign up | https://t.co/vfkMjbvRwA#LOITV | #LOI pic.twitter.com/iAhIdan7eT

— SSE Airtricity League (@SSEAirtricityLg) November 26, 2021
They finished the game with 10 players as Niall O'Keeffe was shown a second yellow for a foul on Kerrigan with three minutes to go.

"It's been a long year... but everything we did this year was worth it," said UCD AFC captain Jack Keaney after the match.
"We just wanted to show what we were made... and thankfully we did. Once we got that first goal, we settled. The boys up front did us wonders and then we defended magically at the end."
REACTION | After the celebrations at full time, we got the thoughts of @UCDAFC captain Jack Keaney, Liam Kerrigan, Colm Whelan and Evan Osam, after they had secured promotion to the top flight for the 2022 season!

Sign up | https://t.co/vfkMjbvRwA#LOITV | #LOI pic.twitter.com/byQfQ5Ttvr

— SSE Airtricity League (@SSEAirtricityLg) November 26, 2021
UCD: Lorcan Healy; Michael Gallagher; Harvey O'Brien; Sam Todd; Evan Osam; Jack Keaney; Liam Kerrigan; Dara Keane; Sean Brennan; Paul Doyle (Mark Dignam 90); Colm Whelan.
Subs: Carl Williams; Luke Boore; Mark Dignam; Danu Kinsella Bishop; Ciarán Behan; Adam Lennon; Eoin Farrell; Adam Verdon; Evan Caffrey.
Waterford: Brian Murphy; Darragh Power (Niall O'Keeffe HT); Kyle Ferguson (Shane Griffin 63); Eddie Nolan; Jack Stafford (Ronaldo Green 86); Anthony Wordsworth; Cameron Evans; John Martin; Junior Quitirna; Phoenix Patterson; Greg Halford.
Subs: Matthew Connor; George Forrest; Shane Griffin; Niall O'Keefe; Jeremie Milambo; Ronaldo Green; Isaac Tshipamba; Callum Stringer; Jamal Dupree.
By: David Kearns, Digital Journalist / Media Officer