Aspiring novelist to explore human trafficking in India with Maeve Binchy Travel Award
Posted 14 October, 2021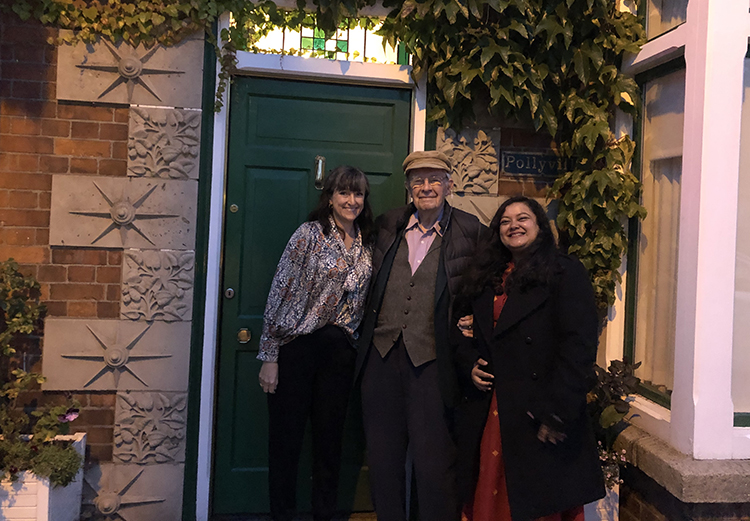 Sree Sen pictured with Gordon Snell and Henrietta McKervey
An aspiring novelist will trek from the tea estates of north-eastern India to the red-light district of New Delhi as winner of the 2020 UCD Maeve Binchy Travel Award.
Sree Sen, graduate of the UCD School of English, Drama, Film, will use the coveted literature bursary to research the route – which will feature as part of a novel she is working on, a fictional account of a mother's search for her trafficked daughter.
A journalist and news producer in India for over a decade, Sree said she hoped to draw on her professional experience and use the opportunity to travel the region to add authenticity to her work.
"It was during my reporting stints that I came across the utter destitution of tea estate workers and vulnerability of women and children in those areas. It's a little-explored issue and a delicate subject matter. The novel focuses on human frailty and hope, even in the face of extreme adversity," she added.
The Maeve Binchy Travel Award was inaugurated in 2014 to commemorate UCD alumnus Maeve Binchy, one of Ireland's best-loved writers.
The annual award, valued at €4,000, is open to a UCD humanities student (undergraduate or postgraduate) and is sponsored by the Binchy/Snell family in memory of the writer's love for traveling.
"The legacy of Maeve Binchy and her works has been crucial in my understanding of how to navigate the journalistic and fictional aspect of my work, to find the balance in a story," said Sree.
The judges of the 2020 award were Niall MacMonagle, Éilís Ní Dhuibhne and James Ryan.
Congratulating this year's winner, Professor Margaret Kelleher, Chair of Anglo-Irish Literature and Drama at UCD and chair of the selection committee, said: "We are delighted to celebrate the seventh year of this award, generously supported by Maeve's husband Gordon Snell. on behalf of her family, to mark her creative legacy.
"The announcement of the 2020 award was delayed due to the Covid-19 crisis but we look forward to Sree's being able to travel in coming times. Sree is a very deserving winner of the award and the judges were deeply impressed by her commitment and ambition, and by her talents as a writer."
Previous winners are Henrietta McKervey, John McHugh, Aaron O'Farrell, Ryan Murphy, Rosa Jones and Gráinne Daly.
The call for applications for the 2021 award will open in early October.
By: David Kearns, Digital Journalist / Media Officer, UCD University Relation