Four top-50s and 42 world-ranked subjects for UCD in 2022 QS World University Rankings by Subject
Posted 7 April, 2022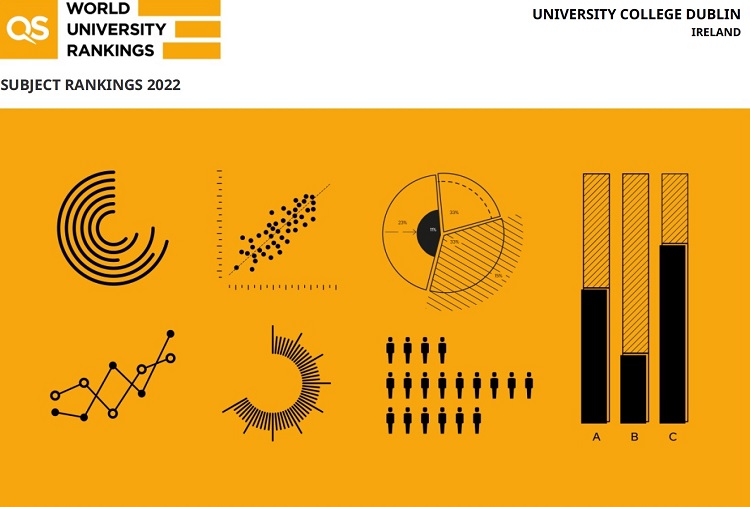 University College Dublin is ranked in the world top 50 in four subjects: Library & Information Management, English Language & Literature, Archaeology, and Veterinary Science according to the latest QS World University Rankings by Subject.
The University ranks number one in Ireland in 20 out of 51 subjects ranked by QS, up from 16 in 2021:
Arts & Humanities
Archaeology
Architecture / Built Environment
History
Social Sciences & Management
Business & Management Studies
Library & Information Management
Politics & International Studies
Sociology
Sports-related Subjects
Statistic s & Operational Research
Engineering & Technology
Engineering - Chemical
Engineering - Civil & Structural
Petroleum Engineering
Life Sciences & Medicine
Anatomy & Physiology
Veterinary Science
Natural Sciences
Earth & Marine Sciences
Environmental Sciences
Geography
Geology
Geophysics
Mathematics
And UCD has 12 subjects now ranked in the QS top 100, up from eight in 2021, and 37 subjects in the Top 200.
The 2022 edition of QS world university rankings has again named UCD as among the best universities globally in the study of 42 out of 51 subjects, up from 38 in 2021.
Eight subjects improved their positions from last year, with Library & Information Management now the University's highest performing subject at 24th, an increase of 21 places.
Alongside this, UCD is now ranked in all five broad subject areas, with the QS classification of Arts & Humanities remaining its strongest having entered the Top 100 at the 92nd position, up from 113 in 2021.
For the 2022 edition of the QS World University Rankings by Subjects, QS reviewed 1,543 universities around the world based on three main data sources; global academic reputation survey, employer reputation surveys, and Scopus publications data.
Each subject was scored according to four criteria: academic reputation, employer reputation, research impact (citations per paper), and h-index, which measures productivity and the impact of published academic work.
Commenting on the subject rankings, Professor Mark Rogers, Acting President, UCD said: "Recognising the limitations of international rankings, we are cognisant of the fact that they are used as a measure of quality and cannot be ignored.
"And, although there are four measurement criteria used for this set of subject rankings, the highest weighting is given to the academic reputation, which is based on a survey of academics around the world.
Adding: "It is encouraging that, in general, our scores under this measure have improved. This measure goes up when other academics become more aware of the great research and scholarship being undertaken here at UCD. I hope that we can continue to raise awareness of our excellence and be proud of this great university."
By Eilis O'Brien, UCD University Relations