Ireland's fastest man: UCD sprinter Israel Olatunde makes history at European Championships
Posted 17 August, 2022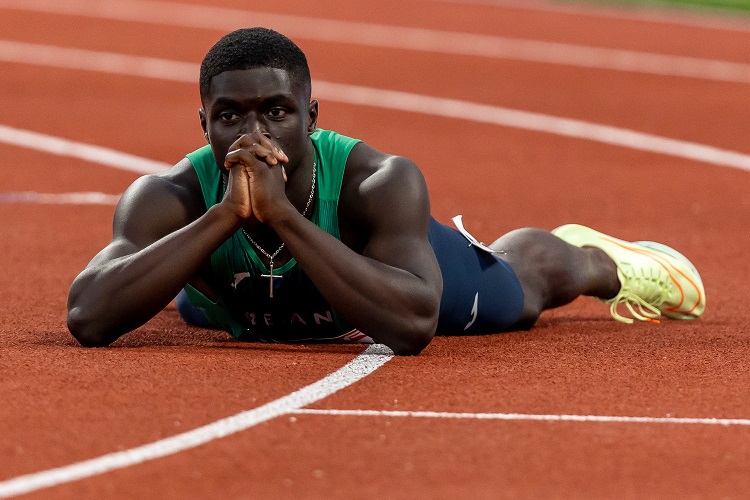 UCD Ad Astra sprinter Israel Olatunde is now the fastest Irishman ever, having achieved a new Irish best during his historic race in the 100m at the European Championships.
The 20-year-old is the first Irish runner to compete in a European 100 metre final, and his time of 10.17 in Munich was just four hundredths of a second away from claiming the bronze medal.
The UCD Computer Science student produced the performance of his life to break the 15-year-old national record set by Paul Hession in 2007.
His achievement is all the most impressive as the Dundalk native ran a 10.20 in the semi-final an hour early.
"To be able to call myself the fastest man in Irish history is just amazing," Olatunde told RTÉ Sport.
"To be here in a European final, finish sixth and get a national record, I just can't believe it. I had no idea I ran that fast. It's a dream come true.
"The atmosphere was amazing, the crowd was amazing. These are the fastest guys in Europe and I'm up there with them. I'm so happy to be there and I know I can definitely improve so I'm looking forward to that."
10.17s. National 100m Record. The Fastest Irishman in History

6th place in the European 100m final after coming in as the 21st fastest athlete.

What God blesses, no man can curse.

Grateful for the opportunity to represent my country proudly on a stage like this. pic.twitter.com/EZdpP4f3KN

— Israel (@IsraelOlatunde5) August 17, 2022
Thankful for the support he has received, Olatunde added: "This whole season has just been such a blessing. I'm so grateful to be here.
"Thank you to my coach [Daniel Kilgallon], my training partners, my family, my community, everybody that has been supporting me and showing me so much love. It has pushed me on to get to this point."
To compete in the European final completes a remarkable rise for the 20-year-old, who has now broken four national records in short order.
He broke his own Irish U23 100m record at the National Junior and U23 Championships in Tullamore early this year, and smashed two national indoor records twice in one day in 2021.
Olatunde's time at the European Championships is set to continue as he is set to join the men's 4x100m team on Friday.
By: David Kearns, Digital Journalist / Media Officer, UCD University Relations