NovaUCD and PlasmaBound win 2022 Future Forward Impact Award
Posted 5 December 2022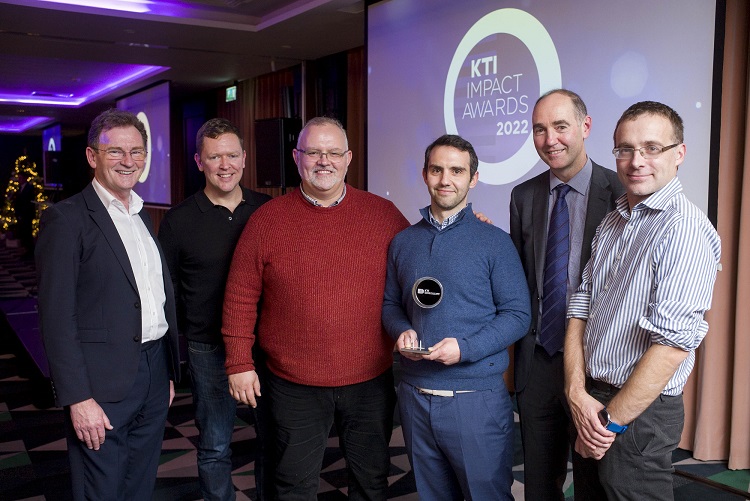 Tom Flanagan, Director of Enterprise and Commercialisation, NovaUCD; Simon Factor, Senior Manager, New Ventures, NovaUCD; Alan Barry and Dr Nick Barry, co-founders, PlasmaBound, Dr Ciaran O'Beirne, Head, Knowledge Transfer Services, NovaUCD and Dr Hugh Hayden, Case Manager, Knowledge Transfer, NovaUCD
UCD Spin-out PlasmaBound and NovaUCD have won the Future Forward Impact Award at the 2022 Knowledge Transfer Ireland (KTI) Impact Awards.

Celebrating the work of the Higher Education Innovation Offices around the country, and their role in helping transform academic research into commercial impact, the KTI Awards are evaluated by a panel of international experts.

The Future Forward Impact Award recognises knowledge transfer activities that have strong potential for future impact but may still be at the early stages of development or roll out.

"This Award recognises the strong potential for future impact of PlasmaBound and is an indication of the quality of the spin-outs emerging from UCD research activities with the support of NovaUCD," said Tom Flanagan, UCD Director of Enterprise and Commercialisation.

"PlasmaBound's CPA technology has the potential to deliver significant international impact in terms of sustainability and carbon reduction benefits in many different industry sectors, and the NovaUCD team looks forward to continue supporting PlasmaBound as it continues scale to achieve its global ambitions in the years ahead."

PlasmaBound has developed a ground-breaking, environmentally friendly, lightweight composite bonding technology, Controlled Polymer Ablation (CPA), that has attracted significant interest in several sectors due to its reduction in waste and energy consumption and ability to eliminate the need for manual interventions.

Headquartered at NovaUCD, it was co-founded in 2017 by Dr James Nicholas Barry, Alan Barry and Xavier Montibert as a spin-out from the UCD College of Engineering and Architecture.

"We are thrilled to have won the Future Forward Impact Award, which recognises the future potential of our technology, at this year's KTI Impact Awards, along with the NovaUCD which has strongly supported the development of the company over many years," said Alan Barry, CEO and co-founder.
"Our technology focus is about getting more renewable, lightweight materials into mainstream use faster which we believe will have a significant impact on achieving a more sustainable carbon-reduced future."

The company has raised €3.45 million in funding to date from Act Venture Capital, Atlantic Bridge University Fund, Enterprise Ireland and a number of private investors, and now has 15 employees.
It is an approved supplier for the European Space Agency and is currently undertaking validation trials with 30 Tier 1 global companies across different industry sectors.

Minister of State for Trade Promotion, Digital and Company Regulation, Dara Calleary TD said: "Congratulations to all the winners on what is further evidence of a thriving ecosystem of collaboration between industry and publicly funded research.
"With solutions to address immediate health, social and environmental concerns it is very welcome to see both revenue and job creation as a result of public-funded research commercialisation and collaboration. Companies that are active in research, development and innovation are shown to perform better than their peers, and I would encourage businesses to consider collaboration with public research as a means to enhance their offering."

Imelda Lambkin, Manager, Disruptive Technologies, Innovation and Knowledge Transfer, Enterprise Ireland and Chair of the KTI Awards judging panel, added: "The quality of collaboration between businesses and publicly-funded research continues to improve year on year and the calibre of award entries reflect this, making 2022 a challenging one for the judging panel.
"It is important to pay particular credit to the work of the technology transfer offices around the country who provide the vital link and support structure so knowledge transfer can deliver meaningful outcomes to society. The teams in these offices around the country are key to the successes being celebrated by the KTI Impact Awards."
By: David Kearns, Digital Journalist / Media Officer, UCD University Relations (with materials from Micéal Whelan, UCD Research and Innovation)