UCD Archaeology builds new early Medieval roundhouse after arson fire
Posted 9 February, 2022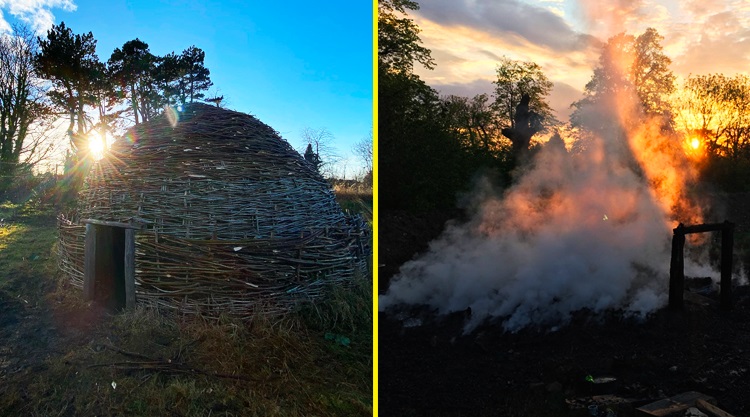 A new experimental archaeological early medieval roundhouse has been erected on the grounds of University College Dublin to replace a similarly unique structure destroyed by vandals almost three years ago.
The archaeological reconstruction built by UCD Archaeology staff and students is part of an ongoing research project by the UCD Centre for Experimental Archaeology & Material Culture (CEAMC), located in the Roebuck district of the campus.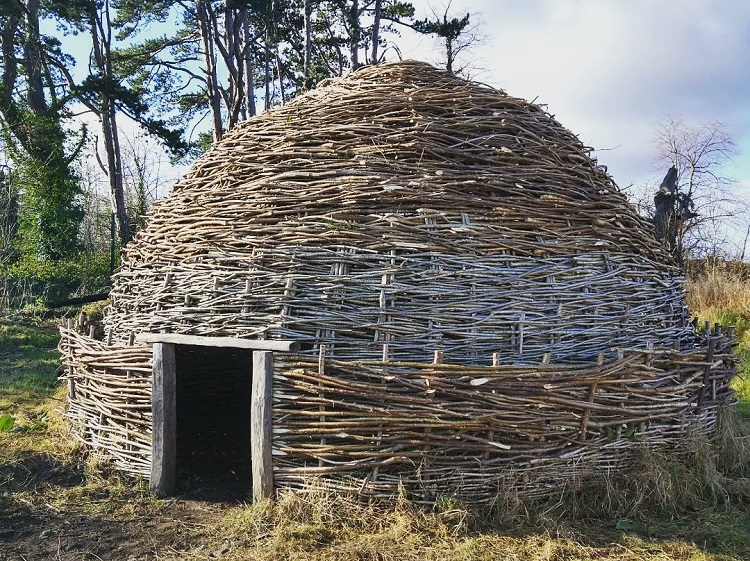 The roundhouse is built of hazel post-and-wattle, and will be thatched this Spring, measures some six meters in diameter, and is based on archaeological and environmental evidence gathered from an excavated site at Deer Park Farms in county Antrim dating back to the 8th century AD.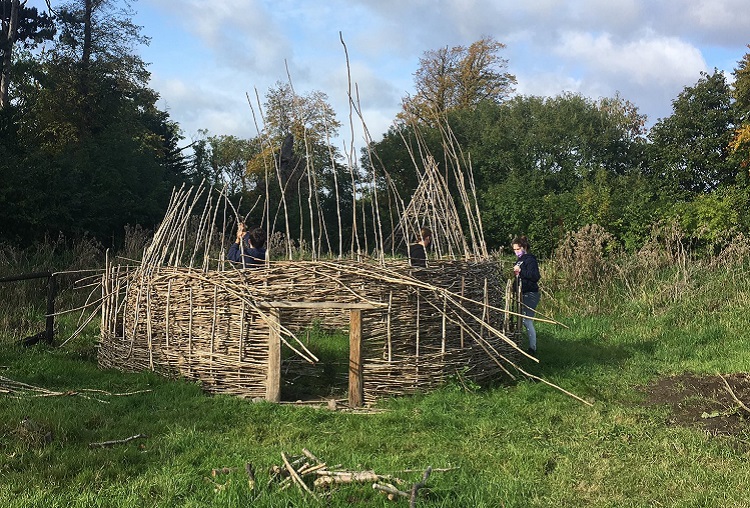 The roundhouse – one of the only such experimental archaeology projects on any university campus globally – was constructed using hazel wattles woven together into a large domed basket, using complex techniques based on close analysis of surviving evidence.
This work was started by Dr Brendan O'Neill and Professor Aidan O'Sullivan, and recently completed by archaeological wood expert Hamish Darrah, who is undertaking a MSc in Experimental Archaeology & Material Culture at UCD.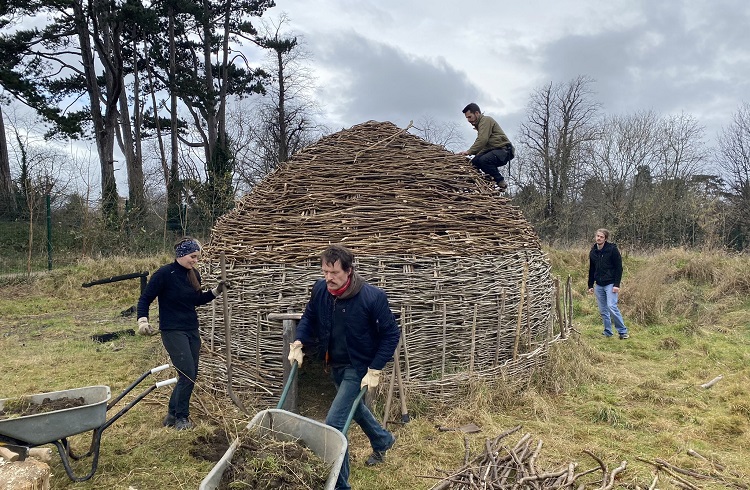 "This type of experimental archaeological reconstruction requires us to think practically though every stage of building a house over a thousand years ago; the selection of raw materials, their use of tools, their traditional knowledge and skills, and then of course it also then gives us an analogous building to scientifically test and experience physically in terms of living conditions of smoke, heat, light, and potential uses of space," said Dr Brendan O'Neill, co-director of CEAMC and co-ordinator of the UCD School of Archaeology's MSc programmes in Experimental Archaeology and Material Culture.
My part in the reconstruction of the early medieval Irish roundhouse is now done! Huge thanks to Aidan O'Sullivan and Brendan O'Neill of the Centre of Experimental Archaeology and Material Culture for the opportunity and support. Thanks to all the helpers!@EArchaeol @ucddublin pic.twitter.com/4qD1PslMg6

— Hamish Darrah (@HamishDarrah) February 8, 2022
The roundhouse, which has yet to be thatched, is bigger than the previous one destroyed by fire in May 2019 – featuring a larger floor space, with enough space for two beds, and will be roofed using heather, straw or reeds.
It will be used by UCD undergraduate and postgraduate students from a number of disciplines to investigate early medieval living conditions and to create a better understanding of traditional architecture of this type across the world.
The loss of the previous early medieval roundhouse was used by CEAMC as an opportunity to investigate the burnt house from the perspective of an archaeological excavation.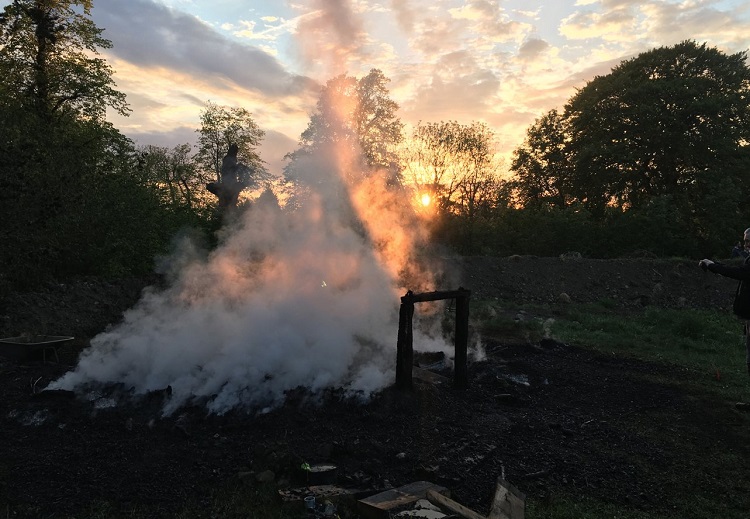 "In March 2021, our MSc students carried out an archaeological excavation of the site, and we uncovered all kinds of intriguing things that would have happened during a genuine early medieval house fire, including the complete destruction of the building, the fragmentation of pottery and the impacts on a range things inside a house, when it was burning at such a ferocious heat," Professor O''Sullivan said.
"We were very surprised by how subtle and ephemeral the archaeological evidence would be after such a fire. The floor was not baked; the heat obviously went straight up. Although the house was reduced to carbonised materials, the posts still survived deeper in the soil."
He added: "Pottery exploded into fragments, with sherds flying across the floor, questioning our understanding of the distribution of finds in an excavation. We have many new questions to ask of original archaeological sites now."
Experimental archaeology is the reconstruction of past buildings, technologies, and things, based on archaeological evidence, and their investigation, testing, recording and use as analogies for original sites, so as to create a better understanding of people's lives and material culture in the past and present.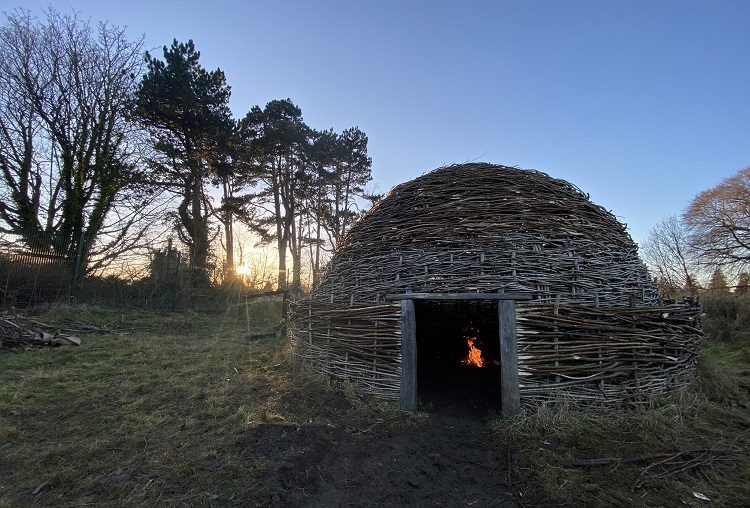 Established in 2012, and formally designated as a UCD Academic Centre in 2021, UCD Centre for Experimental Archaeology & Material Culture (CEAMC) is one of the only university campus facilities in the world for this type of research, teaching and public engagement.
It supports research projects, innovative experiential teaching, and highly active public outreach activities, with the aim of creating among international researchers, students and the public a better understanding of the nature and role of buildings, crafts, technologies and materiality in people's lives in the past.
By: David Kearns, Digital Journalist / Media Officer, UCD University Relations