UCD-lead research teams chosen to find disruptive ideas for Irish Defence Forces
Posted 17 February, 2022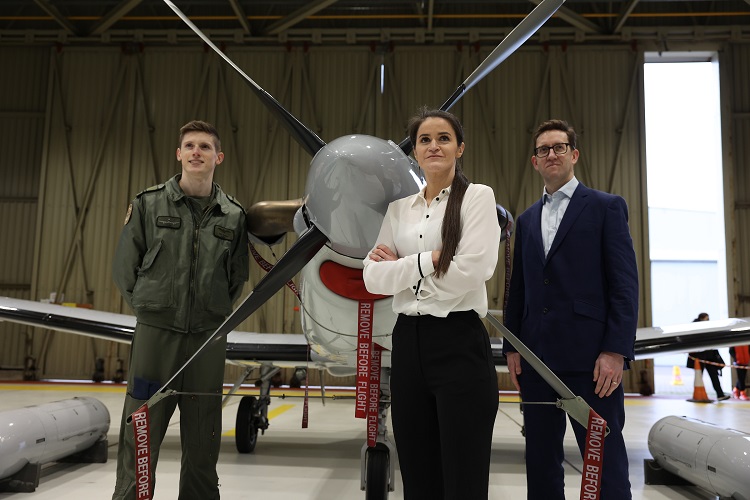 Lt Niall Dungan, Irish Defence Forces, Dr Anna Donnla O Hagan, Dublin City University, Associate Prof Brian McNamee, UCD School of Computer Science
The Irish Defence Forces have chosen four UCD-lead research teams to develop disruptive solutions to existing and future concerns it has identified as challenges to its activities.

Minister for Further and Higher Education, Research, Innovation and Science, Simon Harris TD and Minister for Defence and for Foreign Affairs Simon Coveney TD announced €2.4 million in funding will be spent - through the new SFI-Defence Organisation Innovation Challenge – to benefit the Irish Air Corps, Irish Naval Service and Irish Medical Corps.
Ten research teams have been selected to collaborate with the Defence Forces, and have been given funding to begin their projects before one is selected to receive €1m in additional funds.

Some of the 'disruptive Ideas' being worked on include a portable device that detects biological agent; AI technology to assist the Irish Air Corps fight wildfires; new electric motors to reducing the Defence Forces' carbon footprint; and a co-operative system that will allow a human controller and robot to work together to manoeuvre aircraft.

The UCD-led teams will be headed up by Professor Brian MacName, Dr Gavin McArdle, Professor Denis Dowling, and Dr Robert Johnson.

"Today's announcement shows the value of a partnership between our research community and the Defence Forces," said Minister Harris. "The innovation on display can help address existing and future challenges within our Defence Forces."

Minister Coveney added: "From the time we launched this Challenge last July, I believed that it would confront emerging issues within the Defence Forces head-on, through the collaboration of leading researchers with the talented people behind our Defence Forces.
"At EU level, the role of innovation and disruptive technologies in delivering next generation military capability is already well recognised. I am looking forward to seeing the results that this synergy of innovators and practitioners under this challenge will undoubtedly generate for the Defence Forces going forward."

UCD Vice-President for Research, Innovation and Impact, Professor Orla Feely said: "The research supported under the scheme will address important challenges such as sustainability and environmental impact, and bring technological advances in areas such as peacekeeping, disaster relief and communications.

"I offer my congratulations to UCD's awardees and their colleagues, whose expertise will deliver disruptive new solutions for Ireland's Air Corps, Naval Service and Medical Corps, from the fields of Artificial Intelligence, Geotechnologies, Materials Science and Biosensors."
Chosen UCD-led teams:
Team: MENTOR
Lead: Associate Prof Brian MacNamee, UCD School of Computer Science.
Co-Lead: Dr Anna Donnla O Hagan (DCU).

Machine Learning & Virtual Reality for Sustainable & Effective Pilot Training: Using machine learning to analyse data from virtual reality simulated pilot training to develop more effective, safer, and more sustainable pilot training programmes.

Challenge: Disruptive Idea (across the areas of Medical Technologies, Disaster Relief, Peacekeeping, Climate and Sustainability, Information and Communications Technology (ICT)).

Priority Area: Data Analytics, Management, Security, Privacy, Robotics and Artificial Intelligence (including Machine Learning).

Research Area: Computer and Information Sciences (Artificial Intelligence).

Team: Fire Fly
Lead: Dr Gavin McArdle, UCD School of Computer Science.
Co-Applicant: Associate Professor Michela Bertolotto, UCD School of Computer Science.

Decision Support Systems for Aerial Fire-Fighting: Mission planning within aerial fire-fighting requires reliable, pertinent and up-to-date data. Terrain data,local weather forecasts, land cover, and water bodies' locations are all needed to plan efficient and optimal aerial fire-fighting missions.

Challenge: Enhance the efficiency and effectiveness of the fire extinguishing capability of rotary-wing aircraft.

Priority Area: Future Networks, Communications and Internet of Things.

Research Area: Computer and Information Sciences (Geotechnologies).

Team: Electro Marine
Lead: Prof Denis Dowling, UCD School of Mechanical and Materials Engineering.
Co-Lead: Owen Humphreys, UCD School of Mechanical and Materials Engineering.

Light-weight, high efficiency, electric propulsion solution for enabling zero emissions marine transport: This project aims to develop novel 3D printed electric motors along with power systems, for use on navy rigid hull inflatable boats (RHIBs).

Challenge: Disruptive Idea (across the areas of Medical Technologies, Disaster Relief, Peacekeeping, Climate and Sustainability, Information and Communications Technology (ICT)).

Primary Priority: Manufacturing and Novel Materials.

Research Area: Engineering (Materials Science).

Team: Echem Sense

Lead: Dr Robert Johnson, UCD School of Chemistry.
Co-Lead: Professor Seamus Fanning, UCD School of Public Health, Physiotherapy and Sports Science.

Robust and Reusable Electrochemical DNA Biosensors for Point of Need Deployment: Highly sensitive electrochemical biosensor that is capable of the rapid detention and identification of food pathogens and gastro-intestinal viruses (that disrupt defence force activity).

Challenge: Disruptive Idea (across the areas of Medical Technologies, Disaster Relief, Peacekeeping, Climate and Sustainability, Information and Communications Technology (ICT)).

Priority area: Diagnostics.

Research Area: Chemistry (Biosensors).

"Challenge-based research funding empowers talented teams to address significant national and global challenges," said Professor Philip Nolan, Director General, Science Foundation Ireland.

"This kind of collaboration between Government Departments, agencies such as the Defence Forces, companies, researchers, and entrepreneurs is just one of the ways science delivers real and tangible benefits for our society and economy."

By: David Kearns, Digital Journalist / Media Officer, UCD University Relations (with materials from Caroline Byrne, UCD Research and Innovation)