UCD team wins Engineers Without Borders' Design Challenge
Posted 22 June, 2022
A team from University College Dublin has won this year's Engineering for People Design Challenge, which tasks students to design practical solutions to real-world problems.
The competition, held in partnership between Engineers Without Borders South Africa and UK, saw over 8,000 students from across the United Kingdom and Ireland take part – with the final featuring the top 36 teams pitching their solutions at an event held at UCL's PEARL facility in Dagenham, England.
The winning students were:
Jane Foran
Ian Mayrs
Naoise Taaffe
Eimear Hughes
Eoghan O'Sullivan
Jakub Waisak
Alan O'Donnell
The top prize went to the UCD team who impressed the judges with their concept for a 'Tapatapment' - a water filtration unit designed for water taps, created from bamboo shoots.
It was held that the team of seven demonstrated a clear understanding of local needs, and with regards to the environmental context, the use of natural materials to reduce waste was applauded as was the inclusion of a water metre to help reduce consumption in the area.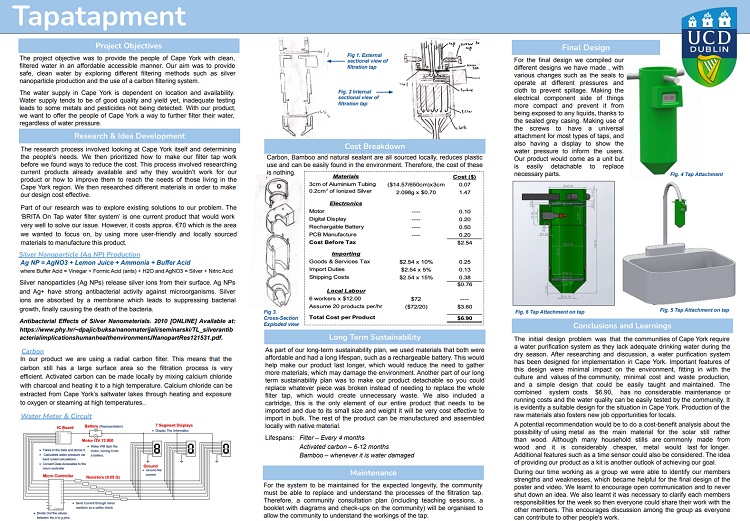 The entire body of the 'Tapatapment' is made locally sourced bamboo to cut down on cost and to allow for it to be assembled and made by local companies.
The project's aim was to provide the people of Cape York with clean filtered water in an affordable and accessible way.
This is because water mains treatment centres in Cape York can shut down unexpectedly causing dirty contaminated water to enter the mains.
The 'Tapatapment' allows for people to collect rainwater and easily and quickly clean and filter it.
The Engineering for People Design Challenge aims to encourage students to broaden their awareness of the social, environmental and economic implications of their engineering solutions.
Its challenges are framed around the UN Sustainable Development Goals, and this year's programme partner was the Centre for Appropriate Technology, an Aboriginal and Torres Strait Islander controlled not-for-profit organisation which 'exists to support people in regional and remote Australia in the choices they make in order to maintain their relationship with country'.
Since 2011, the Design Challenge has been delivered in Cameroon, South Africa, the UK and Ireland and the USA to over 60,000 students.
By: David Kearns, Digital Journalist / Media Officer, UCD University Relations