UCD track and field stars bring home the gold at National Indoor Championships
Posted 2 March, 2022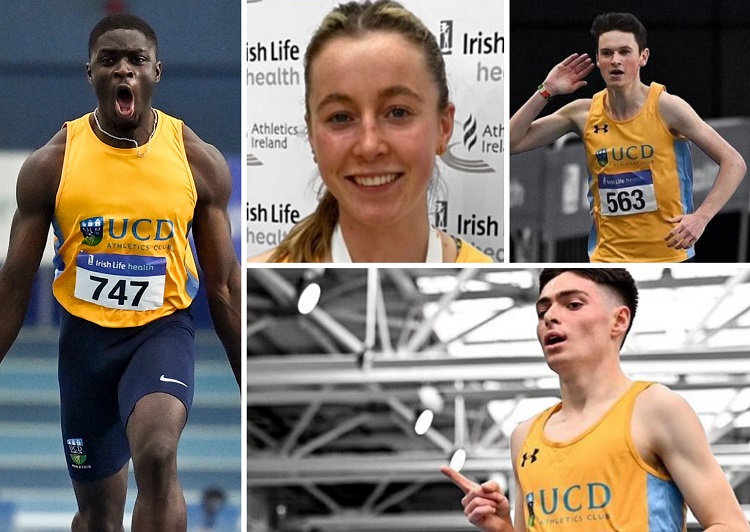 The National Indoor Championship saw four UCD Ad Astra Elite Athletes achieve gold winning performances, with track star Sarah Healy setting yet another new U23 national record.
Fresh off her new 1500m record at the Birmingham Indoor Grand Prix, the Dublin middle-distance runner and UCD law student proven to be equally impressive in the 3000m at the Sport Ireland National Indoor Arena.
The 21-year-old's winning time of 8:53.67 secured her the first gold medal of the day at the competition, as well as a new Irish U23 indoor record.

A superb performance by Sarah Healy (UCD AC) running a National Indoor U23 3000m record and championship best performance of 8:53.67

Michelle Finn (Leevale)
Niamh Kearney (Raheny Shamrock)#NationalSeniors pic.twitter.com/hJs1k0SG5W

— Athletics Ireland (@irishathletics) February 27, 2022
We think this is worth mentioning again this morning!

4 National titles for @UCDAC_bears at the @irishathletics Indoor Championships

Israel Olatunde 60m
Luke McCann 1500m
Darragh McElhinney 3000m
Sarah Healy 3000m pic.twitter.com/WMv4y15P3W

— UCD Sport (@ucdsportsclubs) February 28, 2022
Healy maintained a prominent position alongside fellow Olympian Michelle Finn throughout the race before upping the tempo with five laps to go. Her focus will now turn to next month's World Indoor Championships in Belgrade.
"I like the 1500 and I want to stay there, but these days to run good 1500s you need to be really strong and fit so [the 3000m] is good preparation," she said.
"Indoors is a good chance to compete. You have to go in and be prepared for anything, not be scared of anyone. There's a lot of women around the same level so I think anything is possible."
A majestic winning performance in the men's 3000m final from @darraghmce to claim the gold@nickgriggs4321 a valiant second in a tactical race

Darragh McElhinney UCD 8:02:84
Nick Griggs Mid Ulster 8:05:83
Keenan Kilrehill Moy Valley 8:12:14https://t.co/raTXnSBffR pic.twitter.com/qtuyz7zpIH

— Athletics Ireland (@irishathletics) February 26, 2022
Running in the men's 3000m, Darragh McElhinney held off expected rival Tyrone teenager Nick Griggs to win the men's title.
The 21-year-old Cork athlete won in 8:02.84 - 2.99 seconds ahead of Griggs, in what was largely a pedestrian affair from the majority of the race.
In the final 1200m, McElhinney increased the tempo and managed to squeezed the strength and speed out of his 17-year-old rival.
Championship Record

An unbelievable performance from Israel Olatunde (UCD) who just ran a Mens 60m Championship Record of 6.62, a qualifying standard time for the @WorldAthletics Indoor Champs & only .01 off the Indoor National record #NationalSeniors @irishlifehealth pic.twitter.com/Kd0bm3YnK4

— Athletics Ireland (@irishathletics) February 27, 2022
National 60m Champion

Grateful to get a championship record and PB of 6.62s and also qualify for the World Indoor Championships next month pic.twitter.com/0SCbd4OXlm

— Israel (@IsraelOlatunde5) February 27, 2022
In the men's 60m, it took 6.62 seconds for Israel Olatunde to claim his first national indoor title – with the 19-year-old UCD Computer Science student coming in just 0.01 seconds outside the Irish record.

His blistering time ensures his qualification for the World Indoor Championships.
Luke McCann (UCD AC), who led the race from the very start, takes the Senior Men's National 1500m title in 3:45.14

Like already has the qualification time for the World Indoors next month.

Louis O'Loughlin (Donore Harriers)
Kevin McGrath (Bohermeen)#NationalSeniors pic.twitter.com/HPDZiABqwJ

— Athletics Ireland (@irishathletics) February 27, 2022
Engineering student Luke McCann also claimed a spot in Belgrade along with his first national indoor title at the National Indoor Championships, with a brilliant 3:45:14 performance in the 1500m.
It was almost a solo affair as the Ad Astra athlete comfortably lead from the gun, winning the race almost 10 seconds ahead of runner-up Louis O'Loughlin.
By: David Kearns, Digital Journalist / Media Officer, UCD University Relations