UCD Energy Institute leads new €16m research partnership aimed at decarbonising energy sector
Posted 10 May, 2022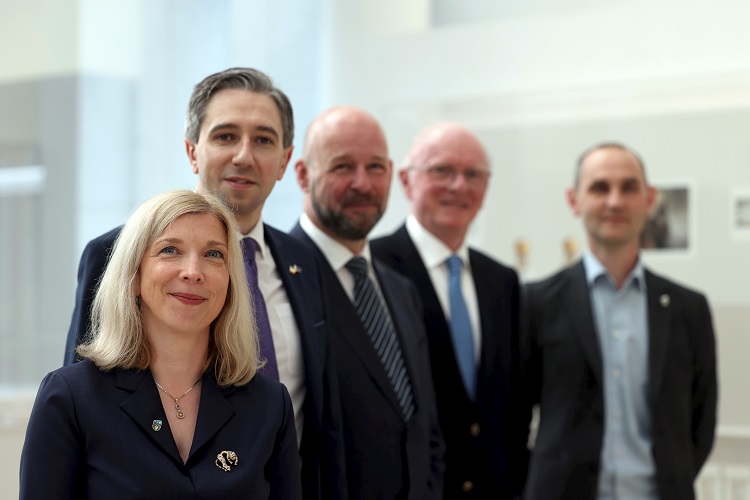 Prof Aoife Ahern, UCD College Principal of Engineering and Architecture and senior researcher on NexSys, Minister for Further and Higher Education, Research, Innovation and Science Simon Harris T.D, Prof Philip Nolan, Director General, Science Foundation Ireland, Daivd O'Reilly Chair of UCD's Energy Advisory Board and NexSys industry partners, Prof Andrew Keane, Director of NexSys and UCD Energy Institute. Picture Jason Clarke
The UCD Energy Institute is to lead a new €16 million strategic research partnership aimed at decarbonising the Irish energy sector.
Designed to help Ireland meet its carbon emission reduction target, NexSys (Next Generation Energy System) is a consortium supported by nine research organisations and nine industry co-funding partners working to deliver a more cost-effective energy system, one that will pave the way towards net zero transition.
NexSys will also deliver a comprehensive programme of training for researchers in collaboration with industry over the next five years.
Science Foundation Ireland (SFI) has awarded €8 million funding to the partnership, matched by a philanthropic donation by David O'Reilly, Chair of UCD's Energy Advisory Board and NexSys industry partners.
"NexSys is about the future, the future of our energy system and how we get to Net Zero Carbon and also about developing our island's talent to shape our future energy system," said Professor Andrew Keane, Director of NexSys and UCD Energy Institute.
"Solutions are front and centre of what we are developing. We are uniquely placed with our industry partnerships to develop cutting edge technologies alongside developing engagement and dialogue with society on the energy transition.
"The partnership will have potentially transformative socio-economic impacts, and will further enhance the global reputation of Irish research in the energy sector."
UCD College Principal of Engineering and Architecture and senior researcher on NexSys, Professor Aoife Ahern added: "The NexSys project, with engineers of all disciplines, will play an important role in achieving a just energy transition for Ireland, in both public and private enterprises and I am delighted that UCD Engineering, which is a world leader in engineering research related to the environment and energy, will be so deeply involved in NexSys.
"Engineers influence every aspect of our lives, including infrastructure, transport, communications and energy provision, and the research and work done by engineering in this project is important in determining how we can maintain our current quality of life, while transitioning to renewable energies."
NexSys brings together nine academic institutions across the island of Ireland, and includes partners Trinity College Dublin (TCD), Dublin City University (DCU), Economic Social Research Institute (ESRI), Maynooth University, University College Cork (UCC), NUI Galway, Ulster University and Queen's University Belfast.
At its launch, Minister for Further and Higher Education, Research, Innovation and Science, Simon Harris, TD, said the partnership will "answer some of the fundamental research questions" when it comes to the transition to net zero.
"The energy system encompasses technical, financial, and societal dimensions and this is core to the integrated and interdisciplinary research of NexSys.
"The transition to a net zero carbon energy system is one of the major challenges facing the world and is a crucial action to mitigate climate change. This project will help us address those challenges in a sustainable , fair manner."
NexSys builds on the success of its predecessor, the Energy Systems Integration Partnership Programme (ESIPP), and is co-funded by industry partners EirGrid, ESB, Ervia/Gas Networks Ireland, CIE, RWE, SSE, Electric Power Research Institute (EPRI), Atlantic Hub and Davy.
"Successful research and innovation in this important sector will deliver a more cost-effective energy system with less impact on the environment supporting our transition to zero emissions," said Director of NexSys and UCD Energy Institute, Professor Andrew Keane.
"NexSys also provides for important future skills in the sector by training early and mid-career researchers in energy systems integration."
By: David Kearns, Digital Journalist / Media Officer, UCD University Relations (with materials from Caroline Byrne, UCD Research and Innovation)