UCD scholarship recognised as five top academics elected to Royal Irish Academy
Posted 23 May, 2022
New RIA members, Professors Stefan Oscarson, Fiona Doohan, Adreas Hess, Katherine Browne, and Tadhg O hAnnrachain with UCD Acting Registrar and Deputy President Professor Barbara Dooley, centre
The Royal Irish Academy has welcomed five professors from University College Dublin to sign its members book, the highest academic honour in Ireland.
The cohort were among 29 new RIA members elected to the Academy in recognition of their exceptional contributions to the sciences, humanities and social sciences, as well as to public service.
The UCD professors newly elected to the RIA on Friday, 20th May 2022 were:
Admittance to the Academy is the highest academic distinction in Ireland, and those elected by their peers are entitled to use the designation 'MRIA' after their name.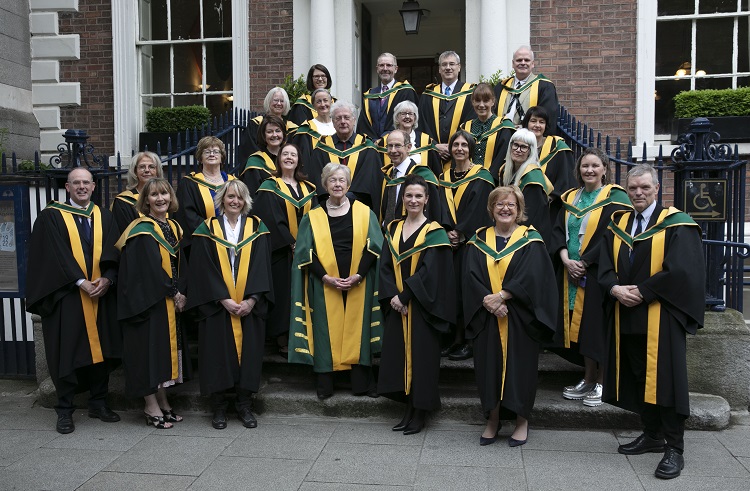 2022 RIA Admittance Day
Other newly elected members include Hannah McGee, deputy-chair of the National Research Ethics Committee for COVID-19; psychologist Orla Muldoon, a regular op-ed contributor to The Irish Times; Siobhán Mullally, UN Special Rapporteur on Trafficking in Persons; Virginia Teehan, Chief Executive of the Heritage Council; and and Linda Doyle, 45th Provost of Trinity College Dublin.
Welcoming this year's the newest entries, RIA President Dr Mary Canning said: "We are immensely proud of these 29 new Members who we are recognising today for their scholarly achievements, their research and international distinction or for significant contributions to Irish society.
"As new Members of the Academy, they will contribute to and strengthen our capacity to provide expert advice on Higher Education and Research policy."
The Academy has been honouring Ireland's leading contributors to the world of learning since its establishment in 1785.
There are now 656 RIA members, including Nobel Laureates William C. Campbell and John O'Keefe; Louise Richardson, Vice-Chancellor of the University of Oxford; Philip Lane, European Central Bank; Fabiola Gianotti, Director General CERN; Brigid Laffan, Irish political scientist and Director of the Robert Schuman Centre for Advanced Studies; and Geraldine Byrne-Nason, Ireland's Permanent Representative to the UN.
By: David Kearns, Digital Journalist / Media Officer, UCD University Relations