Dublin gets its first 'bike library' as part of UCD-led efforts to encourage more sustainable mobility
Posted 2 November 2022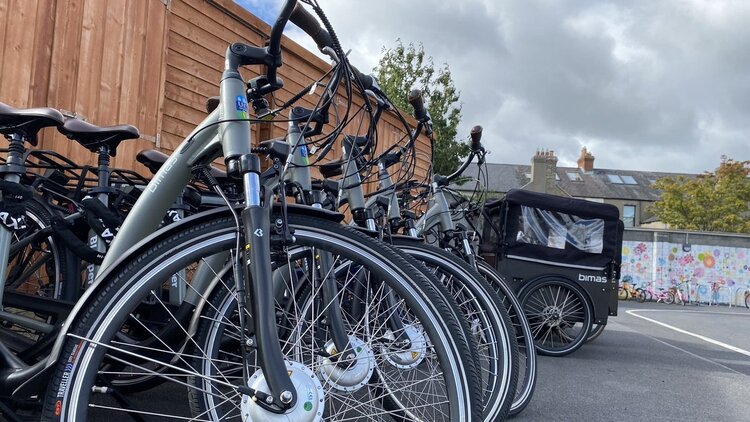 Dublin has its first 'bike library' as part of a new UCD-led project aimed at encouraging people to leave their cars at home.

Under the programme, families have the opportunity to loan a regular or cargo bike for the duration of the school year at no charge.

The bikes can be used to bring children to school, as well as commute to work.

Run by Professor Francesco Pilla from the UCD School of Architecture, Planning and Environmental Policy, the scheme is being piloted at the Educate Together National School in Harold's Cross as part of the iChange project.

Funded by the European Commission and supported by Science Foundation Ireland, iChange is based on the idea that citizens and the civil society have a central role in the defining environmental protection and climate action, and that their involvement is essential to drive mitigation and adaptation policies for Climate Change.

"As e-cargo bikes are quite expensive, I think that creates a barrier because parents or families don't feel like investing such an amount of money….but I think once they try them and feel the convenience, how it's easy to go around and bring kids to school they might want to invest," said Professor Pilla, speaking to RTÉ News.

The bikes for the scheme are provided by UCD and funded by SFI, and Bleeper is managing the maintenance.

Early this month Minister for Transport Eamon Ryan announced a new higher €3,000 limit for cargo bikes, previously this limit was €1,250, as part of a revision to the Bike to Work Scheme to help encourage greater use of cargo bikes. He said this move was informed by the experience of many who said that they used their car to make very short journeys to drop their kids to school and then often continue to work by car, and that they might consider cycling the journey if they were able to transport the kids to school by bike.

In addition, the minister said that the National Transport Authority was looking at trialling the bicycle library concept at various schools across Ireland so that parents can experience using cargo bikes and other family bikes.

Professor Pilla is currently involved with these discussions, and hopes that similar bike libraries projects will be rolled out to other schools in the coming year.

"The bike library scheme with its activities is intended to trigger a modal shift in families and a long term behavioural change towards more sustainable mobility," he said.
By: David Kearns, Digital Journalist / Media Officer, UCD University Relations