Poet Paul Muldoon announced as ninth Professor of Poetry for Ireland
Posted 21 November 2022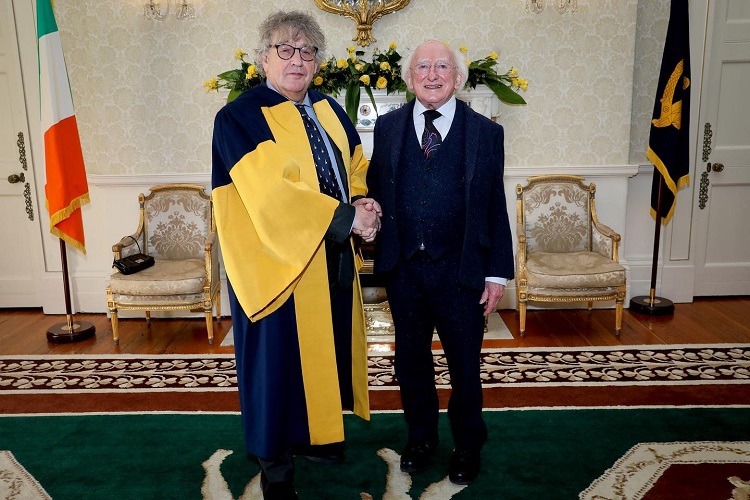 Author and poet Professor Paul Muldoon has been named the ninth Professor of Poetry for Ireland.
The announcement was made by Irish President Michael D Higgins at a reception in Áras an Uachtaráin, where the Armagh native was described as "joining the great line of fantastic Irish poets who have held the position".
Professor Muldoon said of his appointment: "To be a poet at all is to be a professor of poetry. In this case, it's especially gratifying to have the opportunity to formalise that professing, that 'declaring openly', of how poetry has been the central spiritual practice of my life.
"In the course of the next three years I hope to focus less on the writing of poetry than the reading of it. At Queen's University, Belfast, for example, I'll be leading discussions on How To Read a Poem. These discussions will centre on poems published in literary journals and newspapers in the same week as our meeting and will be open to one and all.
"That's a forum I also plan to offer in both UCD and TCD, though I'm very keen to make further connections with the School of Irish, Celtic Studies and Folklore at UCD and the Trinity Centre for Literary and Cultural Translation. The lectures I'll be giving as Ireland Professor of Poetry will reflect all of these interests, plus a few more."
He added: "After 35 years of teaching in the US, I'm looking forward to connecting more immediately with, and contributing to, the cultural life of Ireland."
President Higgins this afternoon welcomed Professor Paul Muldoon as the next Ireland Professor of Poetry at a reception in Áras an Uachtaráin. Professor Muldoon will be the ninth Ireland Professor of Poetry, taking over from the current holder, Frank Ormsby pic.twitter.com/dRZEvi90LL

— President of Ireland (@PresidentIRL) November 18, 2022
Author of fourteen full-length collections of poetry, and winner of numerous awards including the John William Corrington Award for Literary Excellence, the Queen's Gold Medal for Poetry, the Pulitzer Prize and the Seamus Heaney Award for Arts and Letters, Professor Muldoon takes over from the current holder of Ireland's Professor of Poetry, Frank Ormsby.
Established in 1998 by the Arts Councils in conjunction with University College Dublin, Trinity College Dublin, and Queen's University Belfast, the position of Professor of Poetry for Ireland celebrates the exceptional contribution of Irish poets to the world of literature.
Every three years a poet of honour and distinction is chosen and during their tenure they spend a year in residence at one of the partner universities for approximately eight weeks.
While there, the poet gives informal workshops, spends time working with students, and makes one formal presentation a year, usually in the form of a lecture.
Previous holders of the Ireland Professor of Poetry include:
Frank Ormsby, 2019 to 2022.
Eilean Ní Chuilleanáin, 2016 to 2019.
Paula Meehan, 2013 to 2016.
Harry Clifton, 2010 to 2013.
Michael Longley, 2007 to 2010.
Paul Durcan, 2004 to 2007.
Nuala Ni Dhomhnaill, 2001 to 2004.
Professor John Montague, 1998 to 2001.
By: David Kearns, Digital Journalist / Media Officer, UCD University Relations