IRC awards over 25 UCD postgraduate and postdoctoral researchers Enterprise Partnership funding
Posted 5 September, 2022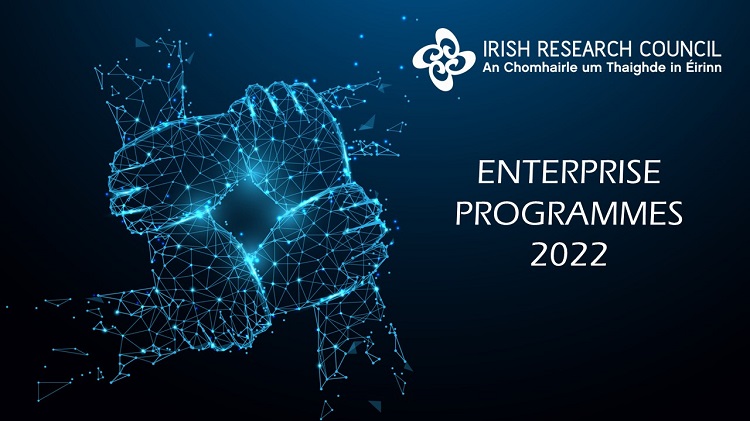 Over 25 postgraduate and postdoctoral researchers at University College Dublin have been award funding through the Irish Research Council's (IRC) 2022/23 Enterprise Partnership Schemes (EPS).
Some €8 million is to be shared across 79 projects under the programme's four funding strands:
Enterprise Partnership Scheme for Postgraduate researchers.
Enterprise Partnership Scheme for Postdoctoral researchers.
Employment-Based Postgraduate Programme.
The Google Online Content Safety Scholarship.
The funding is aimed to allow postgraduate and postdoctoral researchers to collaborate with an enterprise or employer on a research project of mutual interest.
Awardees of the Enterprise Partnership Scheme for Postgraduate researchers and the Employment-Based Postgraduate Programme receive funding of €110,000 each, while recipients of the Enterprise Partnership Scheme for Postdoctoral researchers are being awarded funding of €99,000 each.
The Google Scholarship supports the development of exceptional and innovative research in areas relevant to the challenge of online content safety
"This is the 18th year of our Enterprise Partnership Schemes and we're delighted at their continued success in linking excellent research talent with enterprise and innovation in Ireland," said Dr Louise Callinan, IRC Interim Director.
"The projects selected this year focus on highly important topics, such as suicide and disease prevention, health promotion and energy recovery in data centres, and they demonstrate the broad range of cutting-edge research being conducted by high-calibre researchers that solves challenges and creates opportunities for partner enterprises.
"We're also delighted to be partnering with Google Ireland for the second year on the Online Content Safety Scholarship, which is supporting research highly relevant to meeting the ongoing challenge of building a safer and more trusted internet."
The UCD Postdoctoral projects awarded EPS funding for 2022/23:
Alysha Allsman/Marsh's Library (French): Huguenot kinship networks in Early Modern France: transcription and analysis of the Élie Bouhéreau correspondence (1662-1685).
Catherine Ann Cullen/Poetry Ireland (Literatures): After Zozimus: Dublin's Forgotten Street Poets and Tenement Balladeers (Subtitle: Reclaiming the neglected spoken word artists of the city tenements, including Joseph Sadler, whose performances on street corners and along Dublin's Quays from c1850-1870 have been all but forgotten, and encompassing other street poets who, like Sadler, have not previously been the subject of academic study).
Ciara Mahon/Jigsaw (Psychology): BE REAL: Evaluating the impact of a novel self-compassion school-based programme to improve adolescent body image and mental health.
Clíodhna Bairéad/Housing Agency (Equality Studies): Scale, forms and mechanisms of social housing inclusion and exclusion: interpreting administrative data on social housing waiting lists in Ireland between 2013 and 2021.
Dervla MacManus/RIAI (Equality Studies): Gender Equity in Irish Architecture: Where are Ireland's Women Architects?
ValentinaTonelotto/Breakthrough Cancer Research (Biochemistry and Molecular Biology): Accelerating the route towards metastatic uveal melanoma diagnosis and treatment: cysteinyl leukotriene receptor signalling & uveal melanoma extracellular vesicles as novel therapeutic targets and biomarkers.
Wei Zhang/Intel Ireland Ltd (Colloid and Nanochemistry): Isolation, characterization and biological impacts of recycling silica nanoparticles.
The UCD Postgraduate projects awarded EPS funding for 2022/23:
Brian Rice/Environmental Protection Agency (Biodiversity Conservation): Restoration of Native Oyster (Ostrea edulis) Reefs Along Dublin's Coastline Using Artificial Reef Technology.
Davin Cronly/Arran Chemical Company Limited (Organic Chemistry): BROADEN - Development of Continuous In-Situ Bromination Protocols and their Application in the Synthesis of Drugs and their Building Blocks.
Emmanuel Bogacz/Intel Research & Development Ireland Limited (Theoretical Physics): Theory and Simulation of Magnetic Tunnel Junctions for Neuromorphic Computing.
Kirsten Dowd/Intel Research & Development Ireland Limited (Astronomy and Space Science): Near Infrared Photo-absorption in Plasmas for Astrophysical and Industrial Applications.
Laura Gunning/Glanbia Ireland DAC (Food and Beverage Engineering): Characterisation of Whey Protein Digestibility for Improving Elderly Nutrition.
Lea Schäfer/Irish Cancer Society (Cell Biology): Investigating the role of the APOBEC3 family of cytidine deaminases in high-grade serous ovarian cancer.
Louise Keegan/Alvarius Pharmaceuticals (Biochemistry and Molecular Biology): Evaluating the therapeutic potential of psychedelic agents for the treatment of heroin addiction.
Michael Connolly/eco-Mova Teo (Mechanical Engineering): Aerodynamic Design and CFD Analysis of Environmentally-Friendly Trailers for Electric Vehicles, including Structural & Material Optimisation.
Paul Nolan/LEO Pharma (Organic Chemistry): The Preparation of Densely Functionalised Chiral Pyrrolidines by the Asymmetric [3+2] Cycloaddition Reaction and Their Application in Organocatalysis.
Rachel Murphy/Jigsaw (Psychology): Reducing Loneliness and Mental Health Difficulties in Young People: Development of a Peer Support Strategy for Use in Youth Mental Health Services.
Sharon Etokhana/AkiDwA (Law): The Commodification Crisis: An Appraisal of the Law, Practice and Policy on Sex Trafficking of Migrant Women and Girls in Ireland.
Yazeed Kelly/Alvarius Pharmaceuticals (Cell Biology): Investigating Addiction and Psychedelic Treatments in a Human Cerebral Organoid Model.
The UCD Employment-Based Postgraduate projects awarded EPS funding for 2022/23:
Alexandra Bogdanovic/APC Ltd (Chemical Engineering): Development of a platform for the purification of viral vector systems for the manufacture of vaccines and gene therapies.
Andréa de Paiva Erdos/RKD Architects (Psychology): Learning Landscapes - using cognitive science insights on episodic memorization in the design of university spaces.
Ann Ryan/Tusla (Equality Studies): Developing Survivor Lead Child Abuse Intervention and Practice: The EU Victims Directive, Retrospective Child Sexual Abuse Disclosure and Social Work Procedure.
Catherine Mc Ginn/Dawn Farm Foods Ltd (Food and Beverage Engineering): The use of emerging processing technologies to produce clean label fermented meats.
Christopher Leckey/Irish Rugby Football Union (Artificial Intelligence and Image Processing): AI and Injury: The Development of Machine Learning Solutions to Non-Contact Injury Risk Prediction, Mitigation and Management in Rugby Union.
Victoria McCarthy/Kerry County Council (Cultural Studies): How to measure landscape treasure? Historic Kerry designed landscapes: spatial analysis and planning policy.
Google Online Content Safety Scholarship
This is the second year of the Google Online Content Safety Scholarship, which is offered by Google Ireland in partnership with the IRC as a strand of the EPS.
Alexandra Afroditi Asimakopoulou, from UCD School of Psychology, is this year's successful awardee under this programme.
She was awarded funding for her project titled 'The malleability of memory in online misinformation: The role of emotional state in both believing and remembering fake news'.
By: David Kearns, Digital Journalist / Media Officer, UCD University Relations