Ulysses Medal: Celebrated Irish musician Paul Brady awarded UCD's highest honour
Posted 12 September, 2022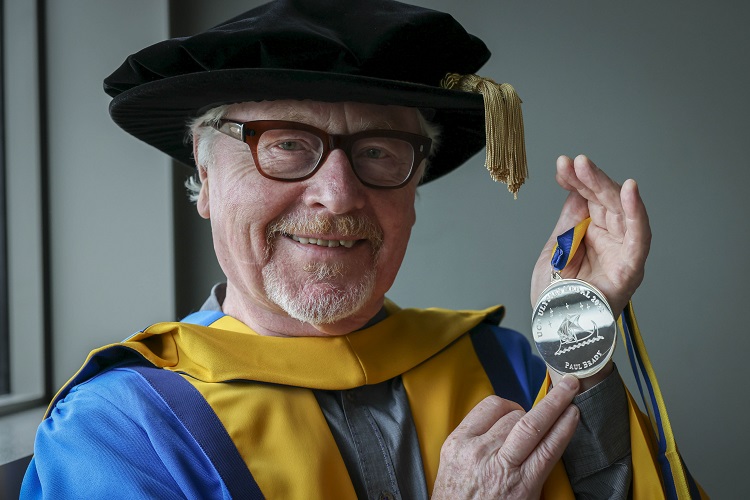 One of Ireland's most celebrated and beloved musicians Paul Brady has received the UCD Ulysses Medal, the highest honour University College Dublin can bestow.
In recognition of his immense contribution and leadership in the performing and recording arts, the Tyrone native was awarded honour during September's conferrings.
"His distinguished career has been characterised by an unrivalled ability to rediscover and reimagine great songs from the storehouse of tradition and to place them at the epicentre of Irish cultural life once more," said Associate Professor PJ Mathew, UCD School of English, Drama and Film, delivering his citation.
"Paul's gift as a maker of melodies is matched by his flair as a lyricist. His well-crafted words have engaged, consoled, excited, and inspired us for decades.
"If anything characterises his music, it is a relentless drive to follow his own creative instincts and break through the often-rigid demarcations and expectations of the Irish musical landscape."
Adding: "As a distinguished UCD Creative Fellow [Paul] gives generously of his time to contribute to Creative Futures Academy programmes in the creative and performing arts, and is immensely generous in sharing his experience and insights with our students in masterclasses and seminars."
The UCD Ulysses Medal was inaugurated in 2005, as part of the university's sesquicentennial celebrations, to highlight the 'creative brilliance' of UCD alumnus James Joyce.
Previous recipients of the UCD Ulysses Medal include former US President Bill Clinton, Professor Noam Chomsky, novelist Frank McGuinness, Nobel Prize-winning poet Seamus Heaney, and former Irish President Mary McAleese.
Alongside the Ulysses presentation, UCD Acting President Professor Mark Rogers conferred five honorary degrees in recognition of their recipients distinguished careers.
Dr Michael F Farrell, human rights activist - Honorary Degree of Doctor of Laws
Citation delivered by Dr Liam Thornton, UCD Sutherland School of Law.
"It would not be possible to communicate fully all of Michael's achievements as a public interest lawyer in Ireland.
"[He] has dedicated his professional life to highlighting injustices within our society... utilising [the law] as a means to uphold civil and human rights of groups, who at times, were, and unfortunately still are, marginalised by us in society.
"All in all, an impartial observer would conclude that Michael Farrell has been one of the most important public interest lawyers for over twenty years in Ireland."
Dr Cathriona Hallahan, former CEO of Microsoft Ireland - Honorary Degree of Doctor of Science
Citation delivered by Professor Jeremy Simpson, Principal, UCD College of Science.
"Global giants such as Microsoft, Amazon, Google, Apple Intel, IBM, and Dell Technologies have built huge presences in Ireland, firmly positioning the country as the internet capital of Europe.
"[Cathriona] is one of the architects of this success, leading the development of this revolution, which has created so much hope for Ireland's future and the role which digital technologies can play in supporting prosperity.
"Her achievements in business are singular: building Microsoft Ireland to become one of the state's largest businesses with annual sales of more than 40 billion euro and employing more than 2,000 people."
Dr Peter Harbison, archaeologist - Honorary Degree of Doctor of Science
Citation delivered by Professor Tadhg O'Keeffe, UCD School of Archaeology.
"Throughout his career, Peter has moved effortlessly between the conference hall and the parish hall, and has been as happy to write for a local history magazine as for a top-ranked international journal.
"He is that rare breed: a serious scholar who is also a great populariser. And anybody who has heard Peter in action will know that he is a passionate communicator. It is fitting, then, that his most famous work – and I would say his most influential work – is a guidebook.
"One cannot overstate the impact on Irish archaeology, and the Irish heritage industry in general, of Peter's Guide to the National Monuments of Ireland, first published in 1970. It alerted people to our ancient and medieval sites, it explained what things were, and it identified where the key-holders lived."
Dr Bernard Looney, CEO of BP - Honorary Degree of Doctor of Science
Citation delivered by Professor Aoife Ahern, Principal, UCD College of Engineering and Architecture.
"As leader [Bernard] has set out the objective to transform BP from an Integrated Oil Company to an Integrated Energy company and to shift the company's focus to sustainability and the role BP can play in supporting the world to reach net zero. He has set out a clear ambition for BP to become a net zero company by at the latest 2050.
"He is a problem solver, committed to sustainability, inclusivity, and equality, who ably demonstrates what can be achieved by graduates of this College, embodying the values of his alma mater.

"Since graduating, Bernard has maintained a very close and fruitful relationship with UCD, supporting Student Scholarship Programmes and the Capital Development Programme, and working with faculty and researchers in UCD Engineering to develop close partnerships."
Dr Alvin Jackson, historian - Honorary Degree of Doctor of Arts
Citation delivered by Professor Diarmaid Ferriter, UCD School of History.
"Alvin came to master the Protestant sense of history in Northern Ireland, bringing the cool, analytical skill of the historian to a unionism that, as he recognizes 'does not demand a complex vision of its own past'.
"Exploring the historical perspectives of modern unionism and the bond between that vision of the past and contemporary unionist action has allowed [him] to compare popular and official memories with available historical evidence and illustrate 'the success with which setbacks and complexities were concealed'.
"For students of history, general readers and contemporary commentators, understanding the unionist perspective... cannot be achieved without reference to the work of Alvin."
During this September's conferrings, almost 4,000 students received their undergraduate, masters and PhD degrees.
By: David Kearns, Digital Journalist / Media Officer, UCD University Relations