Portrait unveiled for renowned UCD chemist and mentor Professor Dervilla Donnelly
Posted 4 April, 2023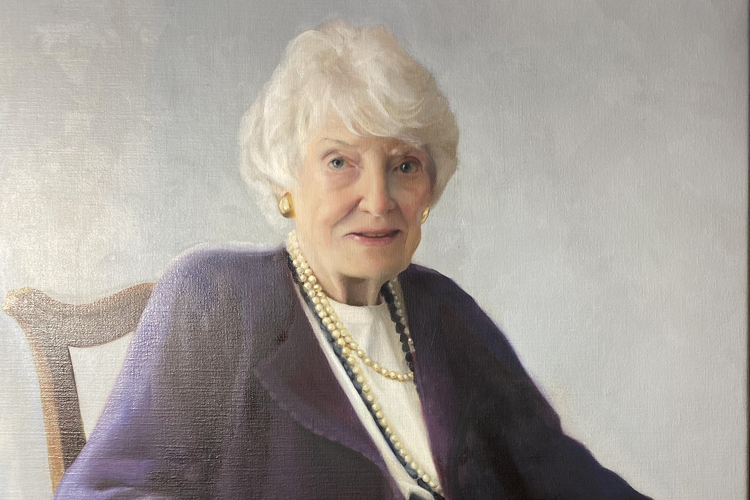 A portrait honouring one of Ireland's most prominent and internationally renown chemists has been unveiled at the UCD School of Chemistry.
Professor Dervilla Donnelly, the first woman awarded the Cunningham medal - the Royal Irish Academy's (RIA) highest honour, has been one of Ireland's leading chemists of the past decades.
A graduate of UCD, she has played a pivotal role in Ireland's' scientific success, not just with her own research, but with her influence on science policy and as mentoring generations of Irish and international academics and business leaders.
Lecturing since 1956, the Dublin native was the Professor of Phytochemistry in the UCD Department of Chemistry for many years.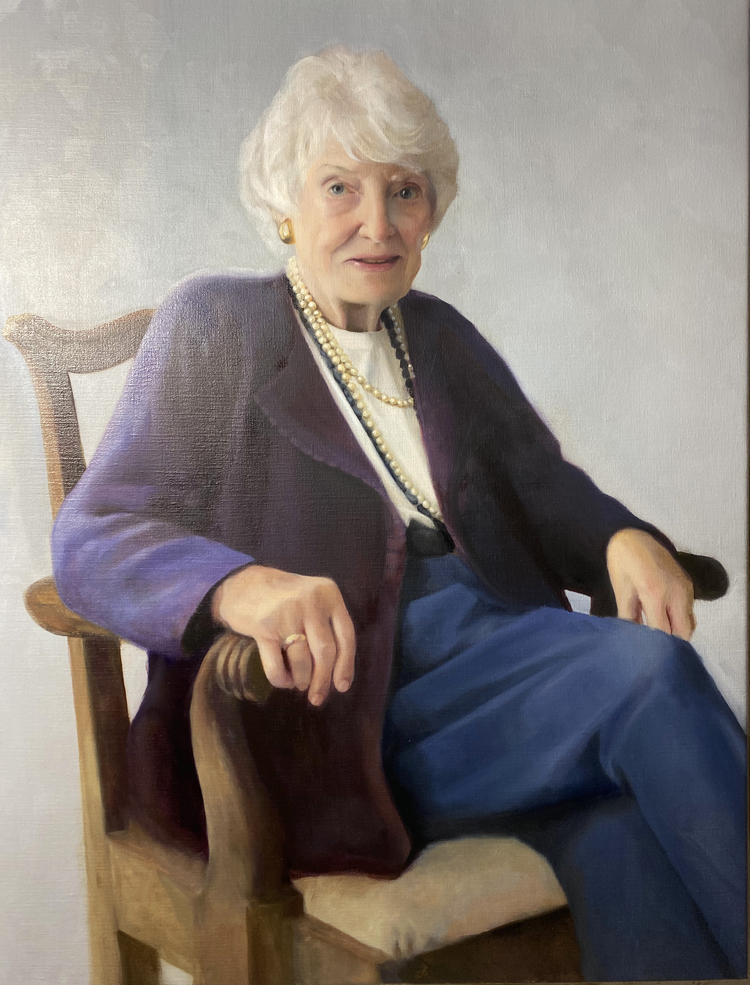 "She's renowned in the school for her science, her fostering of collaborations and her mentorship," said Professor James Sullivan, Head Of School School of Chemistry.

"Her research group graduated over 80 PhD students, many of whom are in senior positions in academic or industry in Ireland and abroad.

"Her legacy of stewardship and as a driver of change in UCD, the Royal Dublin Society and the Dublin Docklands Authority is substantial and ongoing."

The new portrait of Professor Donnelly, commissioned Professor Joe Carthy when he was principal of the College of Science in collaboration with Professor Pat Guiry, RIA President and UCD Professor of Synthetic Organic Chemistry, will be on display at the entrance of the Science Centre South on the Belfield campus.

The painting is the work of artist in residence Emer O'Boyle, who also created a posthumous portrait of Professor Renée Kelly, former Head of Industrial Microbiology at University College Dublin.
A lovely morning spent at 'How do we dream big' organised by @ucdchemistry @UCDMathStat postdoc & EDI committees. Pat shared kind words to introduce the portrait reveal of Prof Dervilla Donnelly & Dervilla closed the event with her warm words of wisdom @ucdscience @ucddublin pic.twitter.com/OzHZKKblOT

— Guiry Group (@GuiryGroupUCD) March 31, 2023
"Professor Donnelly is an inspirational female role model and contributed significantly to the UCD School of Chemistry as a superb lecturer and internationally renowned researcher," said Professor Guiry, who is a former PhD student of Professor Donnelly's.
"She was an expert in natural products chemistry and synthetic organic chemistry… [and] nationally played an important role in developing science policy and, among many positions of esteem, she was the first female President of the Royal Dublin Society, President of the Institute of Chemistry of Ireland and Chairperson of the Custom House Docks Development Authority."
Adding: "The UCD School of Chemistry is very proud of Dervilla and her achievements and is delighted to host her recently unveiled portrait."
Professor Donnelly led a distinguished and varied career that included scientific research and teaching, as well as leadership in science policy. She has also made valuable contributions to the wider public service in Ireland.
Among her many national appointments, she also held many international positions including Chairman of the European Science Research Council and Vice-President of the European Science Foundation.

The Royal Irish Academy elected her to membership in 1968 and she served as Senior Vice-President and Vice-President on two occasions.

Examples of her many academic honours include a fellowship from the Royal Society of Chemistry and the Boyle-Higgins Gold Medal from the Institute of Chemistry of Ireland for her "outstanding and intentionally recognised research contribution to the advancement of chemistry".
By: David Kearns, Digital Journalist / Media Officer, UCD University Relations
To contact the UCD News & Content Team, email: newsdesk@ucd.ie