UCD Sailing become first Irish team to win British Inter-varsities Championship in 50 years
Posted 21 April, 2023
A sailing team from University College Dublin is the first Irish squad to win the British Inter-varsities Team Racing Championship in more than 50 years.
UCD Sailing Club's win at is the first Irish championship victory at the competition since 1970, and comes on top of an already impressive series of wins so far this year.
The winning team included Jack Fahy (captain), Liam Glynn, Tom Higgins, Triona Hinkson, Kathy Kelly, and Cian Lynch.
The silverware finish comes just a month after the team achieved a historic win at the Oxford Top Gun Invitational Regatta, becoming the first ever Irish team to do so.
Having won most of the Irish university race events this year, the win at the Top Gun regatta ensured the UCD team would be selected for the British Inter-varsities Team Racing Championship – as it is customary to invite the leading Irish team to compete at the event.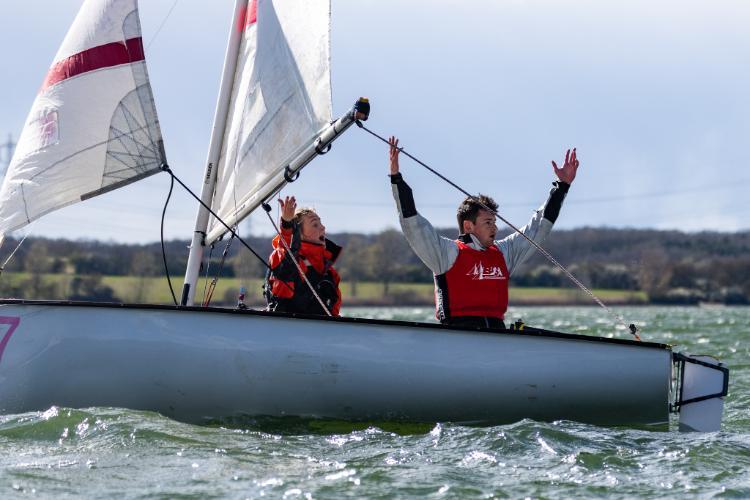 Hosted by Cambridge University, and taking place on Grafham Waters, the British Inter-varsities championship opened with Swiss league qualifiers on its first two days. UCD won 12 from 14 of their races, qualifying them in 2nd place for the finals.
The final day of competition saw the sailing kept close to land, where the wind varied from 10-25 knots making for tricky sailing.
UCD progressed through to the finals beating Bristol and Southampton in the quarter and semis, before facing Cambridge in a 'first to three wins' final. A repeat of last month's Top Gun final.
The hosts went 2-1 up as UCD due to penalties, on course side's and a capsize but the Irish team were able to win the next two races back-to-back to become the first Irish team to win the competition since TCD in 1970.
Team member Liam Glynn said that "all our practice really paid off, knowing precisely our roles despite the best efforts from a brilliant Cambridge team. It is an amazing feeling to come home with this win."
By: David Kearns, Digital Journalist / Media Officer, UCD University Relations
To contact the UCD News & Content Team, email: newsdesk@ucd.ie