Royal College of Veterinary Surgeons elects new UCD Fellows
Posted 23 August, 2023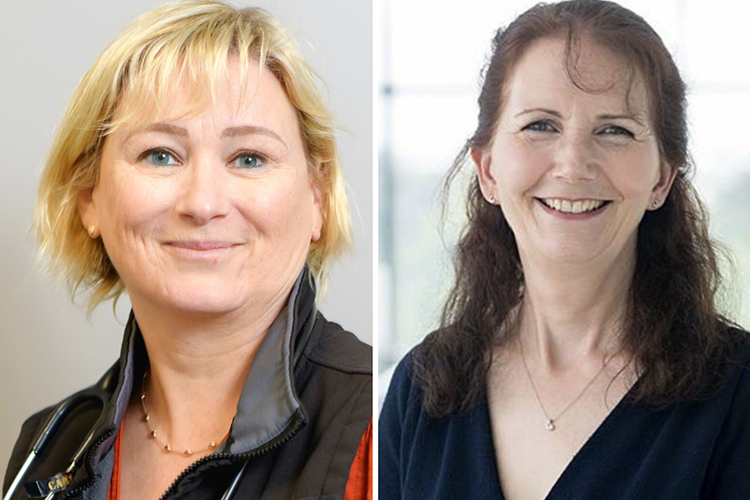 The Royal College of Veterinary Surgeons (RCVS) has elected two UCD academics among its latest Fellows, awarding the privileged title in recognition of their work and achievements.
Professor Carmel Mooney and Associate Professor Emma O'Neill, from the UCD School of Veterinary Medicine, received the acclaim for their "meritorious contributions" to the veterinary profession.
Awarding Fellowships based on one of three criteria, the RCVS elects its Fellows for the purpose of advancing veterinary standards, aiming to highlight the work of veterinary surgeons whose activities demonstrate "excellence across the entire veterinary landscape and who have distinguished themselves on account of their ongoing commitment to using their experience and knowledge to enhance the profession further."
Those selected for Fellowship are elected based on the following:
Meritorious Contributions to Knowledge (MCK); as was the case for Professor Carmel Mooney.
Meritorious Contributions to Clinical Practice (MCCP); which Associate Professor Emma O'Neill was recognised for.
Meritorious Contributions to the Profession (MCP).
Professor Mooney's main research and teaching areas are in endocrine disorders of dogs and cats. She has lectured widely both nationally and internationally and has published many research articles in small animal endocrinology.
The Professor of Small Animal Internal Medicine at UCD, she has served as the President of the British Small Animal Veterinary Association and the European College of Veterinary Internal Medicine - Companion Animals.
Having designed and developed the UCD Graduate Certificate in Small Animal Medicine, Dr O'Neill directs the programme and is a recipient of a 2021-22 University Teaching Excellence Award.
She is substantial involved with ECVIM specialist examinations, and her area of teaching spans the undergraduate veterinary and vet nursing programmes at UCD, as well as its Doctor of Veterinary Medicine programme and ECVIM residency training.
Her primary areas of interest are canine liver disease, veterinary education and evidence based practice.
The UCD pair were among 34 new Fellows welcomed into the RCVS for 2023, and of these 22 were admitted for meritorious contributions to clinical practice, six for meritorious contributions to knowledge, and six for meritorious contributions to the profession.
"Many congratulations also to our 34 new Fellows. Each one of them is an example of veterinary excellence, whether they came into the Fellowship through their contribution to clinical practice, through their advancement of veterinary knowledge, or through their contribution to the veterinary professions and wider society. Celebrations of this kind are a highlight of the year," said Dr Chris Tufnell FRCVS, current Chair of the RCVS Fellowship and former RCVS President.
"I am sure they will all have something to add to our collective knowledge over the coming years as we continue to use our expertise to look at different areas of veterinary endeavour such as our latest research projects on Net Zero Surgery and Net Zero Veterinary Medicine."
The regulatory body for veterinary surgeons in the United Kingdom, the RCVS was established in 1844 by royal charter, and is responsible for monitoring the educational, ethical and clinical standards of the veterinary profession.
By: David Kearns, Digital Journalist / Media Officer, UCD University Relations
To contact the UCD News & Content Team, email: newsdesk@ucd.ie