Stakeholders are key to ensuring the future of Irish waters' biodiversity, Oireachtas committee hears
Posted 1 February, 2023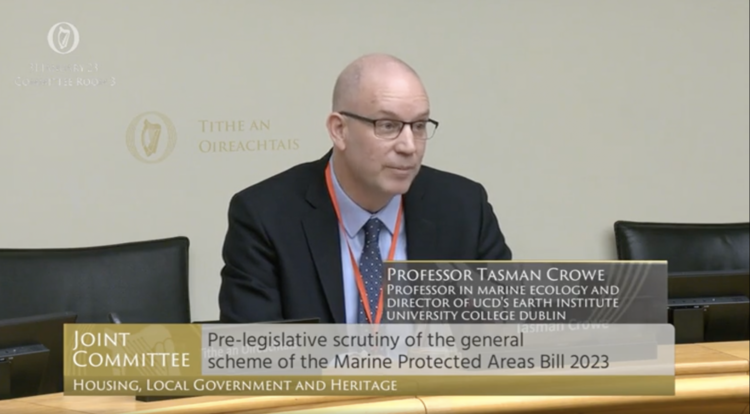 Fostering a sense of ownership and stewardship over Ireland's oceanic waters will be a key element in the success of environmental protections aimed at safeguarding the marine ecosystem, an Oireachtas committee has heard.
Ensuring 'stakeholder consultation' is critical to effective Marine Protected Areas (MPAs) said Professor Tasman Crowe, from the UCD School of Biology and Environmental Science and Director of the UCD Earth Institute, speaking to the Committee on Housing, Local Government and Heritage.
The group is examining the Marine Protected Areas Bill 2023, which seeks to protect 30% of Ireland's maritime area by 2030 - an area that is several times larger than its land mass.
MPAs are widely used internationally as a means of protecting and conserving ecosystem; generally applying restrictions on activities in the designated areas that are considered harmful to specific habitats, species or specific ecosystem properties.
"If protecting a seagrass bed, leisure boats would perhaps be able to pass over it, but not to anchor in it," said Professor Crowe, citing an example of how MAPs can be tailored to ensure their conservation objectives are met without "putting a fence up around the area and preventing anything from happening in it."
"A key provision of the Bill, perhaps the single most important one, is for stakeholder consultation and participation throughout the process of identifying and managing MPAs. This kind of co-creation and co-management is becoming a key principle in MPAs around the world.
He added: "The aim is to foster a sense of ownership and stewardship. It is important to give real opportunity for discussion of management measures and regulations.
"This will help engender understanding of and voluntary support for the agreed rules, but it is also important that final responsibility for enforcement lies with the state and that mechanisms are in place to ensure compliance."
Professor Crowe, who chaired the advisory group of experts who prepared the 2020 report on Expanding Ireland's MPA Network and engaged with over 100 key stakeholders, also it was essential to cooperate with neighbouring countries like Britain if Ireland is to protect its oceanic biodiversity because "marine life does not respect international boundaries".
He told the Committee too that there was a provision in the Bill for an independent Expert Body, and other sources of advice, to inform the Minister's decisions.

"This is also very important, partly because trust, impartiality and objectivity are key and also because this approach draws on recognised expertise from the full range of disciplinary perspectives needed to co-create an efficient effective network of Marine Protected Areas."
"All in all, I think legislation based on this Bill would represent a very significant step change in our relationship with our maritime environment and present a huge opportunity to better manage our interactions with it, both for the health and sustainability of the ecosystems themselves but also for the wellbeing and prosperity of current and future generations," he said.
"This aspiration was shared by the stakeholders that we engaged with in preparing the report that substantially underpins it and indeed was also reflected in the extensive public consultation that followed."
By: David Kearns, Digital Journalist / Media Officer, UCD University Relations
To contact the UCD News & Content Team, email: newsdesk@ucd.ie