UCD Governing Authority announces appointment of Professor Orla Feely as President of University College Dublin
Posted 21 February, 2023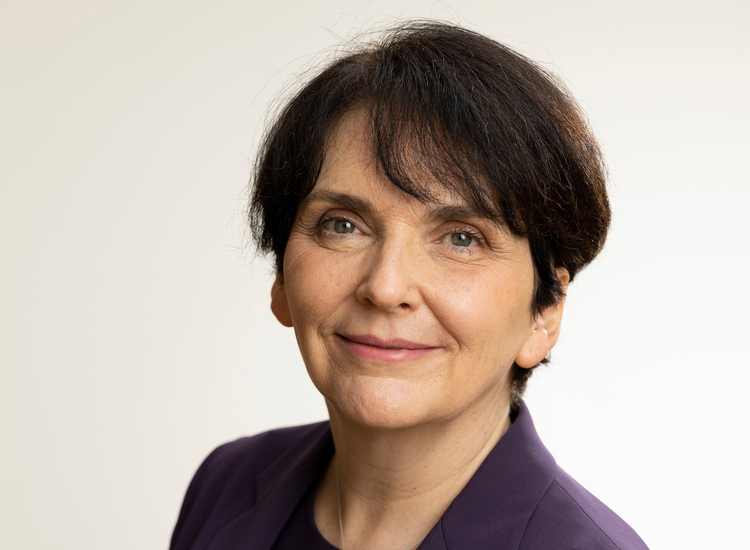 The Governing Authority of University College Dublin has today approved the appointment of Professor Orla Feely as President of University College Dublin.

Professor Feely is currently Vice-President for Research, Innovation and Impact. She succeeds Professor Mark Rogers who has been Acting President since March 2022 and will take up office on 1 May 2023.
Warmly welcoming the appointment of Professor Feely, Chair of the Governing Authority, Marie O'Connor, said: "Professor Orla Feely is an outstanding university leader with a distinguished academic track record in research and teaching who has already greatly contributed to the reputation of University College Dublin as a centre of excellence for research and education for our students, faculty and staff.
"Professor Orla Feely is an exceptional person who has the drive and ambition to lead UCD as a public university that values its community, that sets standards and embraces wider participation in order to make a real impact on society. I have every confidence that under Orla's leadership, University College Dublin will continue to fulfil its ambitious role in Ireland and globally and play its part in tackling global challenges.

"I wish to express my gratitude to the members of procedures, nominations, search and selection committees, whose significant input and support guided the Governing Authority in this process to find and recommend such a leader."
Congratulating Professor Feely, Acting President, Professor Mark Rogers said: "Thanks to colleagues, current and past, and especially to the generations of students who have been on the journey with me for so many years. I believe that we have made UCD a great place to learn, to grow, to research and to expand our minds. This university is a very special place, made so by our history, our achievements, but most importantly by you.
"I have worked closely with Orla for many years and she is a great colleague whose pride, loyalty, support and ambition for UCD has always been evident, matched only by her ability. I believe the future holds great promise for UCD under her presidency."
Speaking at the announcement, Professor Orla Feely said: "I am greatly honoured to be UCD's next President and to lead the University into the next phase of its remarkable development. My own studies in UCD, starting at the age of sixteen, transformed my life, and I witness the University's continuing transformative impact every day.
"I want to lead a UCD that makes a clear positive difference to the lives of our students through the educational experience we deliver. I want to grow our impact in Ireland and in the wider world through our work in areas such as sustainability, health and secure societies.
"My thanks to Professor Mark Rogers for his great leadership of UCD. It has been a pleasure and a privilege to work alongside Mark, and I am very grateful to have his continuing support during the transition to my taking up office on 1 May."
Thanking Professor Mark Rogers, the Chair of the Governing Authority, Marie O'Connor said: "UCD is enormously indebted to Professor Mark Rogers for the Acting President role he has played in leading the University since March 2022. His open leadership and dedication brought UCD through this period of transition.
"Prior to this, as Deputy President and Registrar and as Dean of Science, he transformed the academic curriculum and the student experience, always placing the students at the centre of the University. His leadership was crucial during the COVID-19 pandemic and ensured UCD was an exemplar in terms of supporting students and staff.
"I would like to share my thanks to Mark for his exceptional work and for his support to me personally as Chair of the Governing Authority."
Professor Orla Feely: Background
Role in the University
Professor Feely is Vice-President for Research, Innovation and Impact and a Professor in Electronic Engineering at UCD, and has been a member of the University management team since 2014.Under her leadership, annual research grants, publications, citation impact and innovation success for UCD have substantially increased, with major initiatives in areas such as sustainability, food, quantum technologies and personalised medicine. In the last financial year UCD secured research grants of over €155 million.

Professor Feely's leadership of UCD's innovation activities has seen a significant increase in space at NovaUCD, the University's centre for new ventures and entrepreneurs, the launch of the University Bridge Fund to support early-stage companies and the development of an AgTech Innovation Centre at UCD Lyons Farm.

Professor Feely has championed the advancement of women in UCD through the development and delivery of two successive gender equality action plans, which secured two Athena SWAN Bronze awards for the University.Professor Feely also chaired the UCD Decade of Centenaries Committee, and oversaw the organisation of the National Conference held at UCD in December 2022 on the Foundation of the Irish State.
Education and research
Professor Feely holds a BE in electronic engineering from University College Dublin (1986) and MS (1990) and PhD (1992) degrees in electrical engineering from the University of California, Berkeley, where her PhD thesis won the DJ Sakrison Memorial Prize for outstanding and innovative research. While at UC Berkeley, she also won the Outstanding Graduate Student Instructor Award.
Her research is in the area of nonlinear circuits and systems, and she has been awarded research grants and prizes from a number of national, international and industry sources.
Membership/leadership of national and international bodies
Professor Feely is a member of the Board and former Deputy Chair of the Higher Education Authority. She is a member of the Royal Irish Academy and a fellow of the IEEE (Institute of Electrical and Electronics Engineers), Engineers Ireland and the Irish Academy of Engineering. She has served as President of Engineers Ireland, as Chair of the Irish Research Council, the EU Advisory Group on Marie Sklodowska Curie Actions and the IEEE Technical Committee on Nonlinear Circuits and Systems, as Vice-President for Resources and Treasurer of CESAER (the Conference of European Schools of Advanced Engineering Education and Research), as a director of the Young Scientist and Technology Exhibition, and as a member of a number of Editorial Boards.