Opinion: The Banshees of Inisherin - Competing concepts of justice wage war in Martin McDonagh's Irish tragicomedy
Posted 11 January 2023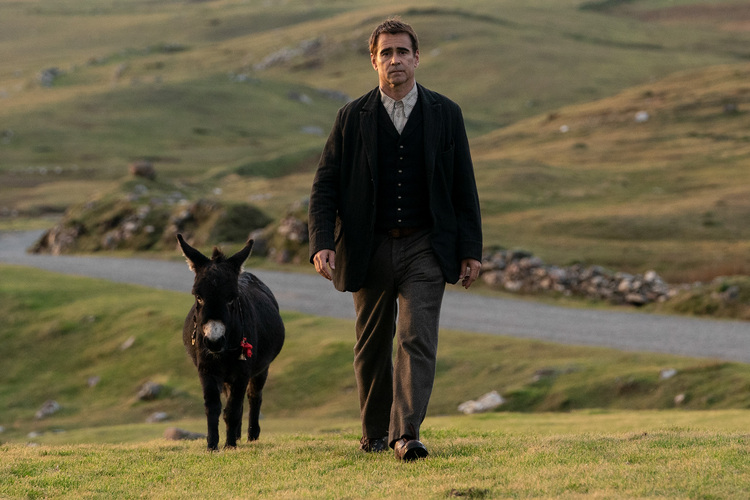 Warning: the following article contains spoilers.
Countries at war can reach settlements, civil war factions can proclaim truces and paramilitaries can be accommodated at the negotiating table. But it can sometimes be more difficult to find a way to cease hostilities in battles between friends, partners and family members.
This is the territory of writer and director Martin McDonagh's black comedy The Banshees of Inisherin. The film is set on an island off the west coast of Ireland in 1923, towards the end of the gruesome civil war that pitched friends and siblings against each other. But its focus is more domestic.
Out of the blue, local man Colm (Brendan Gleeson) decides that his lifelong friendship with his neighbour Pádraic (Colin Farrell) has run its course, much to Pádraic's bewilderment.
Colm's abrupt ending of this friendship is an assertion of his need to focus on playing his fiddle and composing music, not – as he explains to Pádric – to waste what is left of his life on dreary pub conversation.
A new take on justice
Pádraic is unlike many of the gargoyle-like characters that populate McDonagh's work, where dysfunctional couplings and longstanding grudges are commonplace.
McDonagh's characters are generally self-obsessed and take delight in the suffering of others. But here, his focus is on what prompts someone to move from decency towards destructiveness. Pádraic is non-combative and friendly, making his descent into chaotic vengeance all the more compelling.
Many of McDonagh's plays and films focus on toxic couplings, such as the mother and daughter in The Beauty Queen of Leenane (1996), or the face-off between a bereaved mother and corrupt police officer in Three Billboards Outside of Ebbing, Missouri (2017). The director likes transgressive characters and morally complex situations.
Though boring, Pádraic is devoted to his island's community. He has done little to set his former friend on this path and his lack of culpability is reinforced by the compassion shown by his sister, Siobhán (Kerry Condon) and by a progressing connection with Dominic (Barry Keoghan), the son of a sexually abusive and authority-exploiting police officer.
Pádraic's distress and incomprehension around Colm's rejection allows McDonagh to explore not only the grief experienced when adult friends decouple, but also vicariously the collapse of childhood friendships or family estrangements. A future without a loved one is often unforeseen and feels un-embraceable.
The interpersonal plot swells to take on the reach of a fairy tale, where the ogre that needs embracing or slaying is as much within as without.
Colm delivers a grisly ultimatum – he will cut off a finger each time Pádraic speaks to him. The macabre threat is counter intuitive for a musician. In fairy tales we associate heroic action with courage and self-fulfilment, not self-destruction.
Macabre forms of self-harm litter McDonagh's work, ranging from the plunging of hands into molten fibreglass in The Lonesome West (1997), to Billy Bickle's obsession with shootouts in Seven Psychopaths (2012). Suicide as punishment is what Ray wishes for in In Bruges (2008), while Ken opts for suicide as sacrifice to save the life of his friend. In Hangmen (2015), Mooney induces a lynch mob to take his life.
Destructiveness is always nearby and characters do not dwell on their own self-preservation.
Justice as revenge
Once Pádraic is deprived of his sister, who leaves the island to work as a librarian on the mainland and his other true companion (Jenny the little donkey) dies, the film ricochets into familiar McDonagh territory about the fragility of justice.
Pádraic sees no alternative than to take justice into his own hands. This happens in many of McDonagh's plays and films – characters pivot to vengeful chaos, surprising themselves with the lengths they might go.
Under the weight of a tragicomic need to avenge, self-endangerment becomes inconsequential. This is also evident in Seven Psychopaths, in the story of Hans and Myra, two pacifist Quakers who stalk their daughter's killer.
In Three Billboards Outside Ebbing, Missouri, the inciting incident is a horrific crime, followed by an inadequate investigation and arson. In The Pillowman (2003) it is child murders.
Suffering and justice are presented in Banshees without the irony his work is generally associated with. McDonagh has previously acknowledged that Seven Psychopaths over-relied on layering and citation of other work. It was too self-conscious and self-aware. Banshees is better served by being relatively free from such impulses.
Rewriting justice
Justice is typically associated with rationality and proportionality. But Pádraic's vigilantism is driven by a frenzied, if calculated, need to retaliate and then destroy.
As the tensions between Pádraic and Colm play out, distinctions between antagonist and protagonist, friend and enemy, perpetrator and victim, the innocent and guilty collapse. The punishment (arson and attempted murder) no longer befits the offence but has its own grim righteousness regardless.
As Colm's home burns, revenge is not just done and seen to be done, but is the perverse measure of Pádraic's newfound resilience
By Eamonn Jordan, Professor in Drama Studies, University College Dublin
This article is republished from The Conversation under a Creative Commons license. Read the original article.
To contact the UCD news team, email: newsdesk@ucd.ie