Royal Historical Society awards UCD historian prestigious Gladstone Award
Posted 10 July, 2023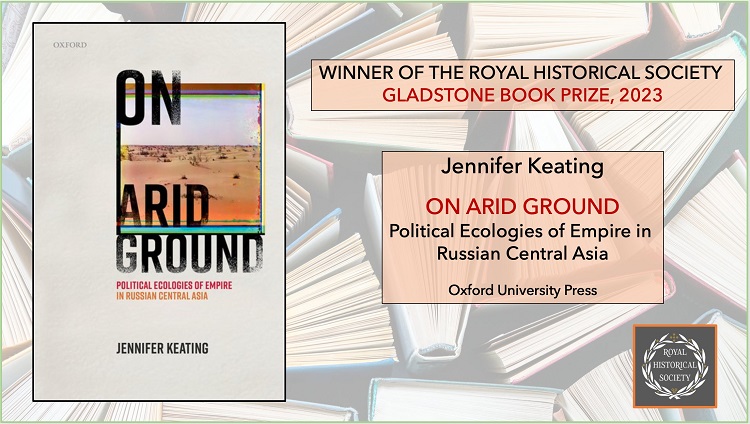 A UCD history professor's first monograph has received the prestigious Gladstone Award from the Royal Historical Society.
Dr Jennifer Keating, UCD School of History, was named the Royal Historical Society's (RHS) 2023 winner for her work 'On Arid Ground: Political Ecologies of Empire in Russian Central Asia'.
In awarding the price, the judges said the work was "a path-breaking study of the way empire and environment interacted".
Focused on Central Asia during the 19th and early 20th centuries, Dr Keating's book offers for the first comprehensive assessment of the environmental imprint Russia's colonisation had on Turkestan – an area that comprises present-day Turkmenistan, Uzbekistan, Tajikistan, Kyrgyzstan, as well as a region in northern Afghanistan and the southern part of Kazakhstan, and Xinjiang Uygur Autonomous Region in Northwestern China.
"This book innovates on a number of fronts, not least by showing the importance of ecology and environment in forcing the Russian Empire to adapt its long-term geopolitical strategy," said the awarding citation.
"It significantly changes the way we think of Russian Empire-building and outlines a fascinating picture of land reclamation, settlement and commodity development, while often putting to the fore actors beyond the human, from sandstorms to termites.
Adding: "Inspiring and important, it will be influential for historians working on other imperial contexts, and above all for our thinking about environment and human social and political organisation today."
The Gladstone Prize is one of two annual book awards given by the Society, and is awarded to debut authors for a written history book published in Britain on any topic which is not primarily British or Irish history.
The prize is named in honour of William Ewart Gladstone, former Prime Minister of the United Kingdom, and was made possible by a grant by the Gladstone Memorial Trust. It was first awarded in 1998, the centenary of Gladstone's death.
By: David Kearns, Digital Journalist / Media Officer, UCD University Relations
To contact the UCD News & Content Team, email: newsdesk@ucd.ie