UCD pain specialist awarded International Service Award at the World Physiotherapy Congress
Posted 6 June, 2023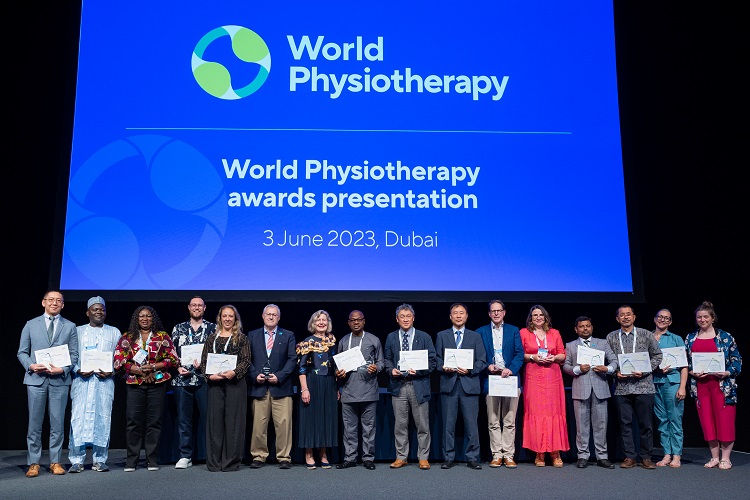 Associate Professor Brona Fullen has been awarded an International Service Award for Research at the World Physiotherapy Congress.
The UCD pain specialist received the honour due to her outstanding contribution to physiotherapy at an international level.
She was one of several awardees recognised at the 20th General Meeting and World Physiotherapy Congress 2023 in Dubai last month.
Highlight of @WorldPhysio1951 Congress 2023. International Service Awards to @bronafullen for research and @Claire_Ni_Ragha for management
Hugely deserved for both. You have done @_iscp_ so proud! Comhghairdeachas libh @gemda @RuaidhriOConno1 pic.twitter.com/kenSlnIKSK

— ISCP (@_ISCP_) June 3, 2023
Co-founder and director of the UCD Centre for Translational Pain Research, Associate Professor Fullen is the first woman to lead the European Pain Federation (EFIC) as President.
She is also the first physiotherapist to hold this role.
A multidisciplinary professional organisation in the field of pain research and medicine, the EFIC represents close to 20,000 physicians, basic researchers, nurses, physiotherapists, psychologists and other healthcare professionals across Europe.
A strong advocate for multidisciplinary pain research and management, Associate Professor Fullen, from the UCD School of Public Health, Physiotherapy and Sports Science, specialises in the topic of pain, and her research interest include multidisciplinary rehabilitation of people with chronic pain and pain science education in physiotherapy programmes for which she has been awarded national and European Union funding.
A past president of the Irish Pain Society, she has worked at Massachusetts General Hospital in Boston, and St Vincent's University Hospital and Tallaght Hospital in Dublin, and has supervised MSc and PhD students, and presented her research at national and international conferences.
The World Physiotherapy awards programme recognises outstanding contributions by physiotherapists to the profession and/or global health at an international level.
There are several categories of award, all presented every four years at the organisation's general meetings.
The awardees for the World Physiotherapy Congress 2023 were:
Margot Skinner - Mildred Elson Award
Valerie Taylor - World Physiotherapy Humanitarian Service
Yoshifumi Kobayashi - World Physiotherapy Leadership in Rehabilitation
World Physiotherapy international service awards
Education
Ajediran Idowu Bello, member of Ghana Physiotherapy Association.
Feroz Kabir, member of Bangladesh Physiotherapy Association
Hans Hobbelen, member of Royal Dutch Association of Physical Therapists
Management and administration
Claire F O'Reilly, member of Irish Society of the Chartered Physiotherapists
Genhee Lee, member of Korean Physical Therapy Association
Kazuto Handa, member of Japanese Physical Therapy Association
Nicola Phillips, member of Chartered Society of Physiotherapy
Practice
Darren Brown, member of Chartered Society of Physiotherapy
Vincent Babatunde Nwuga, posthumous award
Research
Brona Fullen, member of Irish Society of the Chartered Physiotherapists
César Fernández de las Peñas, member of Spanish Association of Physiotherapists
Marco Pang, member of Hong Kong Physiotherapy Association
Mario Bizzini, member of physioswiss
Some 2,000 physiotherapists from 127 countries/territories attended the World Physiotherapy Congress 2023.
By: David Kearns, Digital Journalist / Media Officer, UCD University Relations
To contact the UCD News & Content Team, email: newsdesk@ucd.ie