Coveted Fulbright Awards presented to UCD scholars
Posted 9 June, 2023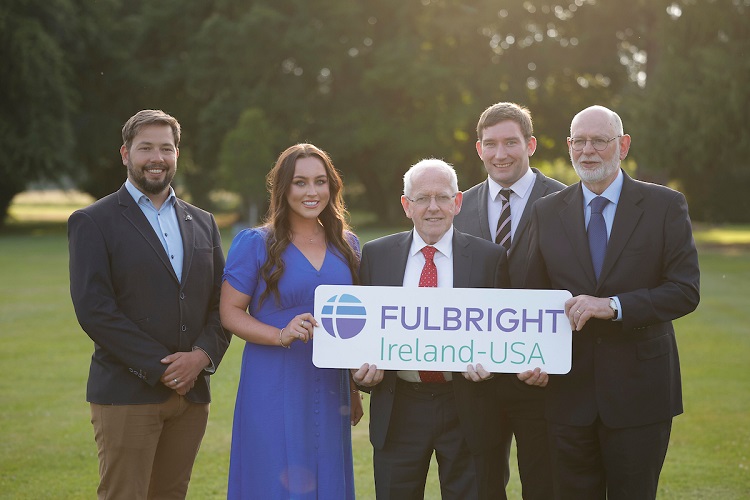 Three of UCD's brightest have been awarded Fulbright scholarships enabling them to be hosted at some of America's top universities for the next year.

This year's awardees from UCD are Dr William Kinsella, Head of the UCD School of Education, Dr Daniel O'Reilly, a PhD student in the UCD Conway SPHERE research group, and Niamh Hetherington, a MA student at the UCD College of Arts and Humanities.
The trio were among 37 recipients of this year's Fulbright Irish Awards, and were presented with their awards at a ceremony in the US Ambassador's Residence this week.

"I speak for the entire Fulbright Commission Ireland Board in congratulating the 37 Fulbright awardees on receiving their awards," said Chair of the Fulbright Commission Ireland Board, Professor Diane Negra.

"Fulbright is synonymous with high-level research, academic excellence and cross-cultural collaboration and I wish the awardees every success as they travel to the US, join a thriving network of professional Alumni, and experience a rich and unique cultural and educational exchange that encompasses a Fulbright award."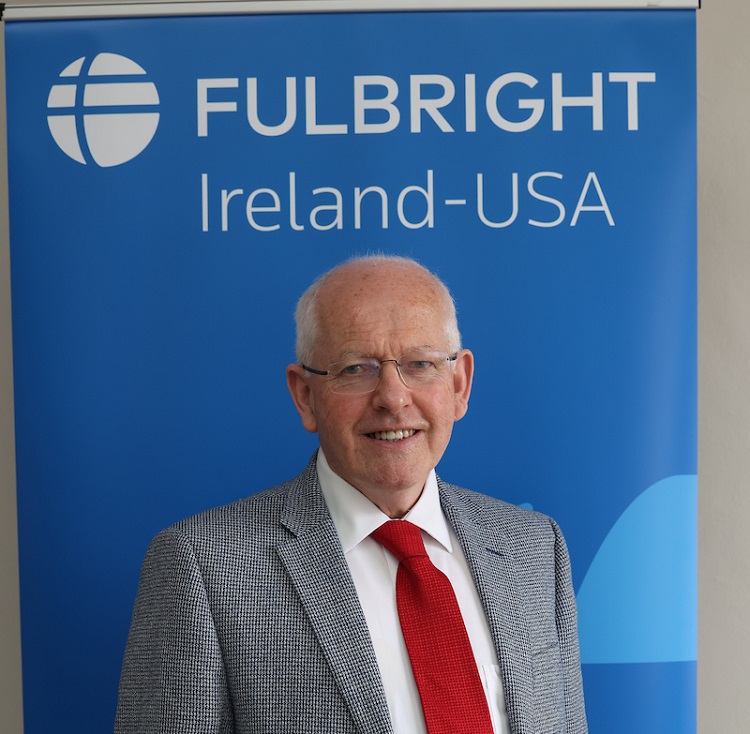 Dr William Kinsella, UCD School of Education
As a Fulbright Scholar, Dr Kinsella will be hosted at Columbia University where he will focus on his research 'Multiculturalism, Special Educational Needs and Inclusive Education'.

The aim of this work is to identify the barriers to, and the facilitators of, the effective inclusion of migrant students with additional educational needs in education systems, and in regular classrooms where possible, with a focus on implications for initial teacher education and for the professional education of educational psychologists, special education teachers and special needs assistants.
Ms Hetherington received an FLTA award at the University of Notre Dame. A primary school teacher and an avid sports fan with a passion for athletics and Gaelic Football, she is currently finishing the MA in Scríobh agus Cumarsáid na Gaeilge.
Minister of State at the Department of Tourism, Culture, Arts, Gaeltacht Thomas Byrne TD and Niamh Hetherington
As a Fulbright Awardee, Dr O'Reilly will travel to the University of Rochester to explore the impact of platelet biology on neonatal lung disease.

A General Paediatric Higher Speciality Trainee and Irish Clinical Academic Training (ICAT) fellow, his research is focused on harnessing platelet activation to identify preterm babies who will develop infections.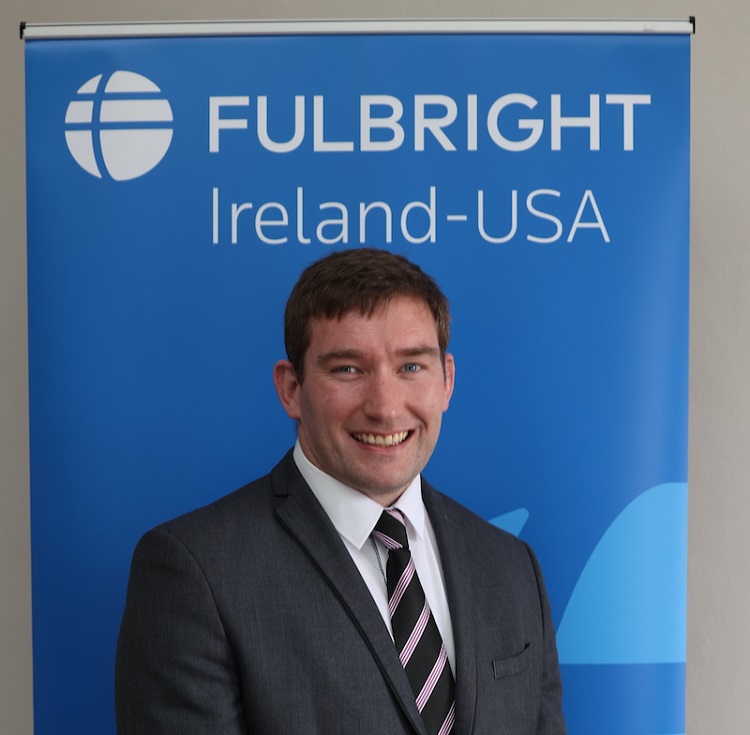 Dr Daniel O'Reilly, UCD Conway SPHERE research group
In all, this year's Fulbright Awardees will travel to 17 states across the USA to embed themselves in institutions ranging from the Dana-Farber Cancer Institute in Boston, Poets House New York and The University of Hawaii and The Smithsonian Institution in Washington.

"The Commission takes pride in the Irish awardees who engage in the States and return home to share their learnings," said Dr Dara FitzGerald, Executive Director of the Fulbright Commission in Ireland.

"The impact of their support, both immediately and over time, cannot be underestimated."

The global Fulbright Program was established in 1946, and the Fulbright Commission in Ireland annually awards grants for Irish citizens to study, research, or teach in the US and for Americans to do the same in Ireland.

The coveted transatlantic prize has allowed over 2,500 postgraduate students, scholars, professionals, and teachers from across all disciplines to be hosted in the US and Ireland.
The Commission is supported by the US Department of State and the Irish Government's Department of Foreign Affairs.
We are delighted to announce 37 #Fulbright #Irish Awardees for 2023-2024. Congratulations! #FulbrightFamily #Ireland #USA https://t.co/U0fB6UsWzq pic.twitter.com/r4fBOMJOeP

— Fulbright Ireland (@Fulbright_Eire) June 9, 2023

"The warmth of the relationship between Ireland and the United States is underpinned by our shared history and common values," said Minister of State at the Department of Tourism, Culture, Arts, Gaeltacht, Sport and Media Thomas Byrne, TD.

"The Fulbright Commission and the Fulbrighters, past and present, are a testament to the best traditions of academic and cultural exchange, and have an outstanding record in representing Ireland."

US Chargé d'Affaires to Ireland, Mike Clausen added: "The Fulbright Program represents the US government's preeminent international educational and cultural exchange initiative.
"It plays a crucial role in sustaining and advancing the unique and close relationship between the United States and Ireland. Fulbright awardees exchange research, knowledge, ideas, and culture and contribute to solving important global problems. I congratulate this year's awardees and wish them success in the United States and beyond."

The next round of applications for Fulbright Irish Awards will open on 28th August 2023. Interested candidates should visit here for more information.
By: David Kearns, Digital Journalist / Media Officer, UCD University Relations
To contact the UCD News & Content Team, email: newsdesk@ucd.ie