RIA awards UCD student Hamilton Prize for Mathematics
Posted 2 March, 2023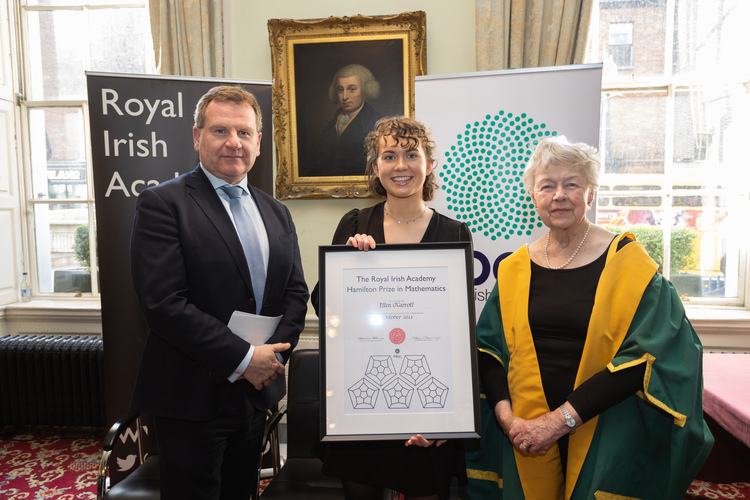 A UCD student has been awarded the prestigious Hamilton Prize by the Royal Irish Academy - the top prize for undergraduate mathematical students in Ireland.

Ellen O'Carroll, who is undertaking a Bachelor of Science at UCD, was among nine final year students who were named as recipients of the 2023 Prize in recognition of their mathematical excellence.
Today, the prestigious undergraduate 2022 #HamiltonPrize was awarded to the top 9 mathematical students on the Island of Ireland, at a ceremony in the Royal Irish Academy. https://t.co/mIVVipvSRC

The prize is sponsored by @ibec_irl. pic.twitter.com/l9Y80F1CFT

— Royal Irish Academy (@RIAdawson) March 1, 2023
"The Hamilton Prize recognises these outstanding young mathematicians chosen in their penultimate year of studies in universities all around the island of Ireland," said Dr Mary Canning, RIA President.

"We celebrate Hamilton Day because Ireland has a rich history of scientific excellence, but through this prize we also look to the future."

The 2022 Hamilton Prize winners:
Ellen O'Carroll, University College Dublin.
Tiernan Brosnan, University of Limerick.
Ryan Elwood-Clarke, Queen's University Belfast.
Laura Hayes. University College Cork.
James Francis Hayes, University of Galway.
Ryan McGowan, Trinity College Dublin.
Olivia McLoughlin, Dublin City University.
Kituru Ndee, TU Dublin.
Jordan Rossiter, Maynooth University.
The winning students each received a cash prize of €500, a certificate of achievement and attended an exclusive masterclass with the 2022 Hamilton Lecture speaker, Professor Avi Wigderson of the Institute for Advanced Study, Princeton.

The 2023 Prize awards ceremony took place at the RIA this month, havingoriginally scheduled for 16 October 2022 to mark Hamilton Day - which commemorates the anniversary of famed Irish scientist William Rowan Hamilton's discovery of quaternion algebra on 16 October 1843.
By: David Kearns, Digital Journalist / Media Officer, UCD University Relations