President's Award: Fifteen students honoured for their exceptional service to UCD community
Posted 10 March, 2023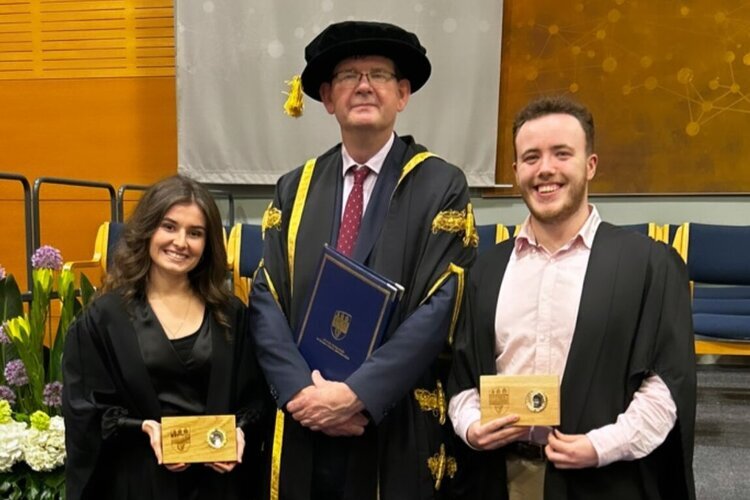 Fifteen UCD students have had their service to campus life recognised by this year's President's Award.
Given to those students who have excelled in extracurricular activities of a kind that make UCD an exciting, interesting, dynamic and humane place to live, study and work, recipients of President Awards are nominated by their peers.
A massive congratulations to former auditor, @MaiaSpringael, and current auditor, @ryanmoran2001, on being awarded the @ucddublin President's Award yesterday for their involvement in student life. Well done guys pic.twitter.com/PSzb94apnG

— UCD Medical Society (@ucdmedsoc) March 4, 2023
Congrats to all awardees at the recent UCD Awards Day #UCDSPHPSS Prof Eleni Theodoraki joined students from UCD sports clubs Peter Dillon UCD Equestrian, Christine Coffey UCD RFC, Shauna Fitzsimons UCD Boat Club and David Somers UCD Boat Club, who all received President Awards pic.twitter.com/0FPihGqpG7

— UCD Public Health, Physiotherapy & Sports Science (@ucd_sphpss) March 7, 2023
Winners are, typically, actively engaged in service to UCD societies, clubs or the Students' Union, or are involved in student support services or competitive activity in inter-varsity events.
This year's recipients of the UCD President's Award are:
Name
Bio
Aisling Kelly

Aisling held the position of social media manager,
and subsequently the position of president with
the UCD Chapter of Engineering World Health.

She has worked on teams providing outreach to
DEIS schools promoting engineering and has
held the position of events officer for the
Women+ in STEM society.

Aisling deserves to be celebrated for her
commitment, vision, and engagement with the
University community and beyond.

Aisling Maloney
Aisling is the Production Officer of the Students'
Union and sits on both the UCD Academic
Council and the Constitutional Review Group.
She volunteers as a Peer Mentor, Access Leader,
and Class Representative.

Aisling has taken up numerous leadership roles
in order to enrich the lives of her fellow students
and the wider UCD community.
Christine Coffey
President of UCD Women's Rugby, Christine is
greatly admired by her peers. She is known for
her approachable and solution focused
leadership style.

Her impact on the growth of the club has
undoubtedly enhanced the profile and importance
of women's sport within the UCD community.
Conleth Aspel
Conleth serves as class ambassador and student
union ambassador within the Michael Smurfit
Business School.

He is head of events with the Electrical &
Electronic Engineering society and places focus
on encouraging entrepreneurship in the
engineering and business college.

His generosity and collegiality in the support he
provides to other students is being celebrated
today.
David Somers
As our Boat Club Captain, David places
enormous emphasis on making sure everyone is
included.

Having recently returned from volunteering in a
Children's hospital in Tanzinia, David is widely
admired amongst his peers as being an
exemplary role model, friend and leader in
everything he does, on and off the water.
Fade Adeniran
This year has been one of the best years for the
UCD African Society - Fade, in his role as
Society President, is deservedly being celebrated
today for his excellence in leadership and
management.
Jack Keaney
Captain of UCD AFC, Jack goes above and
beyond his duties on the field of play.

Known for his work as a facilitator with the
"Leading Ireland's Future Together" programme -
Jack has helped students become better leaders
in their respective field. His community spirit and
generosity is being recognised today.
Kate Duffy
Throughout her time in the UCD Science
programme, Kate has wholeheartedly and
selflessly dedicated herself and her time to
enriching the university experience of her peers
and fellow students.

She has represented the university as both a
Career and Student Ambassador, while also
taking up the role as Society Auditor for UCD
Biological Society.
Katie Connolly
Peer Mentor, SU class representative in zoology
and an active member of the SU Council Katie
always has the best intentions for the people
around her. Highly sought after by her peers,
Katie personifies the values and ethos of UCD.
Maia Springael
Maia started in the Medical Society as a class
representative going on to serve as the Treasurer
and Auditor of the Society over her time in UCD.
Her passion for helping others, most notably
conducting fundraisers, has given a voice to
many charities.
Peter Dillon
Peter is current president and former captain of
UCD's highly successful Equestrian Club. In
addition, he is the treasurer of the Irish University
Association of Riding Clubs (IURCA).

Peter is never short of time or counsel for those
in need. A natural leader, he is honoured today
for his generosity and collegiality in the support
he provides to other students.
Ryan Moran
Ryan has been the cornerstone of the UCD
Medical Society for many years. A kind, diligent
and hardworking leader, he served as secretary
last year and Auditor this year.
Shauna Fitzsimons
Shauna is the first ever female Captain of the
Men's Boat Club. A competitor at heart on the
water, she has successfully combined her
studies, sport and administrative roles as a
student for the betterment of not just UCD rowing
but University rowing as a whole.
Idil Bilgic
As a peer mentor and residential assistant, Idil's
dedication to making UCD a community where
people are connected to each other and work
together in all aspects deserves recognition
today.

The support she provides to other students is
equalled by her strong sense of social
responsibility.
Iga Piotrowska
Iga has held the position of Auditor of the
German Society and has helped grow the society
from strength to strength, year on year.

Iga thrives in the diverse UCD ResLife
community and supports it in a proactive, kind
and optimistic manner.

Iga is the embodiment of being an
active member of our University for All.
UCD President's Awards presented to 15 students

The award provides recognition for those students who excel in extracurricular activities of a kind that make UCD an exciting, interesting, dynamic and humane place to live, study and work.

Read more https://t.co/OoIA1reIgk pic.twitter.com/VxxrVej6YI

— UCD Sport (@ucdsportsclubs) March 7, 2023
To date, over 335 students have received the UCD President's Award – which are annually awarded during a ceremony held in O'Reilly Hall every March.
The objective of the UCD President's Awards scheme has been to give recognition to the efforts of students in areas of University life other than the academic, particularly where those efforts provide the leadership, commitment and energy which help to turn UCD into a lively, engaged university community.
By: David Kearns, Digital Journalist / Media Officer, UCD University Relations