Ad Astra Elite Sport Scholar Nicola Tuthill takes silver at the European Throwing Cup
Posted 11 March, 2023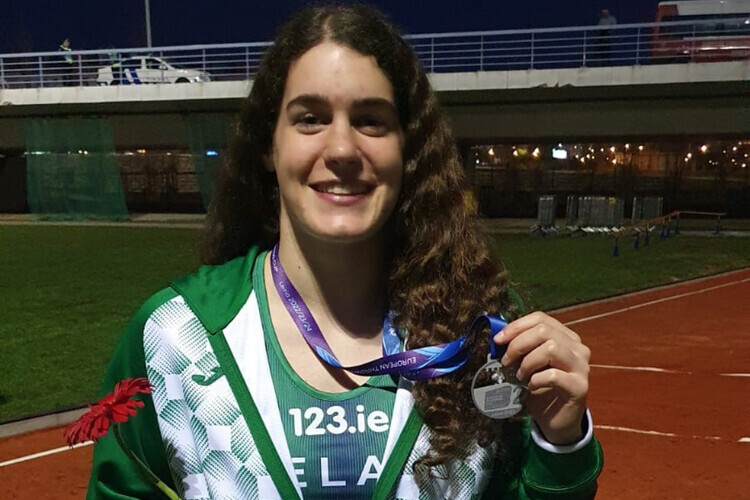 Athletics star Nicola Tuthill has won silver for the U23 Women's Hammer Throw at the European Throwing Cup.
The Ad Astra Elite Sport Scholar tossed an impressive 64.44 m while competing in Portugal, but was just pipped for the gold by Ukraine's Valeriya Ivanenko-Kyrylina who produced 65.51m with her final throw.
The outstanding performance came almost 12 months to the day since the 19-year-old Cork native dislocated & fractured her elbow at same competition last year.
A U20 World finalist, Nicola, who students Science at UCD, was one of six athletes representing Ireland at the tournament.
Her medal winning finish comes as she prepares for the European U23 Championships later in the year.
UCD's Nicola Tuthill with her silver medal following her superb 64.44m best in the hammer at the European Throwing Cup in Portugal this evening

Full result: https://t.co/i2SCeieYhe pic.twitter.com/HO2ZNhXPwb

— Athletics Ireland (@irishathletics) March 12, 2023
Athletics Ireland views the European Throwing Cup as a key competition that contributes to the progression of Irish Throwers, saying participation reflect its aims of improving and developing throwers who are progressing towards European U20 & U23 Championships, World Championships or Olympic Games qualification.
By: David Kearns, Digital Journalist / Media Officer, UCD University Relations
To contact the UCD News & Content Team, email: newsdesk@ucd.ie