Nursing student wins competition marking 50th anniversary of Ireland's EU membership
Posted 3 May, 2023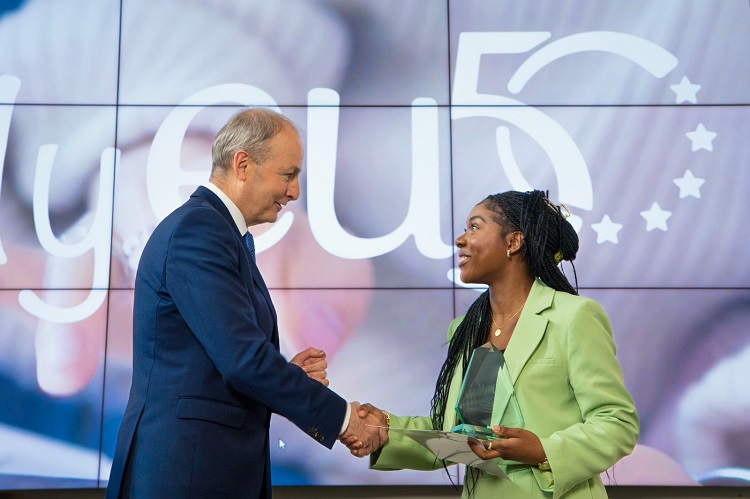 A UCD nursing student has won the MyEU50 Third Level competition, which challenged third level students to get creative about what being an EU citizen meant to them.
Final year student Favour Ochonma was selected as the winner of the nationwide competition for her speech 'From Hope to Prosperity: Celebrating the EU's 50-Year Impact on Ireland and Beyond'.
Accepting the award, the Meath native, who describes herself as a young woman born in Ireland to immigrant parents who found a new home in the European Union, said that the EU had fought for refugee rights and anti-discrimination to create "a world where all are treated with equal consideration. This protection is offered to refugees now in the same way it was 22 years ago."
"This little girl, now 22-years-old, has had a chance to achieve her dreams, reach her potential and fill her needs. Education protections and equality are rights that the EU has so carefully worked with Ireland to protect," added Ms Ochonma.
And the winner of the #MyEU50 Third Level competition is…

Favour Ochonma, @ucddublin

Congratulations, Favour! pic.twitter.com/SL3rlfbaV0

— European Movement Ireland (@emireland) April 28, 2023
Over 5000 students participated in a nationwide competition to mark 50 years of Ireland's EU membership, and entries had to follow one of the following formats:
Podcasts, this includes debates, discussion, comedy or drama.
Op-Eds / Newspaper opinion piece.
Speeches.
Posters.
The third phase competition invited students from Third Level Institutions to express their views on the EU's core values such as human dignity, freedom, democracy, equality, rule of law, and human rights.
Announcing the winner Tánaiste Micheál Martin TD said the competition had given students "an opportunity to think about what being an EU citizen means to them".
"An important objective of the competition has been to recognise young people's voices and to interact with them about topics related to the European Union that are most important to them.
"The knowledge, self-assurance, and capacity of today's young people to influence change may surpass those of any preceding generation. Young people can make contributions to the dialogues taking place right now that will shape their future. Let us continue to work and push for progress and make the next 50 years as successful as the last."
CEO of European Movement Ireland Noelle O Connell added: "We were blown away by the range of entries we received. From podcasts on the rule of law to posters on equality & justice and speeches on the impact the EU has had on the youth of Ireland, we were highly impressed not only by the creativity of the entries but the level of research that went into each and every one.
"The entries demonstrated the students unique, emotive and personal relationship to the EU and their values."
MyEU50 is an initiative of the Government of Ireland, led by the Department of Foreign Affairs and managed by European Movement Ireland to mark the 50th anniversary of Ireland's EU membership with competitions across all three levels of education in Ireland, Primary schools, Post-Primary schools, and Third Level Institutions.
By: David Kearns, Digital Journalist / Media Officer, UCD University Relations
To contact the UCD News & Content Team, email: newsdesk@ucd.ie