Plato's cave allegory claims Grand Prize at 2023 Irish Young Philosopher Awards
Posted 22 May, 2023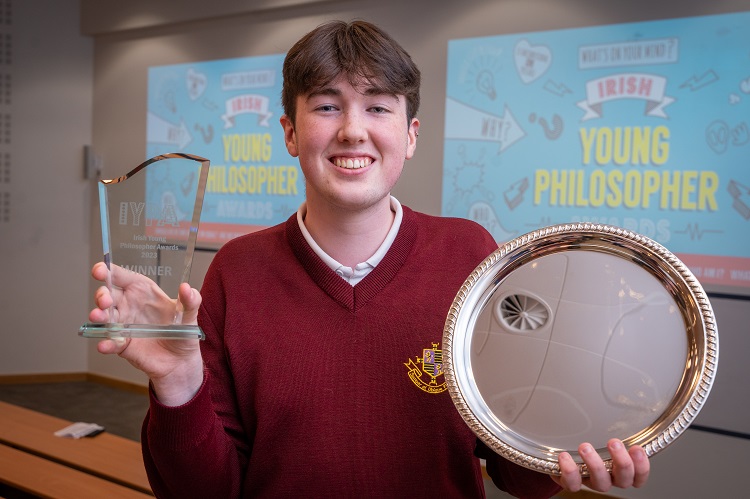 Over 500 young philosophers gathered at University College Dublin to challenged themselves at Ireland's great think off, the Irish Young Philosopher Awards.
Showcasing some of Ireland's brightest young thinkers, the competition, now in its sixth year, encourages pupils at primary and secondary level to develop their critical thinking skills through classroom discussions and by using mediums such as posters, films, and essays to visualise their philosophical discussions.
This year the event attracted well over 500 attendees from primary and secondary schools, teachers and parents from across Ireland and Northern Ireland presenting their philosophy projects, and was the first time it returned in-person following the COVID-19 pandemic.
The Grand Prize Winner of the 2023 IYPA was awarded to Seán Radcliffe, a 5th Year student at Gonzaga College, Dublin.
His winning entry was an essay titled: "Has Plato's allegory of the cave been warning us of social media for 2500 years?"
Runner-up for the Grand Prize was Myles Stomaite, a 3rd Year student from Educate Together in Cork. Their entry was titled 'Is Hostile Architecture Ethical?'
Founded by Dr Danielle Petherbridge, of the UCD School of Philosophy, and Dr Aine Mahon, of the UCD School of Education, and launched by President Michael D Higgins at Áras an Úachtaráin in 201, the IYPA competition is designed as a philosophical alternative to the BT Young Scientist Awards.
Very proud of these two ladies who won the #iypa2023 1st/ 2nd yr prize for their essay "An bhfuil cead against dul go dti an leithreas - an exploration of freedom in the Irish education system". They met faithfully every week reading Kant, Locke, Neill, Frere among others pic.twitter.com/aKN1zqWaC3

— Kate Liffey (@kliffey) May 19, 2023
UCD VP for Equality, Diversity and Inclusion Professor Colin Scott opened the 2023 finalist awards, held at the UCD O'Brien Centre for Science, and special guests who spoke at the Awards included Niall Breslin and Kevin McArevey, Professor Laura D'Olimpio, and award-winning film director of Young Plato, Neasa Ní Chianáin, also presented awards to the students.
Due to the success of the competition, it has also launched the International Young Philosopher Award – inviting students from around the world to reflect on the topic of belonging.
Yesterday Yevheniia Sierova in 2A won the International Young Philosopher Award 2023 (Age 15 - 16 category) in UCD. There were hundreds of entries from all over the world and Yevheniia's essay, "Can you every truly belong to more than one country?", took home the top prize pic.twitter.com/cHjCYCSAD3

— Merlin College (@CollegeMerlin) May 17, 2023
Other philosophical topics submitted for 2023 included the problems of social media; nationality and belonging; is it ethical to eat meat; ethical altruism; consumerism; is housing a right?; euthanasia; gender rights; nature and environmental ethics; artificial intelligence and ethics; freedom and free speech; identity, reality and perception; and what is love and friendship.
Winners at the 2023 Young Philosopher Awards:
Individual Prize winner: Myles Stomaite, 3rd Year, Cork Educate Together.
'Is Hostile Architecture Ethical?'

Runner-Up: Kaitlin Gardiner, 1st Year, Cork Educate Together.
'Should Euthanasia be Legal?'

Small Group Prize winner: Sasha Sweeney, Ella Hanlon, Isabelle McGowan, Charlotte O' Mahony and Martha O'Herhily, 3rd Year, Temple Carrig School.
'Do we still need Women's Rights awareness campaigns?'

Runner-Up: Lauren Coughlan and Vivienne Sonnenberg, 3rd Year, Cork Educate Together.
'Should Abortion be Legal?'

Class Prize winner: Class 5A, St. Kilian's Deustche Schule Dublin.
'How do our belongings define our belonging?'

Runner-Up: 5th Class, Kilcolgan Educate Together N.S, Kilcornan, Clarinbridge, Galway.
'Who Am I?'

Philosophy For Our Time Prize winner: Seán Radcliffe, 5th Year, Gonzaga College, Dublin.
'Has Plato's allegory of the cave been warning us of social media for 2500 years?'

Equal Runners-Up: Emily Gaines, 5th Year, Temple Carrig Greystones.
'Do the Media Elite Exploit the Concept of Intersubjectivity to fulfil their Agenda?
Sebastian Licciardi, 1st Year, Sandymount Park Educate Together.
'Do Philosophers Belong in Modern Society'

Most Innovative Philosophy Project winner: Louis Tempany, Transition Year, Gonzaga College.
'Philosophy of Art'

Runner-Up:
Bader Sadaqah, Lucas Carvalho de Medeiros, Long Hai Hoang, and Queena Huang, 4th Year, Cork Educate Together.
'Are Video Names Art?'
Age Category Award Winners
5th and 6th Class - Primary: Stanley Cox, 6th Class, Glebe NS Wicklow.
'Why can't I have Snapchat, Dad?'

Runner-up: Class 6B Bunscoil na Cathrach, Cahir, Co Tipperary.
'Is Beauty really in the Eye of the Beholder?'

1st and 2nd Year - Second Level: Shahed Al Moubayed and Josie Flanagan, 2nd Year, St Brendan's Community School, Birr, Offaly.
'An bhfuil cead agam dul go dtí an leithreas? An exploration of freedom in education in Ireland.'

Equal Runners-up: Sadhbh Walsh O' Grady, 2nd Year, Scoil Pól, Kilfinane, Limerick.
'Could anarchism be the way forward?'
Arsenii Hondo, 2nd Year, Temple Carrig, Greystone.
'What makes a Person's Nationality?'

3rd and 4th Year - Second Level: Livia Ceban, Transition Year, St. Louis High School.
'Why Is There Something Rather Than Nothing?'

Equal Runners-Up: Rebecca Walsh,Transition Year at Coláiste na Coiribe.
'Is the essence of a thing a product of my mind, or does it have a mind-independent reality of its own?'
Sarah Kirwan, 4th Year, Loreto College Mullingar.
'Is knowledge a result of learning or experience?'

5th and 6th Year - Senior Level: Yilong She, 5th Year St. Columba's College, D16.
'What Makes a Human… Human?'

Runner-up: Uinsínn Mac Cárthaigh, 6th Year, Scoil Pól, Kilfinnane.
'Does Effective Altruism Actually Exist?'
By: David Kearns, Digital Journalist / Media Officer, UCD University Relations
To contact the UCD News & Content Team, email: newsdesk@ucd.ie