Africa now a 'priority region' as UCD launches new engagement strategy
Posted 24 May, 2023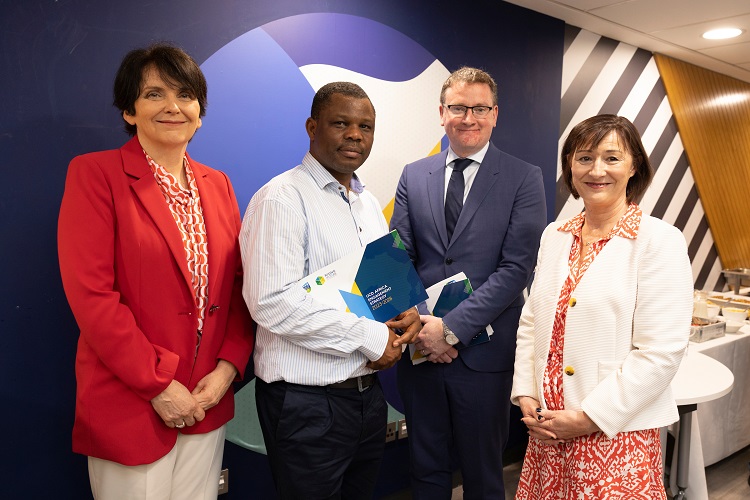 UCD President Professor Orla Feely, Dr. Samuel Ogwu, Vice President for Community Engagement at the African Scholars Association of Ireland and UCD alumnus, Alan Gibbons, Director of the Africa Unit in the Department of Foreign Affairs, and Professor Dolores O'Riordan, UCD Vice President for Global Engagement Credit: Jason Clarke
A new strategy establishing Africa as a priority region for University College Dublin has been announced, committing the University to deepening its research, scholarship and innovation engagement with the continent.
Outlined in 'UCD Africa Engagement Strategy 2023-2028', this ambition will be achieved through the development of meaningful and equitable relationships with African scholars and institutions, as well as leveraging the broad range of existing partnerships between UCD and Africa.
The success of this new engagement strategy will be strengthened by UCD establishing a physical presence in Africa, beginning with a representative and with aspirations to establish its sixth Global Centre.
Also planned is the creation of an African Advisory Group that will guide UCD's efforts in the region, alongside working with University alumni from the region to create an environment that empowers staff to engage creatively with African partners and networks.
The objective of increased collaboration roadmapped in the new engagement strategy will be supported by a focus on a number of key areas, including:
Partnerships & Academic Engagement;
Student Recruitment;
Student Engagement;
Alumni Engagement;
Government & Industry Engagement.
UCD's commitment to greater engagement with Africa is a recognition of the continent's increasing influence globally, and will aid the Irish government and European Union's efforts in the region.
The breadth of skills and talent on the continent will complement UCD's expertise and its aspirations to create a sustainable global society, said Professor Dolores O'Riordan, UCD Vice President for Global Engagement.
"As a university we strive to support our students to become leaders, empowered to create lasting positive impact.
"We will endeavour to increase the presence of African students on our Dublin campus and provide opportunities for UCD students to travel to Africa enabling the development of cross-cultural skills which are essential for global leadership.
Adding: "Our UCD alumni are well connected throughout the continent of Africa and will provide a unique avenue to build our connections with African nations. We will engage with our alumni and leverage their support to enhance UCD's reputation in Africa.
"UCD's desire to deepen ties with Africa is consistent with the Irish Government's commitment in 'Global Ireland: Ireland's Strategy for Africa to 2025'. Engagement with government entities and enterprise in Ireland and Africa will be an important tenet of our strategy."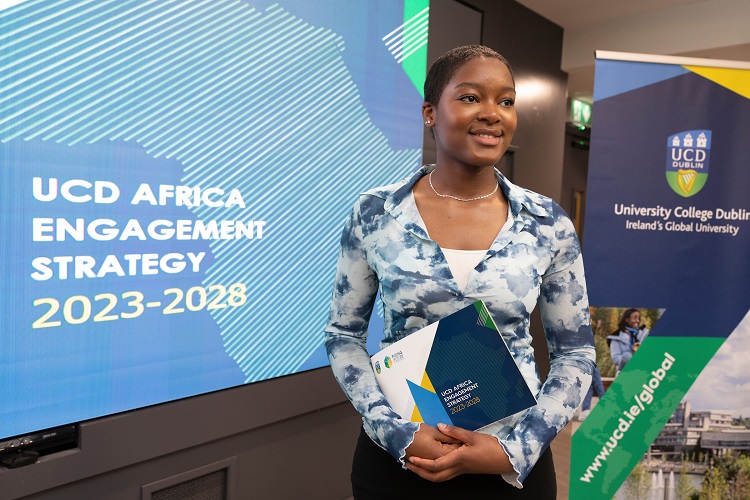 UCD student Chidimma Iloduba UCD, who is President of the UCD Africa Society Credit: Jason Clarke
UCD is among the Irish Universities most actively engaged in Africa based on student population, educational initiatives, and research collaborations.
Between 2017 and 2022, 1,681 academic publications included co-authors from UCD and an African institution.
And over the last 20 years, there have been 35 external grants awarded for collaborations between UCD and a partner in Africa.
There are 454 African students currently studying at UCD, though this number fails to capture all those with dual nationality or other close connections in Africa.
"[This] strategy recognises Africa's increasing influence globally… [and] should be seen as part of a decades-long commitment to partnering with key African institutions which are themselves committed to similar long-term thinking," said Tom Arnold, former Chief Executive, Concern Worldwide.
"My own experience over the past 40 years of working closely with Africans leave me in no doubt of their potential to transform their societies and economies over the coming decades."
By: David Kearns, Digital Journalist / Media Officer, UCD University Relations
To contact the UCD News & Content Team, email: newsdesk@ucd.ie