Royal Irish Academy invites UCD professors to sign members' book, Ireland's highest academic honour
Posted 29 May, 2023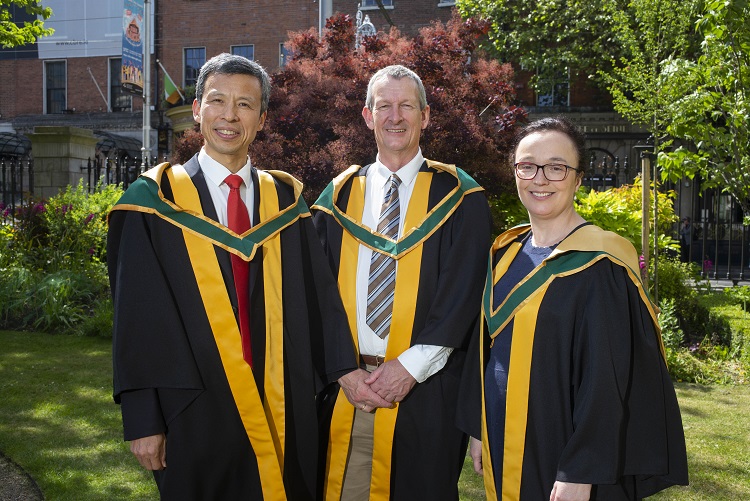 Professor Fengzhou Fang, UCD School of Mechanical and Materials Engineering, Professor John Walsh, UCD School of Earth Sciences, and Professor Joanna Brück, UCD School of Archaeology
Three professors from University College Dublin have been invited to sign the members book of the Royal Irish Academy, the highest academic honour in Ireland.
The trio were among 28 new RIA members elected to the Academy in recognition of their exceptional contributions to the sciences, humanities and social sciences, as well as to public service.
The UCD professors newly elected to the RIA on Friday, 26th May 2023 were:
An expert in the study of Bronze Age Britain and Ireland, Professor Brück was the Head of the UCD School of Archaeology until 2022. Her research themes include the body and personhood, landscape, domestic architecture, material culture and deposition. Her more recent work has focused on 19th and 20th century Ireland, including the 1916 Rising and the archaeology of internment.
With over 30 years experience working in manufacturing science and technology, Professor Fang specialist areas of interest include micro/nano manufacturing, optical freeform manufacturing, medical device/implants manufacturing, ultra-precision manufacturing and metrology. He has worked with over hundred industrial partners assisting companies to develop their R&D activities, and has published over 300 papers in peer reviewed journals and 50 patents.
A founding Director of iCRAG, co-founder of the Fault Analysis Group and a member of the Sustainable GeoEnergy Research Group within the UCD School of Earth Sciences, Professor Walsh's research interests are wide-ranging, with a particular focus the long- and short-term growth of fault systems and their impact on mineral deposits and geothermal and carbon capture systems.
The RIA draws its membership from the whole island of Ireland, and is awarded to those who have attained the highest distinction by their unique contributions to education and research.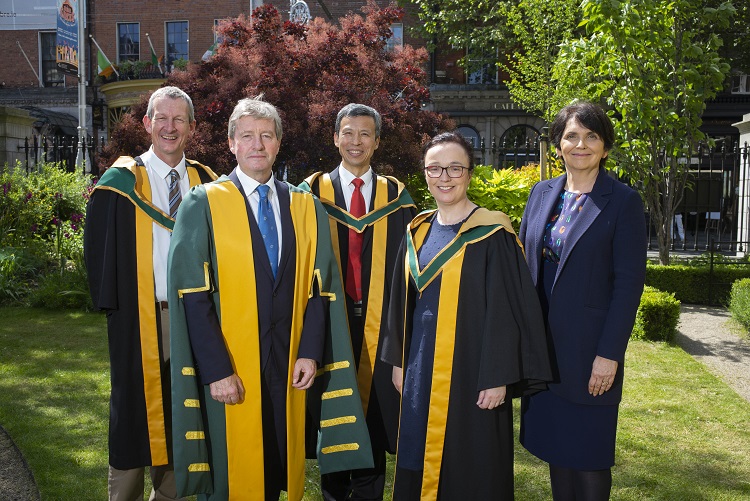 Professor John Walsh, UCD School of Earth Sciences, RIA President Professor Pat Guiry, Professor Fengzhou Fang, UCD School of Mechanical and Materials Engineering, Professor Joanna Brück, UCD School of Archaeology, and UCD President Professor Orla Feely
Admittance to the Academy is the highest academic distinction in Ireland, and those elected by their peers are entitled to use the designation 'MRIA' after their name.
Welcoming the newest entries for 2023, RIA President Professor Pat Guiry said: 'These individuals, elected by their peers, have made exceptional contributions in their fields of endeavour. We are delighted to recognise their achievements.
"As Members of the Academy, they will support the RIA by engaging and leading in activities that strengthen the international recognition of the Academy's scholarship and serve the public good through their knowledge and insight.
"Today marks another step forward in our commitment to diversity of our Membership with 15 women elected. We have also enhanced the overall diversity of our Multi-disciplinary committees and earlier this year we launched Young Academy Ireland providing new impetus to the life and work of the Academy as part of our strategic goal to build a modern Academy."
Our cohort of newly admitted Members (MRIA) beaming in the sunshine this afternoon, with RIA President Pat Guiry for #AdmittanceDay 2023.

The 28 new Members of the Royal Irish Academy are: https://t.co/eZ9IklYr3o pic.twitter.com/m0QqLn2yGz

— Royal Irish Academy (@RIAdawson) May 26, 2023
The RIA has been honouring Ireland's leading contributors to the world of learning since its establishment in 1785.
There are almost 700 RIA members, including Nobel Laureates William C. Campbell and John O'Keefe; Louise Richardson, Vice-Chancellor of the University of Oxford; Philip Lane, European Central Bank; Fabiola Gianotti, Director General CERN; Brigid Laffan, Irish political scientist and Director of the Robert Schuman Centre for Advanced Studies; and Geraldine Byrne-Nason, Ireland's Permanent Representative to the UN.
By: David Kearns, Digital Journalist / Media Officer, UCD University Relations
To contact the UCD News & Content Team, email: newsdesk@ucd.ie