Presidency of CESAER for UCD President Professor Orla Feely
Posted 20 October, 2023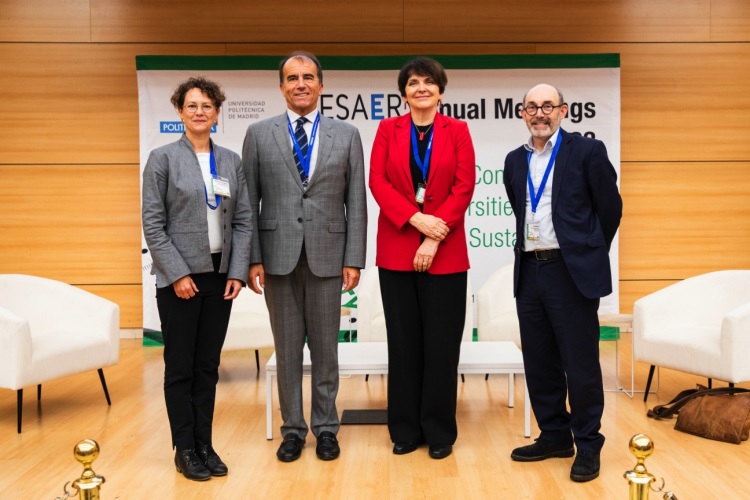 Dr Katharina Füglister, Professor Roberto Zanino, UCD President Professor Orla Feely, and Professor Tim Bedford
UCD President Professor Orla Feely has been elected President of CESAER, an international association of universities of science and technology in Europe representing over 1.1 million students and 96,000 academic staff.
She will hold the office from 2024 to 2025, and succeeds Professor Rik Van de Walle, the rector of Ghent University who will complete his second term as President of CESAER at the end of this year.
"I am honoured by the trust the Members have expressed in me," said Professor Feely.
"As President, it will be my goal to continue the evolution of CESAER and further boost our capacity to deliver on key areas: advocacy for the interests of universities of science and technology in Europe, and learning among peer institutions across our membership."
The President of CESAER, in conjunction with the Secretariat, is responsible for the ongoing affairs of the association and the preparation and implementation of the decisions by its General Assembly and the Board. The Presidency also advises and supports these two bodies.
Rooted in advanced engineering education and research, CESAER's 58 member universities champion excellence in higher education, training, research and innovation, contribute to knowledge societies for a sustainable future and deliver significant scientific, economic, social and societal impact.
During her two-year term as President Professor Feely will lead and represent CESAER, convene meetings of the General Assembly, Board and the Presidency, and Chair the meetings of those bodies.
She previously served as Vice-President and Treasurer of CESAER between 2019 and 2021.
Alongside the elevation of Professor Feely to the Presidency at the thirty-seventh General Assembly of CESAER, three directors were also elected for a four-year term from 2024 to 2027.
Professor Tim Bedford, Associate Principal Research & Knowledge Exchange at University of Strathclyde, and Professor Roberto Zanino, Rector's Delegate for PhD Programs and International University Networks at Politecnico di Torino, were re-elected for a second term.
While Dr Katharina Füglister, Director of International Affairs at Ecole Polytéchnique Fédérale de Lausanne, was elected for her first term.
Founded in 1990, CESAER is recognised as one of the twelve 'Key European Stakeholders for Research Policy' by the European Parliament, and as one of the twelve 'Main representative organisations' by the European Commission and the European Research Council.
By: David Kearns, Digital Journalist / Media Officer, UCD University Relations
To contact the UCD News & Content Team, email: newsdesk@ucd.ie