Gold medal finish as UCD Ad Astra star Eve McMahon claims U21 World Champion title
Posted 24 October, 2023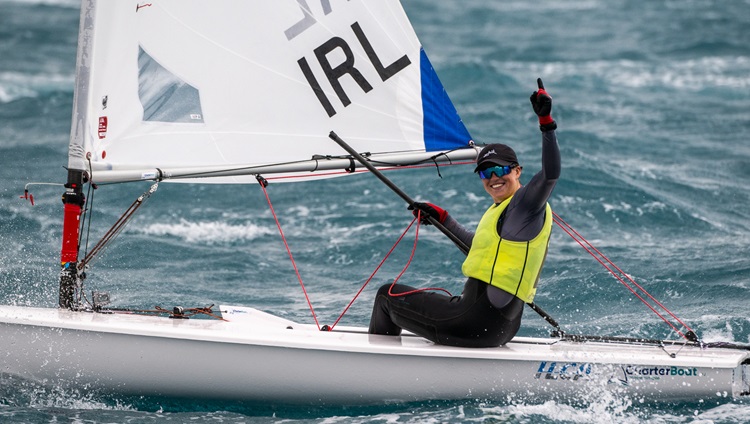 UCD Ad Astra sailing ace Eve McMahon has claimed another world title, having won the 2023 ICLA U21 World Championships.

After six days of challenging races, the Stage 2 BComm International Student and Paris 2024 hopeful emerged as the victor in the world U21 championship for her ILCA6 Olympic class in Tangiers, Morocco.

Her first gold medal of 2023, McMahon wrapped up the championships on 54 points after 11 races sailed, 14 points below second place's Anja von Allmen from Switzerland. In third place, with 81 points, was Italian Carlotta Rizzardi.

On the event's final day, a capsize threatened her championship finish but she recovered and secured an eighth-place, which was enough to secure the U21 World Champion title.

"Last year, I finished second, so I wasn't too happy about that," said the UCD Ad Astra Elite Sports Scholar.

"So again, I am delighted to then take the win this year. It was a very tough last day and very, very windy.
"I didn't make life too easy for myself, as I capsized on one of the downwinds, but I got my boat back up on time, so it was okay. I'm just delighted to be here. It's a very good fleet, so I was just trying to stay as consistent as possible, and it paid off."
Nominated last year for RTÉ Sport Young Sportsperson of the Year award, the UCD student won a hat-trick of gold medals in 2022.
She retained her world title, winning gold at the ILCA6 Youth World Championships. And again, claimed a gold medal win at the Allianz Youth Sailing World Championships in the Netherlands, while also coming out on top at the European Youth ILCA6 Championship in Greece that summer.
Celebrating the win Irish Sailing's Head Coach Rory Fitzpatrick said he was "very happy with how Eve approached the [2023 ICLA U21 World Championships]".

"She followed good processes and rolled with the punches to be consistent race by race at this event. This made it hard for other contenders to challenge the title towards the end of event."
By: David Kearns, Digital Journalist / Media Officer, UCD University Relations
To contact the UCD News & Content Team, email: newsdesk@ucd.ie