Dr Mae Jemison - First black woman in space awarded UCD honorary degree
Posted 11 September, 2023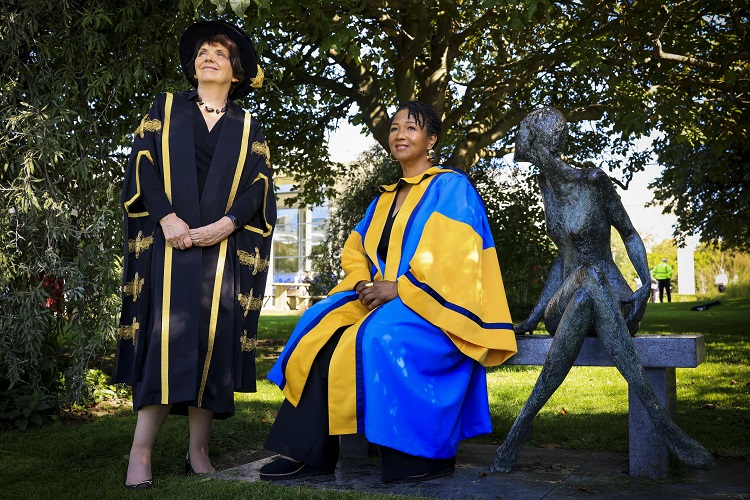 UCD President Professor Orla Feely and Dr Mae Jemison
Inter-stellar explorer Dr Mae Jemison - the first black woman to travel into space - has been awarded an honorary degree by UCD for epitomising the University's motto Ad astra, 'to the stars'.
"[She] may be the first Honorary Doctorate to be awarded the degree for her actual work in this regard," said Professor Lizbeth Goodman, conferring the honorary Doctor of Engineering.
"As an innovator and creative researcher who is a scientist motivated by social activism, and who has taken that interdisciplinary passion to its fullest conclusion: into space!"
Part of the Space Shuttle Endeavour mission in 1992, Dr Mae, as she is often known, served six years as a NASA astronaut and was the first woman of colour to go into space during a joint mission with the Japanese space agency.
She graduated from Stanford University with a Bachelor of Science degree in Chemical Engineering and a Bachelor of Arts degree in African and Afro-American Studies. She received her medical degree from Cornell University Medical College, and has served as the Area Peace Corps Medical Officer for Sierra Leone and Liberia.
Shortly after resigning from NASA in 1993, she founded The Jemison Group, a technology consulting firm that considers the social, cultural and economic impacts of technology.
She has received significant recognition, numerous awards and honorary degrees including induction into the US' National Women's Hall of Fame, the National Medical Association Hall of Fame, the Texas Science Hall of Fame, and the International Space Hall of Fame as well as being a recipient of the Common Wealth Award of Distinguished Service, the National Organisation for Women's Intrepid Award, and the Kilby Science Award.
Known on the world stage as an astronaut, engineer, entrepreneur, physician and educator, Dr Mae leads the 100 Year Starship® (100YSS) initiative, a global non-profit that seeks to ensure that humans will develop the capability to travel to another star within the next 100 years.
"She embodies a much-needed optimism and spirit of adventure, driving and informing her determination to succeed not only for her own sake but also for all of humanity and for the sake of the Earth itself. She was not born to carry this enormous burden but she overcame all manner of personal and social challenges to become the unstoppable force that she is today," said Professor Goodman, Director of the UCD Inclusive Design Research Centre of Ireland.
"As Principal of 100YSS... Dr Mae has held one of the most influential and impactful research leadership roles in the known world. It is remarkable that we can now embrace [her] as 'one of UCD's own', and as the newest member of our Inclusive Design Research Centre, and as a co-Principal Investigator of our newest ambitious project: IMAGINALS, which takes its title from the scientific phenomenon of the metamorphosis of the caterpillar to butterfly."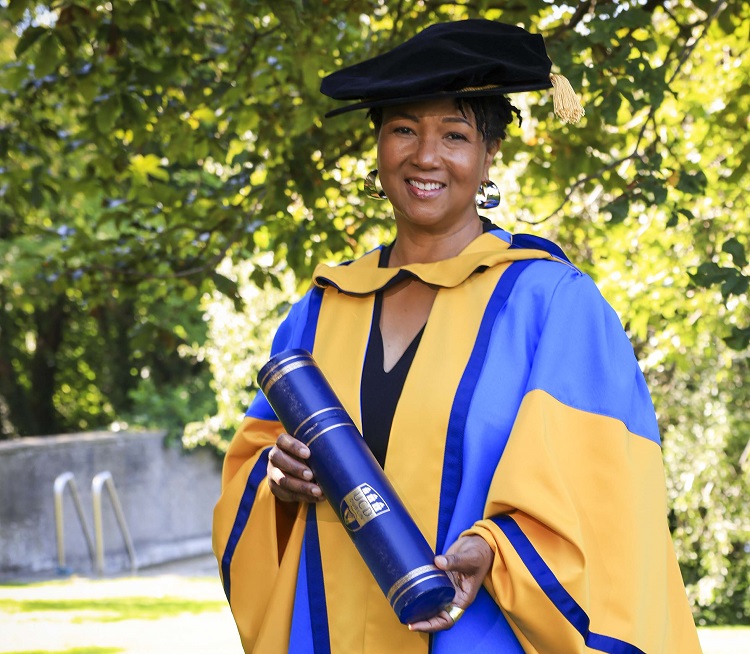 Adding: "We need leaders such as Dr Mae to help us hold steady as we transform our academic and educational systems, our global climate, our human policies and actions in our efforts to avoid extinction, through creative adaptation.
"And here she stands before us, a leader amongst leaders, with a truly unique perspective on the potential of humankind to continue to exist, in the context of global change, climate urgencies, space challenges, and the next frontiers of all possible human endeavour."
Alongside the honorary Doctor of Engineering for Dr Mae, UCD was delighted to presented three other individuals with honorary degrees during September's conferrings in recognition for their lasting contributions.
Award winning writer and patient advocate, Orla Tinsley was awarded an honorary Doctorate of Literature for her success in influencing and changing Government policy and healthcare, helping to extending life spans for certain health conditions across Ireland. Their writings on the rights of transgender people too also brought the issue into focus, aiding efforts to ensure gender recognition in Ireland.
"Orla Tinsley is without question the living embodiment of how words really can change the world" said Professor Regina Uí Chollatáin who read their citation.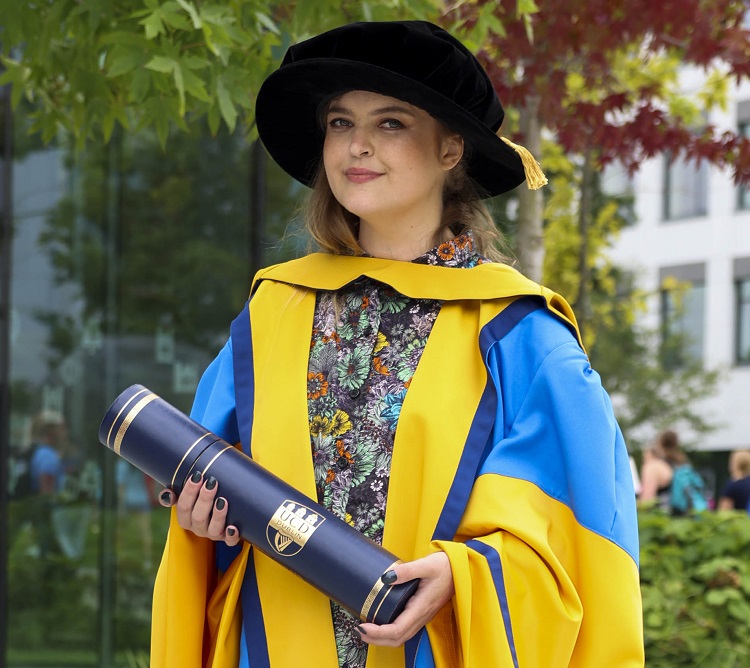 "Orla has challenged government thinking and policy, traversed continents, literally crossing the ocean in the pursuit of courageous journalism while pursuing their love of writing and teaching. UCD Arts and Humanities are renowned for producing leaders and critical thinkers who impact on society.
"As a global ambassador for UCD, Orla Tinsley is the epitome of the soul and depth of the creation of leaders in the broadest and most inspiring understanding of education," she added.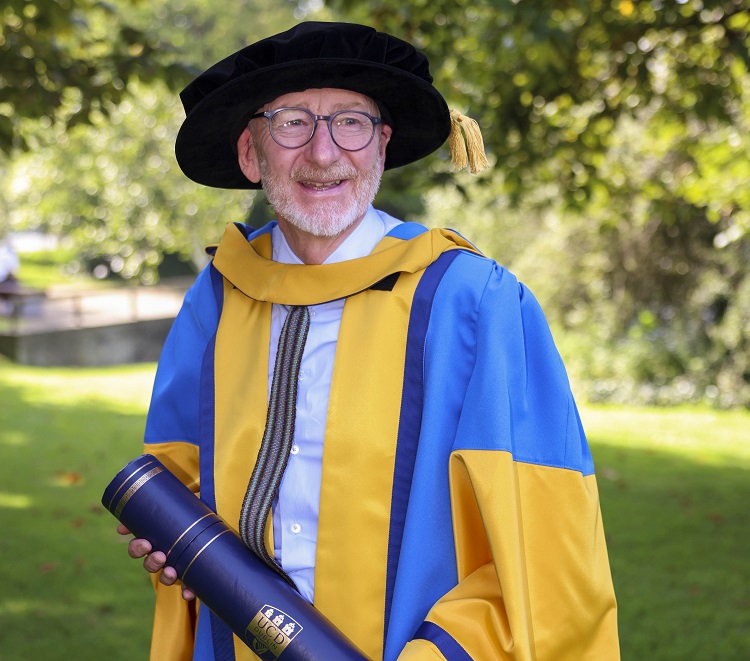 Highlighting his 25 years on the National Economic and Social Council, Geary Director Professor Michelle Norris praised the lasting legacy of Dr Rory O'Donnell, naming him "as one of the foremost thinkers about how we make policy in Ireland".
"He played a central role in enabling the policy makers in Ireland to address the most pressing, intractable and complex challenges our country has faced in the last three decades," she said, during the citation at the conferring ceremony for his honorary Doctor of Economic Science.
"Dr O'Donnell is not only a practitioner of policy making but also one of the foremost thinkers about how we make policy in Ireland and about the capacity of government to make and implement policy effectively."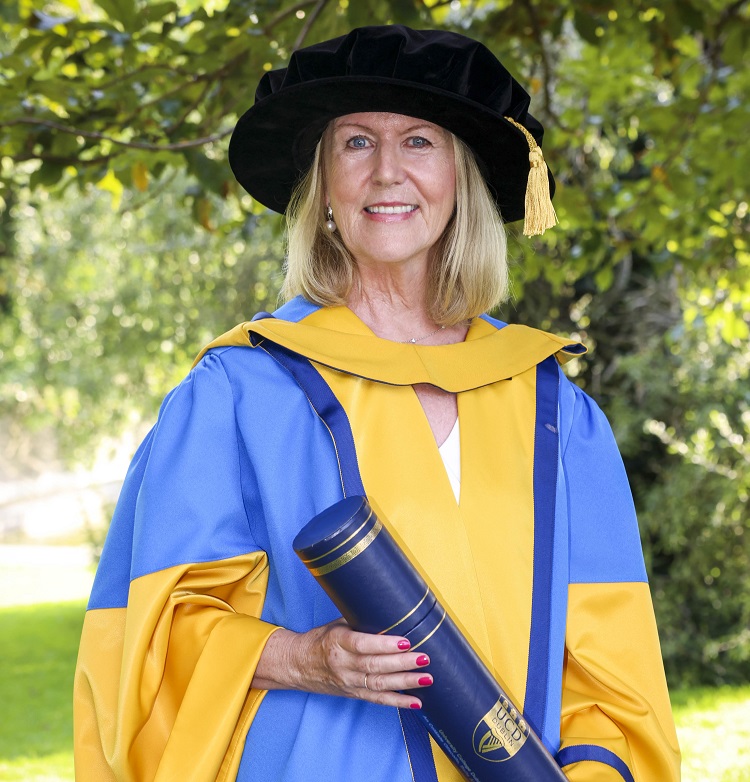 Achieving a trio of firsts during her impressive 45-year-career, Ambassador Anne Anderson was Ireland's first female Permanent Representative to the United Nations and to the European Union; the first female Ambassador to France and Monaco; and the first woman to represent Ireland as Ambassador to the United States.
A graduate of UCD, the Tipperary native was conferred with an honorary Doctor of Science by Associate Professor Jos Dornschneider-ElkinkHead, Head of the UCD School of Politics and International Relations, for her lifetime of activism and idealism.
"From the very start of her career, when she graduated from UCD, she knew that public service was her
goal. It is here at UCD where she developed that commitment," he said.
"Ambassador Anderson shared the table with many famous politicians we study in UCD's School of Politics and International Relations: Barack Obama, Donald Trump, Nicholas Sarkozy, among others."
Adding: "While there always has to be scope for the occasional lightness or laughter, she says, there is an overwhelming sense of seriousness about the careers of these world leaders. Ambassador Anderson approached her own job with the same sense of seriousness and responsibility.
"One night in Brussels, during Ireland's EU Presidency, she came home from a work dinner. A few hours later there was a kitchen fire. She jumped out of the window and when helpers wanted to bring her to the hospital, she refused as she had a morning meeting to chair. Thanks to her thorough preparations, the meeting went very well – as usual."
By: David Kearns, Digital Journalist / Media Officer, UCD University Relations
To contact the UCD News & Content Team, email: newsdesk@ucd.ie