Public transport commuters prefer pounding the pavement over bicycles and e-scooters
Posted 12 September, 2023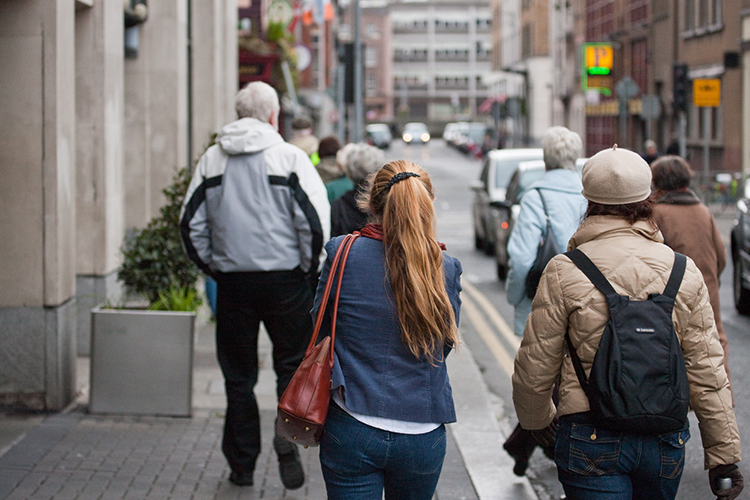 Commuters walking the streets of Dublin City rather than using a bike or e-scooter Credit: William Murphy, CC BY-SA 2.0
Workers in Dublin prefer to walk to and from the bus stop rather than hopping on a bicycle or e-scooter to finish the last leg of their commute, according to new UCD research.
Published in the inaugural issue of the Journal of Cycling and Micromobility Research, the study investigated how commuters across County Dublin prefer to travel in the first and last mile of trips when using public transport.
Among its findings was that commuters still prefer walking over bikes and e-scooters as a means of getting to and from work before or after a public transport journey, even when the latter were available and significantly reduced travel time.
"This was one of the more surprising outcomes of the survey," said lead author Giulia Oeschger, PhD candidate at the UCD School of Civil Engineering.
"I was expecting a lot of people to be more concerned with travel time, since cycling and e-scooter-use drastically reduced travel time in the experiment, but despite this a lot of people still deliberately chose the walking option which is always the longest.

"The population of Dublin seems to really love walking and our survey shows they do it for enjoyment or for exercise. This seems to be a characteristic of the city of Dublin," she said.
The study authors, through an online survey with 450 responses, investigated how Dublin commuters preferred to travel in the first and last mile of public transport trips.
Micro-mobility - a term used to describe small, light electric vehicles such as bikes and e-scooters - is often promoted as a low-carbon alternative that can help people move away from using private cars and taxis since it can improve connectivity of existing public transport networks.
However, there has been little research to date on micro-mobility as a travel choice in the first mile, known as access trip, and last mile, egress trip, of a commute.
In the new survey, residents of County Dublin were asked about the mode of transport they would choose in hypothetical commute scenarios.
Also examined was the influence of characteristics such as gender and age the choice to use micro-mobility, including shared bicycles and e-scooters.
Those less than 35-years-olds and male respondents were significantly more likely to choose e-scooters and bicycles compared to female and older commuters, who generally choose walking even if other options were significantly faster.
Dr Páraic Carroll, Assistant Professor in Transport Engineering at the UCD School of Civil Engineering, said that "while the results of this study highlight that walking was the preferred choice for first and last mile segments of a journey, it also accounts for the existing limited ability to combine active modes or micro-mobility trips with public transport in Dublin and across the country due to, in some cases, modes not being well integrated with one another and the limitations in bringing private bikes or scooters onto public transport vehicles".
Adding: "However, the walkability of our access trips to and from public transport stops/stations is a key component influencing the attractiveness of public transport services."
Availability of secure parking was an important consideration when it comes to choosing transport modes, the authors also found.
The researchers argue that the results confirm that younger generations have a growing interest in micro-mobility, but that regulations and adequate infrastructure are needed to promote equitable access to these modes of transport, with a particular focus on attracting users away from more carbon-intensive transport such as private cars and ride-hailing trips.
The paper co-authors are: Giulia Oeschger, PhD candidate at UCD's School of Civil Engineering; Dr Páraic Carroll, Assistant Professor in UCD's School of Civil Engineering and lead of the transport strand at the NexSys (Next Generation Energy Systems) research partnership at UCD; and Professor Brian Caulfield, Professor in Transportation in the Department of Civil, Structural and Environmental Engineering, Trinity College Dublin (TCD) and funded investigator with NexSys.
Giulia Oeschger and Dr Páraic Carroll are also part of the UCD Transport Research Hub (TREAH), which Dr Carroll leads.
This research was funded by University College Dublin, under the MicroActive Dublin research project.
By: David Kearns, Digital Journalist / Media Officer, UCD University Relations
To contact the UCD News & Content Team, email: newsdesk@ucd.ie