Global business analytics company, SAS to create 150 new jobs in Dublin
Friday, 11 September, 2015
With the support of the Department of Jobs through IDA Ireland, SAS, the global leader in business analytics, is expanding its operations in Ireland by establishing a new Inside Sales and Customer Contact Centre.
The move will see the company's workforce increase six-fold and significantly reinforce its presence in the region. The expansion will create 150 jobs over three years, equating to an investment of some €40 million.
The new centre, which will initially be located at NexusUCD, University College Dublin's industry partnership centre, will support sales of data analytics software into markets across Europe, Middle East and Africa (EMEA).

The new jobs will include multi-lingual business development and sales specialists, customer engagement specialists, data scientists and software engineers. Employees will work with customers to demonstrate how analytics will add value in their business and support them as they deploy and implement these solutions.
Research by the Centre for Economics and Business Research in the United Kingdom has shown that the adoption of big data analytics by businesses could add around €27 billion to the Irish economy alone from 2013 to 2017 and create up to 61,000 net new jobs.
Businesses are increasingly aware of how data can help them to make better decisions, whether they relate to operational efficiency, understanding customers, identifying new opportunities or managing risk. Many of these organisations are mid-market companies that have no history of using data and no in-house expertise. The new centre will benefit these companies by making SAS Analytics more accessible to them across a wide range of territories and industry sectors.
"I have discussed investment opportunities with SAS executives at several occasions in recent years and I'm delighted to see this investment decision come to fruition," An Taoiseach, Enda Kenny TD said. "Through the Action Plan for Jobs, the Government will continue to support the technology sector by investing in the right education & research programmes to ensure Ireland's ongoing success as a technology hub in Europe."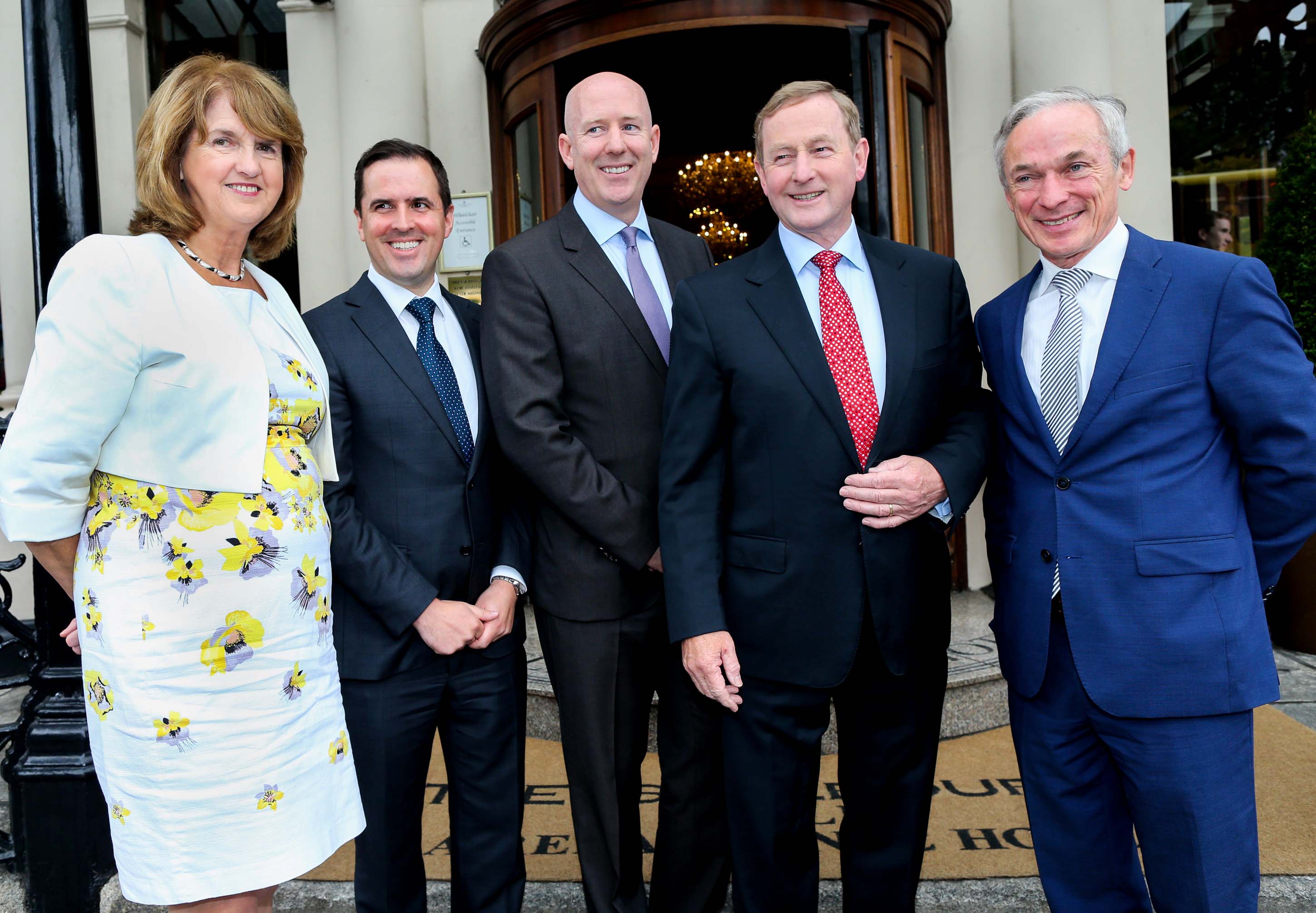 An Tánaiste Joan Burton TD; Martin Shanahan, CEO, IDA Ireland; John Farrelly, Head, SAS Ireland; An Taoiseach Enda Kenny TD; Richard Bruton TD, Minister for Jobs, Enterprise and Innovation.
"A key element of the work SAS does in the field of big data is about spotting patterns. The economic pattern in Ireland under this Government is one of recovery, of 1,300 jobs being added every week," An Tánaiste, Joan Burton said. "SAS's expansion will contribute another 150 positive stories to that pattern, and is another significant statement of confidence in Ireland as an excellent base for global business."
"As a global company with offices all over the world, we wanted to expand in a city as vibrant as Dublin which has such a thriving technology ecosystem," said Carl Farrell, executive vice president and chief revenue officer, SAS. "We are now experiencing a 'democratisation of analytics', where more and more organisations – including small to medium sized enterprises – are investing in analytical software and services that don't require a significant up-front investment."
"Our new centre will provide the extra capacity needed to support customers as they embark on this data analytics journey," Farrell added. "Organisations in the region will now have access to knowledge, advice and powerful analytics to enable them to make more informed decisions and improve their business operations."
The Minister for Jobs, Enterprise and Innovation, Richard Bruton TD has met senior SAS executives in North Carolina as part of an IDA mission to the USA since taking office.
"A key part of our Action Plan for Jobs has been attracting new software and analytics companies into Ireland through the IDA's work," Minister Bruton said. "Crucial also has been developing a cluster of Irish start-ups to build off our success in attracting these companies to Ireland."
"Of vital importance in all of this has been talent – ensuring, through our education system and our work permit system that these companies, Irish and multinational, can access the skilled workers they need to grow," he added. "Today's announcement by SAS, that it is creating 150 jobs in Dublin is a huge boost to this strategy and great news for the city."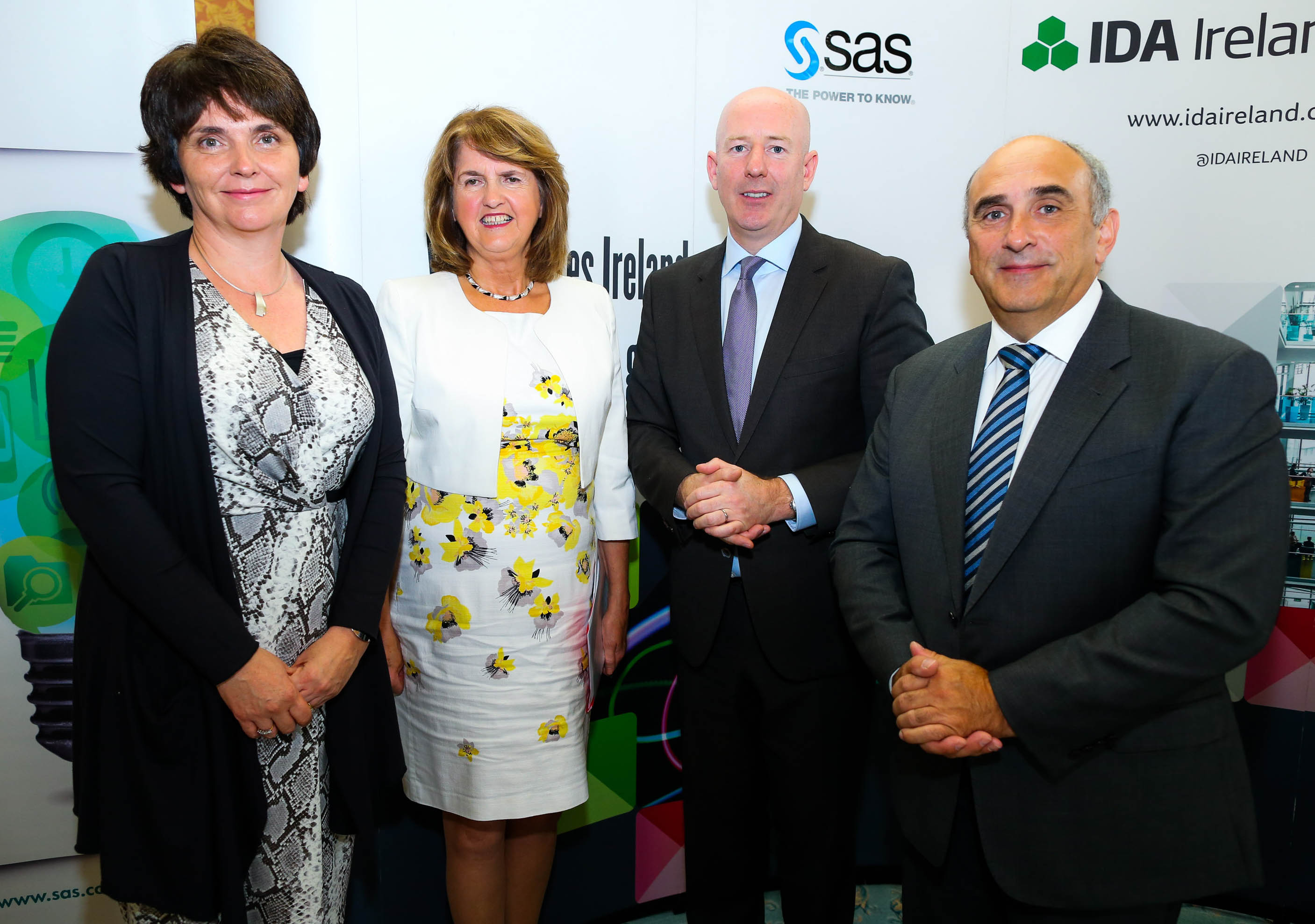 Professor Orla Feely, vice-president for research, innovation and impact, University College Dublin; An Tánaiste, Joan Burton TD; John Farrelly, head of SAS Ireland; Carl Farrell, executive vice president and chief revenue officer, SAS
"University College Dublin has a strong track record of working with business, through a growing portfolio of strategic and mutually beneficial partnerships which can impact the economy and wider society," said Professor Orla Feely, vice-president for research, innovation and impact, University College Dublin. "With today's announcement UCD is continuing its evolution as an enterprise campus, with enhanced opportunities for leading businesses such as SAS. By locating its new centre at NexusUCD, SAS can continue to grow its engagement with the University and in particular with the UCD Centre for Business Analytics. Through this engagement SAS can access the rich research and innovation capacity of UCD, along with the largest population of talented students in Ireland."
"SAS is a highly recognisable brand name in the global software industry and a leading player in data analytics," said Martin Shanahan, chief executive officer, IDA Ireland. "The development of the Inside Sales and Customer Contact Centre in Dublin is the first of its kind for SAS within EMEA and as such, is an important win for Ireland. SAS's decision to locate here will further highlight our country as a centre for big data and data analytics - a key emerging sector targeted by IDA Ireland."
SAS has worked closely with Ireland's inward investment promotion agency, the IDA, a non-commercial, semi-state body promoting Foreign Direct Investment into Ireland through a wide range of services. The IDA has been working with SAS over the last number of years, providing advice in a range of areas to make delivery of the new centre possible. The close collaboration with UCD's Centre for Business Analytics and NovaUCD also helped accelerate the project and plays an important role in future plans.
The new centre follows the investment SAS made last year with the opening of a research and development (R&D) centre in Scotland focused on combatting fraud and financial crimes.
---
NexusUCD, the Industry Partnership Centre at University College Dublin, offers high-quality modern office space, with flexible occupancy arrangements, and associated services to established innovation-led companies who are collaborating, or wish to collaborate, with UCD's world-class research base and who wish to locate in close proximity to this research base. www.ucd.ie/nexusucd