Ireland's leading business journalists honoured by UCD Smurfit School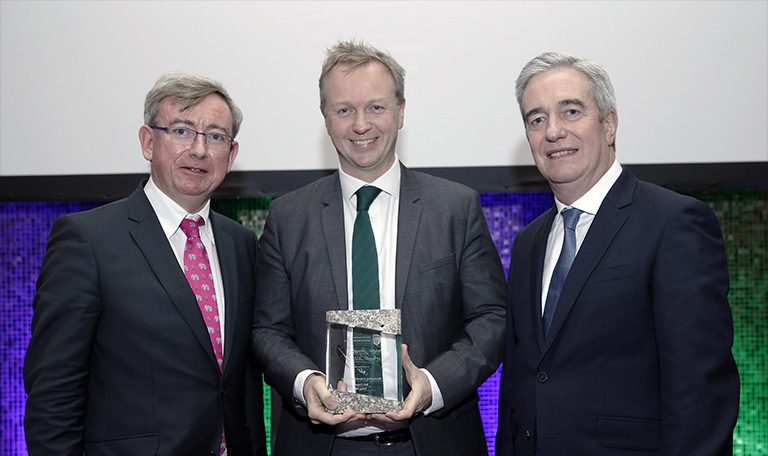 ‌
Posted 02 December 2015
Matt Cooper wins Outstanding Achievement Award
Justine McCarthy and Colin Coyle win Business News Story accolade
Six other awards acknowledge work of Ireland's business journalists
Nine of Ireland's top business journalists have been honoured at the UCD Smurfit Business Journalist Awards. The awards celebrate the contribution of business journalists from right across the media spectrum; the professionals who act as an independent voice, ask the hard questions and push for answers, who challenge the business status quo and bring personal stories to life.
The winners include:
• Business News Story – Colin Coyle and Justine McCarthy, The Sunday Times, for their piece "State memo slams IBRC Siteserv deal".
• Economic Commentator – Richard Curran, Independent News and Media, for contributions on farmers' borrowing, the gambling industry and the culture of tax avoidance.
• Business Analyst – Brian Carey, The Sunday Times, for analysis of Aer Lingus, CRH and the sale of Waterford Wedgwood.
• Specialists Business Reporter – Emma Kennedy, Sunday Business Post, for her article "The business of distressed mortgages".
• Business Interview – Emmet Ryan, Sunday Business Post, for an interview with Michael Flynn, aka Mattress Mick.
• Upcoming Journalist of the Year – Jack Horgan-Jones, Sunday Business Post, for three articles: "Kevin Cardiff's evidence to the banking enquiry", "Late rush to exploit Double Irish loophole" and "Exiting the bailout – one year on".
• Technology Reporter – Mark Hilliard, The Irish Times, for his piece "As the drone era has taken off let's ensure our safety and privacy".
The Outstanding Achievement Award was presented to Matt Cooper for his contribution to business journalism over 25 years as a reporter, editor, broadcaster and author. Cooper is the sixth recipient of the discretionary award.
Previous winners of the award include Frank Fitzgibbon, editor of The Sunday Times Ireland, Damien Kiberd, former editor and co-founder of The Sunday Business Post, Brendan Keenan, Group Business Editor at Independent Newspapers, Cliff Taylor, Managing Editor of The Irish Times and Richard Curran, former Deputy Editor of The Sunday Times.
Pictured top: Professor Ciarán Ó hÓgartaigh, Dean of UCD Michael Smurfit Graduate Business School;
Matt Cooper, Outstanding Achievement Award recipient; Richard Moat, CEO of eir.
John Kay was awarded Business Book of the Year for Other People's Money: Masters of the Universe or Servants of the People?
"The individual journalistic work and the collective body of their reportage enriches our understanding of important issues of the day and, through its influence, helps shape the corporate landscape," said Professor Ciarán Ó hÓgartaigh, Dean of UCD Business.
"On behalf of UCD Michael Smurfit Graduate Business School, it is an annual privilege to pay tribute to such a wide range of talented individuals, all of whom have unique and compelling stories to tell, and to join in the celebration of their abilities. In 2015, the depth and breadth of talent in Irish media was once again evident in the high quality of entries received, and in the standard of the winning submissions."
"In our three years of sponsoring these awards we have seen the highest standards of business journalism recognised and this year is no different," said Richard Moat, CEO of eir. "Recognising this excellence is important as it plays a crucial societal role in educating the public, challenging the status quo and, where necessary, holding business to account in the public interest."
The independent judging panel of this year's awards included: Emer Gilvarry; Partner, Mason Hayes & Curran (Chair); Professor Ciarán Ó'hÓgartaigh, Dean UCD Business; Carolan Lennon, Managing Director, Open eir; Miriam Hughes, CEO DDFH&B Communications Group; Jon Ihle, Head of Communications at Goodbody; Professor Donncha Kavanagh, UCD Smurfit School; Simon McKeever, CEO of Irish Exporters Association; Joan Mulvihill, CEO at Irish Internet Association; Emmet Oliver, Director of Global Corporate Communications, IDA; and Rodney Rice, former RTE broadcaster.
By: Jonny Baxter, digital journalist, UCD University Relations