Phision Therapeutics wins UCD 2015 Start-up Award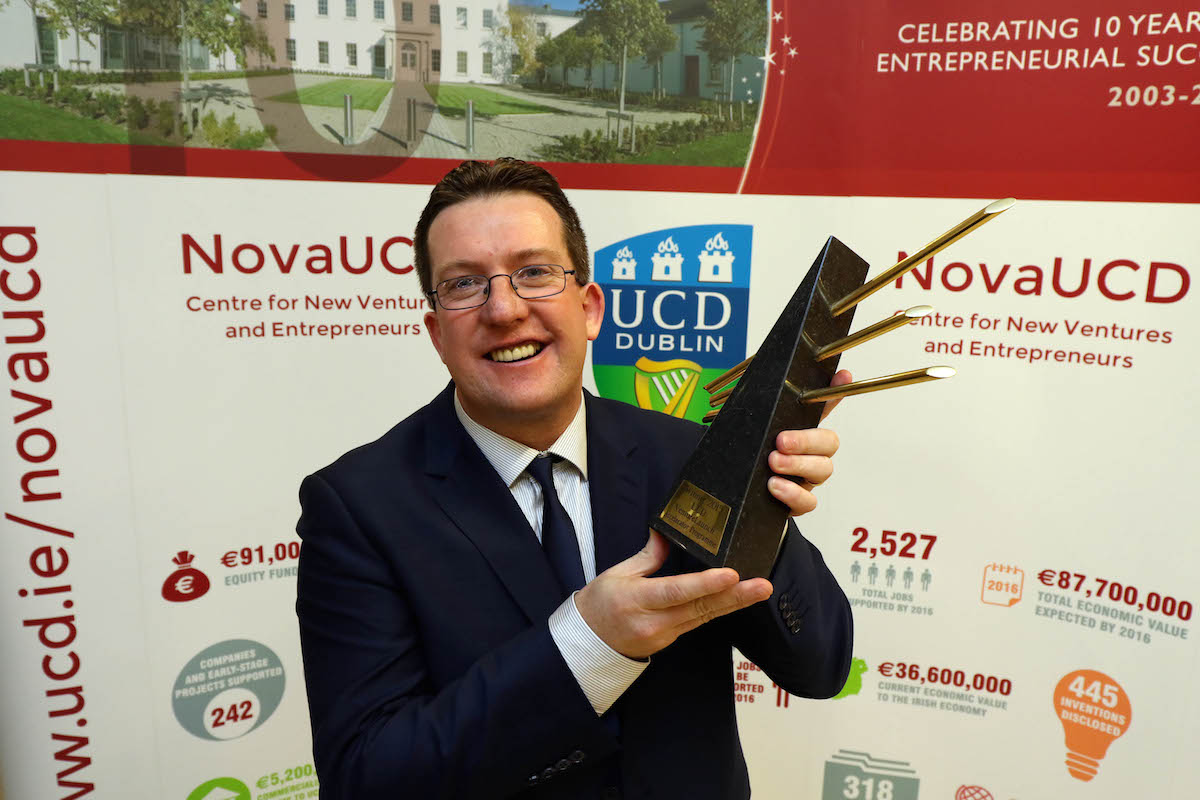 Posted November 27 2015
Firm develops small drug molecules to prevent blindness associated with retinal disease
Objective of UCD VentureLaunch Accelerator Programme is to support creation of sustainable new ventures emerging from UCD
Phision Therapeutics, an early-stage life sciences venture, has won University College Dublin's 2015 Start-Up Award.
The firm won the award as it was declared overall winner of this year's UCD VentureLaunch Accelerator Programme.

The new company is developing proprietary therapeutic drugs – drugs that are protected by patents – to more effectively treat vision loss in an attempt to prevent blindness associated with ageing or diabetes.
Phision Therapeutics has identified, and is developing, small-molecule drugs with novel mechanisms to curb the undesired growth of 'leaky' new blood vessels in the eye that lead to vision loss and blindness.
The retinal disease, age-related macular degeneration (AMD), is a leading cause of vision loss in Western societies.

The current treatment for patients experiencing vision loss due to AMD involves up to 12 eye injections per year. Patients are also at risk of eye infections or retinal detachments due to the injections.
Pictured top: Dr Breandán Kennedy, UCD School of Biomolecular and Biomedical Science, the UCD Conway Institute, and founder of Phision Therapeutics at the O'Brien Centre for Science with the start-up firm's UCD 2015 Start-Up Award
The start-up has emerged from research carried out over several years by its founder Dr Breandán Kennedy along with Dr Alison Reynolds at the UCD School of Biomolecular and Biomedical Science and the UCD Conway Institute.

Dr Breandán Kennedy said: "Looking to the future we are currently seeking €400,000 in seed funding to enable us to formulate and manufacture our novel small molecule drugs.
"Thereafter, following additional fundraising, we plan to proceed with pre-clinical and clinical studies to validate that our drugs offer a better treatment option, including a reduction in the number of eye injections, for patients experiencing vision loss associated with AMD."
Funders of this research to date include Enterprise Ireland; Science Foundation Ireland; Irish Research Council; Health Research Board and the European Commission's Marie Sk?odowska-Curie Actions Programme.
The objective of the UCD VentureLaunch Accelerator Programme is to support the creation, and to accelerate the launch, of sustainable and profitable new ventures based on intellectual property emerging from UCD.

"Through this programme we are supporting our researchers to accelerate the establishment of research-based companies providing value-added products and services for the global market," said Professor Orla Feely, UCD Vice-President for Research, Innovation and Impact.
"Phision Therapeutics is an excellent example of a new venture, emerging from research carried out at UCD, which is being established to address a worldwide need, in this case to more effectively treat patients experiencing AMD-related vision loss."
In addition to the UCD Start-up Award, Phision Therapeutics was presented with a cheque for €10,000 and a professional services package to the value of €15,000. The prizes are sponsored by AIB, Bryan Maguire Business Consulting, Deloitte and NovaUCD.
The annual UCD VentureLaunch Accelerator Programme, which is held at NovaUCD, the centre for new ventures and entrepreneurs, uses the Business Model Canvas approach to start-up development.

The programme consists of ten three-hour workshops, delivered over a three-month period, and a series of one-to-one sessions with external experts in areas such as finance, marketing and customer validation.

The 2015 UCD VentureLaunch Accelerator Programme evaluation panel, which selected the overall winner, was chaired by Brendan Cremen, UCD Director of Enterprise and Commercialisation.
The other members of the panel were Dr Sharon O'Kane and Dr Sean Baker, NovaUCD Entrepreneurs in Residence in Life Sciences and ICT respectively; Dr Helen McBreen, Investment Director at Atlantic Bridge Capital and Dr Edward McDonnell, Director of the Centre for Applied Data Analytics Research (CeADAR).
By Jamie Deasy, digital journalist, UCD University Relations