Triumph for UCD Choral Scholars at City of Derry International Choral Festival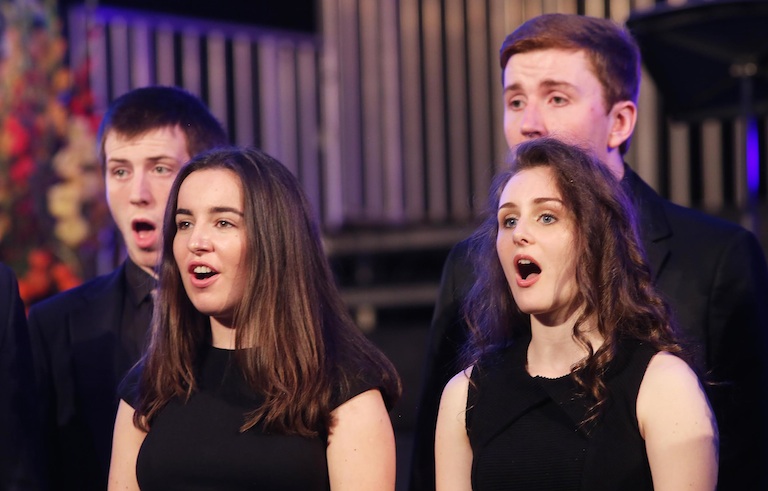 Posted 28 October 2015
UCD Choral Scholars took first place in both the National Mixed Voice and National Sacred Music competitions at the City of Derry International Choral Festival. It also received the Foyleside Award for Best National Choir.
Now in its third year, the festival was first held during Derry's time as UK City of Culture in 2013. It continues to attract choral ensembles from around the world.
Pictured above (l-r): Andrew Nicoll, Sinéad O'Brien, Gavin Coll, Emily-Ann Byrne of the UCD Choral Scholars
competing at the City of Derry International Choral Festival. Credit: Lorcan Doherty Photography
UCD Choral Scholars will release its first disc - Invisible Stars - on Signum Records in December. They join the Choir of Magdalen College Oxford and the Choir of Jesus College Cambridge in releasing an album on the label. London Chamber Orchestra, the longest established professional chamber orchestra in the UK, have also issued their music through Signum Records.
"Participation in the City of Derry International Choral Festival was a thrilling experience. We are very proud of being placed first in two competitions by the international jury of five," said Dr Desmond Earley, UCD School of Music, who is artistic director of UCD Choral Scholars. "Winning the award for Best National Choir of the Festival 2015 recognises both the level to which our students aspire and the time and effort they invested to achieve this winning standard."
The group is Ireland's leading collegiate choral ensemble with a repertoire ranging from the medieval to the contemporary. All 18 of its members are awarded scholarships through the ensemble.
UCD Choral Scholars have toured Holland, Hungary, Luxembourg, Italy, the UK and the United States. In Ireland, they have performed with the RTÉ Concert Orchestra and internationally with the European Union Chamber Orchestra.
By: Jonny Baxter, digital journalist, UCD University Relations