UCD student McCaffrey named Gaelic football Player of the Year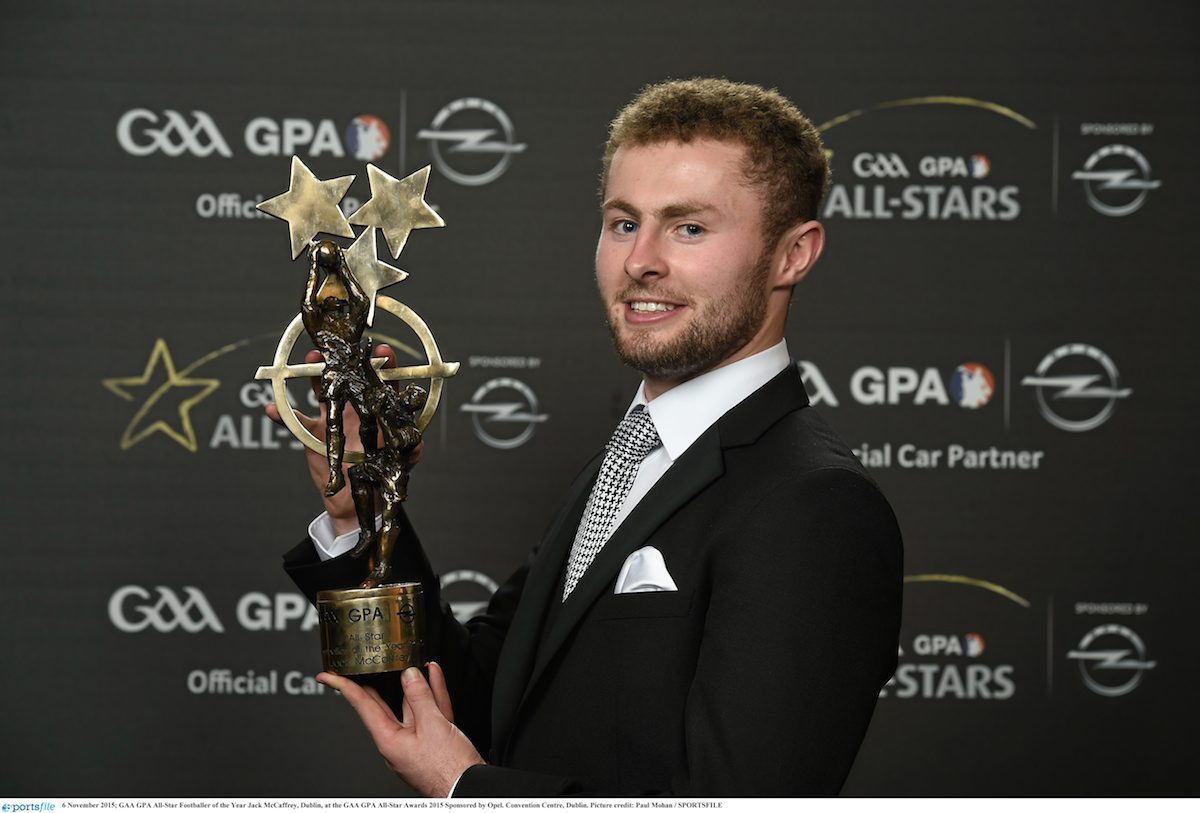 Four of the seven players on the Dublin senior Gaelic football team that won All-Star awards in 2015 came through the UCD ranks
UCD Ad Astra Elite Athlete and Medicine student Jack McCaffrey named Gaelic football Player of the Year and receives All-Star award
Two former Ad Astra Elite Athletes and recent UCD graduates receive GAA All-Star awards – Rory O'Carroll for Gaelic football and Cillian Buckley for hurling.
Two other UCD alumni Brian Fenton and Cian O'Sullivan also win Gaelic football All-Star awards
UCD Medicine student and Sigerson Cup captain in 2015, Jack McCaffrey, has been named GAA /GPA Opel Gaelic football Player of the Year.
The 22-year-old was rewarded for his consistently outstanding displays at half-back with the Dublin Senior Gaelic Football team during their Leinster Championship and All-Ireland Championship-winning campaigns this year.
In addition, McCaffrey, who is also an Ad Astra Elite Athlete at University College Dublin, received his first All-Star award this year and was named in the left half-back position.
He won his second All-Ireland winning medal this year when Dublin beat Mayo 0-12 to 0-09 in the final. He won his first All-Ireland medal in 2013 when Dublin beat Kerry.
McCaffrey, the captain of the 2015 UCD Sigerson Cup – the intervarsity Gaelic football competition – team, was named GAA (Gaelic Athletic Association) and GPA (Gaelic Players Association) Young Player of the Year in 2013.
The fourth-year UCD Medicine student is joined by four former UCD students who also received GAA All-Star awards recently.
Pictured above: Fourth-year UCD Medicine student Jack McCaffrey with his GAA/GPA Opel Gaelic football Player of the Year award at the Convention Centre in Dublin
Dublin footballers and former UCD students, Rory O'Carroll, Cian O'Sullivan and Brian Fenton, also received All-Star awards this year in the full-back, centre-back and midfield positions respectively.
Cillian Buckley of the Kilkenny Senior Hurling team was also named at the left half-back position on the All-Star hurling panel.
O'Carroll, a former Ad Astra Elite Athlete, and O'Sullivan received their second All-Star awards this year, while Fenton, who received RTÉ's Man of the Match award in the 2015 final, received his first.
Buckley is also a former Ad Astra Elite Athlete. This is his second All-Star in a row following his inclusion in 2014. He has won three All-Ireland finals with Kilkenny.
The Dublin team's All-Ireland win this year was the third time that O'Carroll and O'Sullivan won All-Ireland medals, having both previously been on the Dublin All-Ireland winning teams in 2011 and 2013. It was the first time Fenton won an All-Ireland final.
Rory O'Carroll graduated with a MSocSc in Social Policy in September 2015, Brian Fenton graduated with a BSc in Physiotherapy also in September 2015, and Cian O'Sullivan graduated with a Master of Accounting in 2011. Cillian Buckley graduated from UCD with a BSc in Biomedical Engineering in August 2015.
The awards took place at the Convention Centre in Dublin and honour the best players of the 2015 All-Ireland campaign.
Football and hurling All-Stars are chosen from a 45-player shortlist drawn up by a national selection committee. Members of the Gaelic Players Association choose the final panel of 15 in each discipline.
By: Jamie Deasy, digital journalist, University Relations