Women of the Future Award for UCD alumna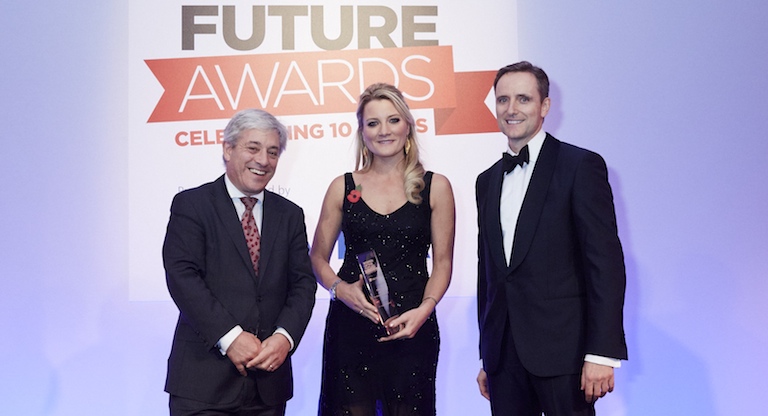 Posted 03 November 2015
A UCD alumna has won the top accolade in the Technology and Digital category of the Women of the Future Awards. The awards recognises successful young women in Britain who are shaping the future of business.
Dr Laura Toogood (30) is Managing Director of Private Clients, Digitalis Reputation, an online reputation and digital intelligence firm.
Pictured above (l-r): Rt Hon John Bercow MP, Speaker of the House of Commons; Dr Laura Toogood, Managing
Director of Private Clients at Digitalis Reputation and awards recepient; Mark Wilson, CEO Aviva Group.
Toogood studied Information Studies and Greek and Roman Civilisation as part of a joint Arts degree at University College Dublin. She also completed her four-year PhD course in Information and Library Studies at UCD as an Ad Astra scholar.
At Digitalis Reputation, Dr Toogood's core offering is online reputation management, which encompasses the growing field of cyber security and ranges from protecting the victims of revenge porn to safeguarding FTSE 100 companies from hackers.
Her forensic skills that involve digital footprint analysis are often employed while she is working on criminal cases. She is also the editor of luxury lifestyle magazine The Sloaney.
The citation for Dr Toogood's award noted that she was the first cyber security specialist to win the Technology and Digital category of the Women of the Future Awards.
"Laura has an impactful, strong focus on educating children and adults on the needs for awareness and change in cyber security," the citation reads. "[She] is also very focused on affecting the future of society more generally and [the] judges said she had the skills to do it."
This year's Women of the Future Awards bestowed honours upon women in the following categories: Arts and Culture; Business; Community Spirits; Young Star; Entrepreneurship; Media; Professional; Real Estate, Infrastructure and Construction; Science and Sport.
Dr Toogood said: "[My focus] is not only about trying to encourage more young people and not just women in general to pursue careers in digital and technology, which is a key goal [of mine], but also the importance of staying ahead in the industry because it is always changing.
The Women of the Future Awards were founded by British food guru and entrepreneur Pinky Lilani CBE DL in 2006.
Now in their tenth year, the awards focus on unearthing and recognising the inspirational female professional stars of the future across diverse sectors.
By: Jamie Deasy, digital journalist, UCD University Relations