World-leading sociologist awarded UCD Ulysses Medal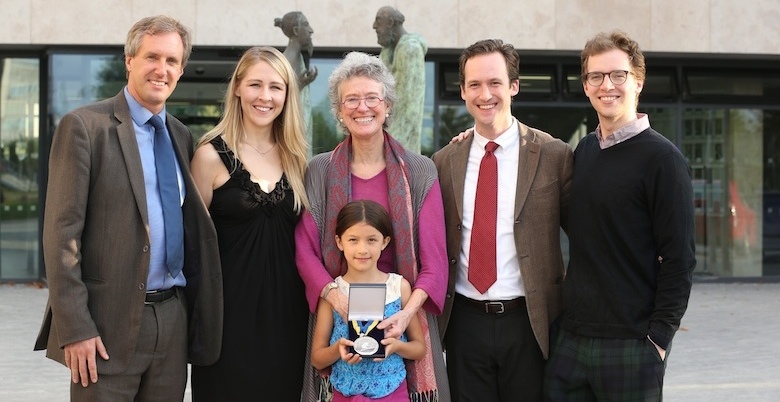 Posted 25 September 2015
Professor Arlie Russell Hochschild from the University of California, Berkeley, has been awarded with the UCD Ulysses Medal. The honour is the highest that can be bestowed by the university. Her seminal text, The Managed Heart, was a founding pillar in research on the sociology of emotion.
Prof Hochschild has produced an influential body of work exploring the ways in which humans manage emotions in their personal lives as well as in the workforce, an area she calls 'emotional labour'. Her work in this area has been mentioned in over half a million publications and cited in more than 10,000 academic papers.
She was presented with the Ulysses Medal at the UCD-TCD Sociology Public Lecture Series. Hochschild delivered a special address titled "Strangers in Their Own Land: Allegory, Emotion and Right Wing Opposition to Equality."
Its purpose was to explore the challenges to achieving equality in society. It drew on her recent research into the Tea Party in the southern United States and the reasons for its support. Her analysis explored the emotional pull of this and similar organisations as well as the rationale for their position on divisive issues.
"Arlie Russell Hochschild, professor emerita at the University of California, Berkeley, is one of the most influential sociologists of our time," said UCD President, Professor Andrew Deeks. "Her work moves thematically through key issues – the family, work, relationships, love and caring – and the influence of her ideas spans many disciplines and arenas."
The UCD Ulysses Medal was inaugurated in 2005 as a means of recognising individuals who have made an outstanding global contribution. Previous recipients include former US president, Bill Clinton, former Irish president, Mary McAleese, and Nobel Prize for Literature winner, Seamus Heaney.
Article by: Jonny Baxter, digital journalist.