Professor Barbara Dooley - Dean of Graduate Studies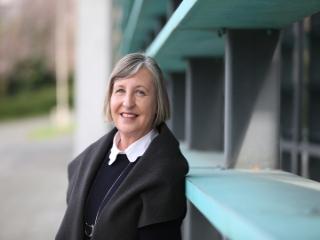 Professor Barbara Dooley is Dean of Graduate Studies and Deputy Registrar and was appointed in 2014. She has served as Acting Registrar and Deputy President of UCD (2022-23) and was also Vice-Principal for Teaching and Learning in the UCD College of Social Sciences and Law (2009-2014) and Head of the UCD School of Psychology (2005-2009). She is a member of the HSE National Office for Suicide Prevention Evaluation Advisory Group, Vice-President of the International Association for Youth Mental Health, and a member of the HRB National Drugs Strategy Research Subcommittee.
Professor Dooley holds a PhD in Psychology from UCD and is an active researcher in youth mental health with a particular interest in student mental health. In collaboration with the UCD School of Psychology and Jigsaw, the National Centre for Youth Mental Health, she was the Principal Investigator for the My World Survey (MWS). Two large scale studies (MWS1 published in 2012, and MSW2 published in 2019) assessed how different elements and experiences in the life of a young person may be related to their mental health. The MSW received combined responses from over 34,000 young people in Ireland and is Ireland's largest and most comprehensive study of young people's mental health and wellbeing.
As a psychologist, educator, and researcher, Professor Dooley believes strongly in the role wellbeing plays in allowing a student to achieve their potential. As leader of the implementation of the UCD Education and Student Success Strategy, her current priorities also include developing a framework for academic advice for students, faculty development, and leveraging the VLE to enhance student learning and engagement.