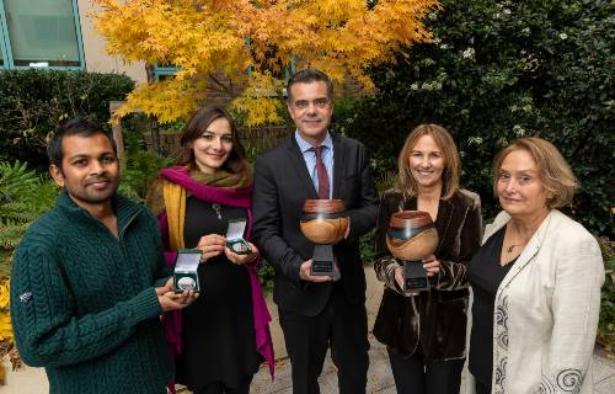 Modern history expert and author Professor Robert Gerwarth has won the distinguished Irish Research Council (IRC) Researcher of the Year Award for 2022.
These Awards commend the exceptional IRC funded researchers making considerable contributions to knowledge, society, culture, or innovation. The winners announced today were selected by an independent expert panel, chaired by Professor Áine Hyland.
Robert Gerwarth is Professor of Modern History at UCD School of History and Director of the UCD Centre for War Studies. His field of expertise is 20th-century Europe, with a particular emphasis on the history of political violence and armed conflict.
Professor Maria Baghramian, UCD School of Philosophy, was also highly commended in the Researcher of the Year category.
Professor Judith Harford, UCD School of Education, was awarded this year's Impact Award for her significant record of research impact 'beyond academia' in the area of gender, social class and inequalities in relation to education.
Dr Madhusanka Liyanage, UCD School of Computer Science, was highly commended in the Early Career Researcher of the Year Award.
The IRC also announced today four early career researchers who have won Medals of Excellence. Two of the four recipients are UCD researchers. Postdoctoral Researcher Dr Claudia Dellacasa, UCD School of English, Drama and Film is the winner of the Maurice J. Bric Medal as the top ranked post-doctoral fellow in the Arts, Humanities and Social Sciences. Postdoctoral Researcher Dr Amiya Pandit, UCD School of Civil Engineering, received the Thomas Mitchell Medal as the top-ranked post-doctoral fellow in the area of Science, Technology, Engineering and Mathematics.
8 UCD supervisors, mentors and research officers were awarded the IRC's 'Research Ally' prize, in recognition of the important work of supervising academics and research support staff behind the scenes.
Professor Orla Feely, UCD Vice President for Research, Innovation and Impact said: "Irish Research Council Awards are vital to supporting excellent research across all disciplines, and to enabling researchers in Ireland to deliver real impact. I am delighted to see the outstanding contributions of UCD researchers recognised so significantly today. I congratulate the award and medal winners, the highly commended researchers, and the mentors, supervisors and research officers for their commitment to research and their impact both within and beyond academia."
Director of the Irish Research Council, Dr Louise Callinan, congratulated this year's winners, saying: "The Researcher of the Year Awards provide an important opportunity to recognise the very best of the excellent researchers supported by the Irish Research Council and to highlight the tangible impact of public investment in research across all disciplines. The Irish Research Council is very proud to have provided vital support to the work of our awardees at various stages of their research careers. We extend our congratulations to each of our awardees as we acknowledge their significant contributions to the understanding of our shared past, present, and future from a diversity of perspectives."
IRC AWARDEES
Professor Robert Gerwarth is Director of the UCD Centre for War Studies. While his principal area of interest lies in World War I, World II and German history, one of his main objectives as a scholar has been to connect different national experiences in European countries. He is the author of several acclaimed popular history books, and his work has been translated into 30 languages.
Professor Gerwarth says that his first IRC award, a 2008 Major Thematic Research Grant held jointly with Professor John Horne (Trinity College Dublin), helped establish the UCD Centre for War Studies, and led to his 2009 ERC Starting Grant, the first for a humanities scholar in Ireland. He has had many funding successes subsequently, including further IRC funding, and in 2022 was awarded a highly prestigious ERC Advanced Grant.
He said: "I am absolutely delighted to be honoured by the Irish Research Council in this way. The Irish Research Council plays a critical role in this country's academic ecosystem and I cannot imagine the remarkable success of Ireland-based Humanities scholars at the European level without its existence."
Professor Maria Baghramian is a Full Professor of American Philosophy and a co-director of the UCD Post Graduate Programme in Cognitive Science. She is one of the foremost experts in her field internationally and sits on three European working groups on the topics of truth, trust and science. Her overarching research interest is in the possibility of objective knowledge in the face of intractable disagreements and incompatible knowledge claims, in both the natural and human sciences. Strands of her research relate to the problem of truth and objectivity, as well as expert knowledge, deep disagreement and the question of who to trust.
She said: "Abstract philosophical questions about truth, facts and knowledge have become centrally relevant to our socio-political discourse. I hope that my work can help to address some of the unexpected epistemic challenges faced by democracies today."
Professor Judith Harford is Deputy Head of UCD School of Education. Her research focus is on gender, social class and inequalities in relation to education, particularly in the Irish context. She has applied her research to raise awareness at national level of gender and social class inequalities in education, working with policy makers to achieve greater equity in and through education.
Her most impactful public projects include a study into the under-representation of women in senior positions in higher education, funded by the IRC, which led to a symposium on gender equality in higher education held in the Royal Irish Academy. She is leading a project called Power2Progress which is providing a dedicated programme to more than 600 senior cycle students in 21 designated disadvantaged schools nationally. She has also led a study into the participation of girls in STEM subjects in DEIS Schools.
She said: "I am really honoured to have been awarded the IRC Impact Researcher of the Year Award in recognition of my work in the area of gender and social class inequalities in education."
Dr Madhusanka Liyanage is an Ad Astra Fellow and Director of Graduate Research at the School of Computer Science at UCD. He is an internationally renowned expert in network security and privacy related to future 5G/6G telecommunication networks, with a specific focus on the application of novel technologies such as Artificial Intelligence (AI), Machine Learning (ML), and Blockchain technologies to improve the security and privacy of the future mobile network.
"I am deeply pleased and honoured to receive this special commendation. It shows that IRC has recognised the importance of both mine and my team's research work over the last few years. This really encourages us to keep continuing our work further. I am also very grateful to my colleagues within UCD, the school of computer science, and our global collaborators who helped me to get this special commendation."
Dr Claudia Dellacasa, School of English, Drama and Film was awarded an IRC Postdoctoral Award, the Maurice J. Bric Medal of Excellence (AHSS), for her project 'Intersectional Eco-Polyphony: Cross-Cultural and Cross-Species Dialogues in Contemporary Women's Writing (1960s-2020s)'.
She said: "In this project, I look at cross-cultural and cross-species dialogues in environmental writing by women authors that are variously connected to Buddhist philosophies. It is thus particularly important for me to be able to develop my work in those truly polyphonic spaces that are the Environmental Humanities research strand and the School of English, Drama and Film at UCD. Since I am committed to disseminating a non-hierarchical understanding of the world of which the human is part, I welcome the Maurice J. Bric Medal of Excellence as an achievement that, if nominally connected to my personal research, actually illuminates the broader and crucial necessity of the environmental humanities to navigate the present crisis – a necessity the IRC is dedicated to, and for this I am particularly grateful."
Dr Amiya Pandit, School of Civil Engineering was a awarded an IRC Postdoctoral Award, the Thomas Mitchell Medal of Excellence (STEM), for his project 'A novel combination of Tuned Mass Dampers and sloped wall Tuned Liquid Dampers for vibration control of offshore wind turbines (Damp-Wind)'.
He said: "The IRC postdoctoral fellowship is an extremely competitive and prestigious program that allowed me to work at one of the top institutions. The funding scheme is very important in providing me with international mobility to join UCD from India. This recognition will help me build an exceptional network with experts and allow me to gain a wide range of knowledge for the growth in my field of research."
The 8 'Research Ally' prize UCD recipients are
Associate Professor Roy Flechner (Mentor), UCD School of History
Assistant Professor Ruth Boeker (Mentor), UCD School of Philosophy
Assistant Professor Arjumand Younus (Mentor), UCD School of Sociology
Professor Eamonn Delahunt (Supervisor), UCD School of Public Health, Physiotherapy and Sports Science
Assistant Professor Noel McGrath (Supervisor), UCD Sutherland School of Law
Assistant Professor Gráinne O'Donoghue (Supervisor), UCD School of Public Health, Physiotherapy and Sports Science
Assistant Professor and Ad Astra Fellow Xingqi Zhang (Supervisor), UCD School of Electrical and Electronic Engineering
Research and Innovation Manager Suzanne d'Arcy (Research Officer), Research and Innovation Manager, UCD Sutherland School of Law
Further information on all of the awardees is available at: https://research.ie/news