This week, Queen's University Belfast welcomed Higher Education delegates, including research partners from UCD, as they hosted former US Secretary of State and Senator Hillary Clinton for the 25th anniversary of the Good Friday Agreement (GFA) at their three-day conference Agreement 25.
The occasion marks decades of growing stability and cooperation on the island of Ireland across several areas of common interest including higher education, research and innovation. All-island collaboration between higher education institutions (HEIs), Government, industry, the public and civic society has positioned research and innovation as a keystone underpinning the all-island economy.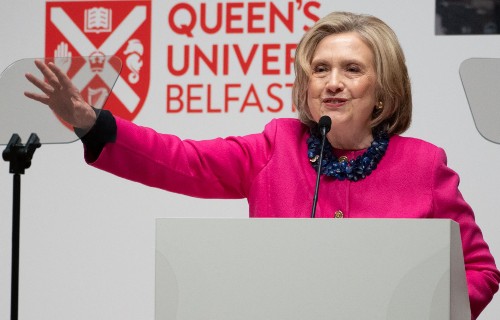 Last year, UCD and Queen's signed their own historic agreement to strengthen collaboration between the two universities, to meet the shared challenges and opportunities of the 21st Century. The Memorandum of Understanding (MoU) builds on decades of collaboration, formalising a shared vision to enhance skills, develop and attract talent and drive research and innovation – enabling their student and staff populations and their communities to play a critical role in advancing society across the island of Ireland and beyond, economically, socially and culturally.
On the conference opening day, which was set around the theme of 'reflection', Hillary Clinton, who is chancellor of Queen's, said: "On the 25th anniversary of the Good Friday Agreement, I think we can all agree to celebrate a significant milestone with both a sense of accomplishment but also of hope and determination that the next 25 years will bring more fully the peace, prosperity and safety the Agreement promised."
She added: "One of the goals of this conference is to recognise the role that women have played and are playing in peace-building, and we're also here to amplify the voices of the next generation of leaders, and to create a dialogue to address the major issues impacting society today."
The GFA commemorations inspire reflection on the scholarship and research impact of the last 25 years, emanating from a rich history of cross-border collaboration in education, research and innovation, and achieved through bonds of cooperation and mutual support that truly echo the spirit of the GFA. The following list tells that story, including research that recognises the role of women in peace-building and some that is generated by emerging academic leaders on the island of Ireland.
The making of the All-Island Cancer Research Institute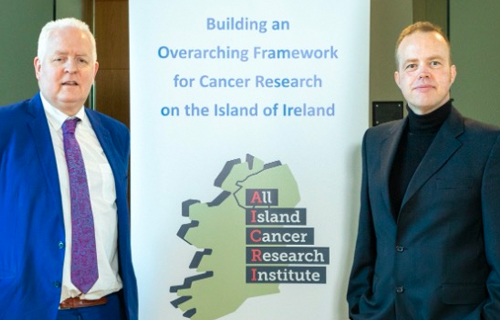 A lesser known impact of the GFA is that the signing of the agreement played a central role in uniting cancer research efforts north and south of the border. Coming together over 20 years ago, partners in Ireland, Northern Ireland and the National Cancer Institute (NCI) in the US formed a tripartite collaboration in the area of cancer.
In October 1999, pursuant to the GFA, a partnership was formed between the Departments of Health for Ireland and Northern Ireland and the US National Cancer Institute (NCI), giving rise to the Ireland-Northern Ireland-National Cancer Institute Cancer Consortium. Its impact has been literally life-changing for cancer patients on the island.
For two decades, the initiative was transformative for cancer researchers, leading to a doubling of collaborative cancer research on the island of Ireland, the creation of an all-island Cancer Atlas – published together by the cancer registries in Ireland and Northern Ireland –and paving the way for a number of significant partnerships with premier US cancer institutions.
Crucially, it saw over 35,000 cancer patients enrolled in clinical trials during the period, helping to save thousands of lives. While over 500 healthcare professionals and scientists were trained at the US National Cancer Institute, with many returning to enhance cancer research and its translation to better patient care on the island of Ireland. The consortium's agreement was renewed in March 2021, with additional endorsement by President Biden during his St. Patrick's Day address with the then Taoiseach Micheal Martin.
This also launch of the Higher Education Authority (HEA) North-South Research Programme later that July, supported through the Shared Island Fund in the Office of An Taoiseach, which has recently supported critical additional cross-border programmes in cancer research.
Led by Professor William Gallagher, UCD (pictured right), and Professor Mark Lawler, Queen's, (pictured left), in collaboration with eight other academic institutions, the All-Island Cancer Research Institute (AICRI) has evolved in recent years. AICRI strives to build an overarching framework for cancer research on the island of Ireland. Over €12 million of funding awarded through the first HEA call was linked to AICRI and this has provided the foundation stone for this rapidly emerging virtual institute.
Professor of Cancer Biology at UCD and AICRI co-lead, William Gallagher said: "Our main goal within AICRI is to help cancer patients live longer and better after their diagnosis, by harnessing the various skills and expertise of our cancer research community and other stakeholders. While one-in-two people on this island are expected to be diagnosed with cancer at some point in their lifetime, research can change the goalposts in terms of earlier detection, improved treatment and survivorship. With this key initial funding, we can now embark on creating and embedding a fully integrated framework for cancer research on these shores."
Read the full article on Irish Central by Professor William Gallagher and Professor Mark Lawlor.
Building Bridges Together: The US-Ireland Research & Development Programme
One of the institutions created by the GFA, the North-South Ministerial Council, brought together leaders from the Northern Irish and Irish governments to develop consultation and cooperation, especially on key areas of interest and importance. Although R&D was not expressly listed as an area of potential cooperation under the GFA, sectors including health, environment and agriculture were identified as priority areas for enhanced cross-border work, alongside boosting economic cooperation and opportunity and strengthening links with the US.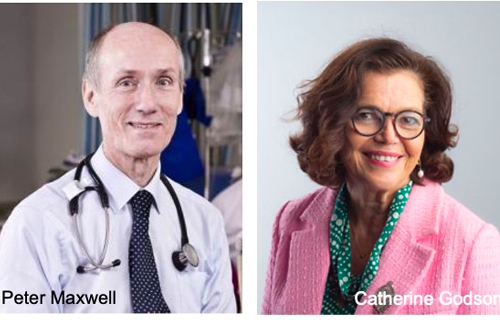 Stemming from that, the US-Ireland Research and Development Partnership was created and formally launched in 2006. It was a unique tripartite programme involving funding agencies in the US, Republic of Ireland and Northern Ireland, to increase the level of collaborative R&D between researchers and industry across the three regions in pursuit of valuable discoveries and innovations with commercial applications or that will translate to real-word impacts in health, disease prevention or healthcare.
To date, the programme has funded almost 100 projects between parties in the three jurisdictions, amounting to R&D funding capture of over €135 million (£121/$150m).
A cross-border group of researchers working towards a functional genomics pipeline for genetic discovery in diabetic kidney disease, led in UCD by Professor Catherine Godson (pictured right), director of UCD Diabetes Complications Research Centre, and in Queen's by Professor Peter Maxwell of the Centre for Public Health (pictured left), received the first grant in 2008.
The group has since gained two further grants from the scheme, including a landmark award this March - co-led by Professor Godson at UCD and Professor Amy Jayne McKnight and Dr Gareth McKay in Queen's, following Prof Maxwell's retirement - in partnership with Harvard Medical School and Massachusetts General Hospital in the US – and their work has been recognised as serving a major public health problem worldwide.
The project is co-funded by the Irish Health Research Board, Science Foundation Ireland, the National Science Foundation and National Institutes of Health in the USA, and the Department for the Economy (DfE) and the Health & Social Care R&D Division in Northern Ireland.
Breaking New Ground: All-Ireland Rare Diseases Interdisciplinary Research Network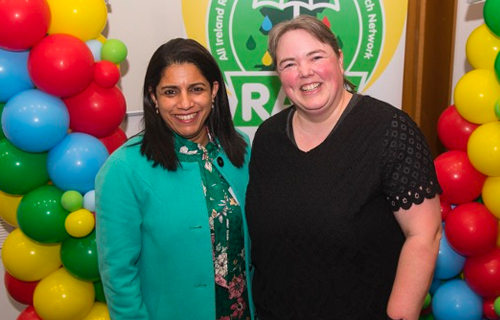 UCD, Queen's and 33 partners this year launched the All-Ireland Rare Disease Interdisciplinary Research Network (RAiN), led from UCD by Associate Professor Suja Somanadhan, UCD School of Nursing, Midwifery and Health Systems (pictured left), and Professor Amy Jayne McKnight, Professor of Molecular Epidemiology and Public Health at Queen's and also member of the UCD-Queen's diabetic kidney disease genetics research group (pictured right).
The ambitious initiative received funding from the Department of An Taoiseach Shared Island fund, via the Irish Research Council's 'New Foundations' programme, to tackle an underserved area of health research. The network brings together, for the first time, academics, clinicians, patient and family advocate parties, government and public sector bodies to achieve better care and health outcomes for patients and their families living with rare diseases – including rare childhood cancers.
Collectively, rare diseases impact more than 400,000 people across the island of Ireland - as many people as are living with diabetes, yet rare diseases receive much less recognition and support.
Taoiseach Leo Varadkar, TD said: "I am pleased to announce the launch of the All-Ireland Rare Diseases Interdisciplinary Research Network, which will strengthen cross border links between academic, clinical health, and social care researchers working to improve the lives of people affected by rare disorders. Through the RAiN network, researchers will work in partnership with patients and families to make real impacts in the day-to-day care, treatment and management for those living with conditions such as cystic fibrosis, PKU, chromosomal anomalies, and childhood cancers, and enhance cooperation in how we respond to these challenges on an all-island basis."
Ensuring Food Security on the Island of Ireland
The culmination of many years of collaboration in different areas of agri-food research, UCD and Queen's brought together an all-island network to ensure food security and sustainability for the whole region.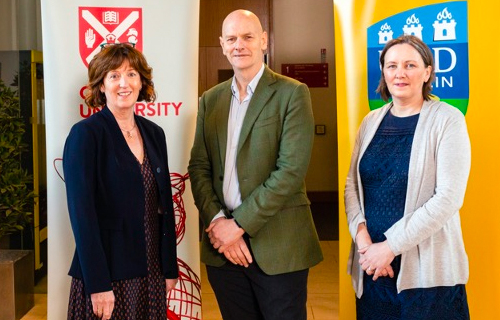 In March 2022, Irish Minister for Agriculture, Food and the Marine, Charlie McConalogue TD, and Minister of Agriculture, Environment, and Rural Affairs of Northern Ireland, Edwin Poots, launched the All-Island Food Integrity Initiative (FOOD-I), led by Professor Eileen Gibney, UCD, and Professor Aedín Cassidy, Queen's (pictured on the left with Prof Christ Elliot, Queen's, and Prof Fiona Doohan, UCD, from FOOD-I and the Food Shield project).
The new network consolidates food systems expertise on the island of Ireland, bringing together key academic, industry and government stakeholders. It also produced a first-of-its-kind report maps the agri-food research ecosystem for publicly funded research across the entire island of Ireland, awarded between 2015 and 2020.
To date, FOOD-I members have coordinated several projects – across the domains of Sustainable Food Production, Nutrition & Health, Food Safety & Integrity, and Supporting Change for a Healthy, Sustainable Food System – including Protein-I (enhancing the sustainability of protein production), Mycotox-I (Field to fork assessment and mitigation of mycotoxin exposure risk on the island of Ireland) and Food Shield (Resilience, growth and digitisation of Food and Feed Supply Systems).
Other important research collaborations include the work of Dr Kieran Meade, UCD School of Agriculture and Food Science, and Professor Ilias Kyriazakis, Queen's, Institute for Global Food Security, with the Northern Ireland Agri-Food and Biosciences Institute (AFBI), on the recurring problem bovine TB across the island. And the work of Dr Edel Kelly, Dr Magdalena Necpalova, Associate Professor Paul Murphy (UCD , UCD School of Agriculture and Food Science/UCD Institute of Food and Health) with Professor John McGrath, Queen's School of Biological Sciences and IGFS and a Director of the Irish Nutrient Sustainability Platform, on LAB-MACC (Land-Use, Agriculture and Bioenergy Measures for the Abatement of Climate Change and inclusion in Marginal Abatement Cost Curve analyses).
Improving Children's Lives on the Island of Ireland
Founded by collaborating researchers in 2015, the Helping Kids! project aims to explore developmental changes related to children's prosocial behaviours in a post-accord generation on the island of Ireland and around the world.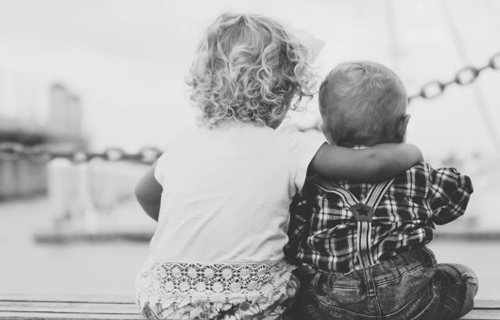 Led by Associate Professor Laura Taylor, formerly UCD and Queen's, now UCD School of Psychology, and colleagues from Queen's, UCD and other universities, it is an international project collecting data in five different countries (Republic of Ireland, Northern Ireland, Kosovo, Macedonio and Israel), exploring children's empathy and prosocial behaviours within a developmental intergroup framework.
Helping Kids! runs multiple projects including Generation Peace, PEACE IV, and the Developing Beliefs Network (Northern Ireland and the Republic of Ireland). The latter is funded by the John Templeton Foundation, working with cultural-religious groups including catholics and protestants living in Northern Ireland, UK and Republic of Ireland, and led by Dr Jocelyn Dautel, Queen's School of Psychology.
In the field of Education, the Standing Conference on Teacher Education North and South (SCoTENS), funded under the HEA North-South Research Programme, supports research including: 'Enhancing educational attainment – sharing experience and learning on a shared island;' and 'How we teach – acknowledging, understanding and learning with others and from others on a shared island.'
Run by Dr Seaneen Sloan, UCD School of Education, and Dr Glenda Walsh, Dr Jill Dunne, Dr Ken Gibson and Dr Karen Orr, Queen's, Stranmillis College, the collaboration produced The BUDDIES study report in October 2022.
Reconciliation
Researchers from Queen's, UCD and University of Liverpool established the multi-partner project 'The Art of Reconciliation: Do Reconciliation-Funded Arts Projects Transform Conflict?' to undertake the (rarely attempted) evaluation of long-term impacts of arts and cultural initiatives in post-conflict transformation.
Funded by the Arts and Humanities Research Council UK (AHRC), and led by Des O'Rawe, Queen's (The Senator George J Mitchell Institute for Global Peace, Security and Justice), with David Grant and Matthew Jennings, Queen's, Victoria Durrer, UCD, and Peter Shirlow and Peter Campbell, University of Liverpool, the project brings together academics and from different countries (including Europe and the US) with stakeholders from arts and theatre companies.
Dr Maria-Adriana Deiana, from Queen's, School of History, Anthropology, Politics and Philosophy, and Dr Heidi Riley, UCD School of Politics and International Relations, established 'Talk4Peace: Transformative mediation as a mechanism for inclusive dialogue and peacebuilding on the island of Ireland.'
Their work assesses transformative mediation's potential to promote an inclusive peace through the engagement of women and other minoritised groups as key actors, and to support dialogue and cultural understanding through a wide array of mediation techniques. The project produced a range of outputs, including a short film on women working in the field of mediation on the island of Ireland. See also the UCD impact case study 'Promoting women in peace mediation across the island of Ireland.'
Dr Anne-Marie McAlinden, Queen's, School of Law and the Senator George J Mitchell Institute for Global Peace, Security and Justice, and Associate Professor Marie Keenan, UCD School of Social Policy, Social Work and Social Justice, launched 'Transforming Justice: An All-Island Examination of Justice Responses to Historical Institutional Abuse North and South (TJHIA) – funded by the Irish Higher Education Authority (HEA) with support from the Arts and Humanities Research Council UK.
Culture and Society
Funded under the first call of the HEA North-South Research Programme, the ground-breaking project Youth Dance Matters was created by Dr Victoria Durrer (pictured right), UCD, and Dr Aoife McGrath, Queen's (pictured left), to conduct a cross-border investigation of the shared value and capacity of youth dance on the island of Ireland, through combined dance and social science research. The study draws together scholarship in dance, performance, cultural policy, cultural industries, youth development and youth arts studies and grounds it within post conflict and cross border scholarship.
A second joint project from Dr McGrath and Dr Durrer has published the report 'Building Capacity for the Cultural Industries: Towards a Shared Island Approach for Dance and Theatre,' and is hailed by stakeholders north and south for its vital contribution, e.g. Kerry McCall Magan, British Council of Ireland, who said the research makes "a seminal contribution to understanding cross-island relationships, policies and practices in the performing arts."
In the legal field, Dr Maebh Harding, UCD Sutherland School of Law, and Professor Aoife O'Donohue, Queen's, School of Law, founded the IRC/Shared Island-funded project Doing Feminist Legal Work (DFLW), to bring together legal scholars across Ireland, Northern Ireland and Britain. DFLW pushes the boundaries of feminist thinking and legal work to promote a more inclusive idea of what law is and can be across Ireland. It consolidates existing ad hoc networks into a permanent collective, building on important collaborative feminist work such as the Northern/Irish Feminist Legal Judgments Project (Bloomsbury, 2017), the Mother and Baby Homes Report: Reaching Different Conclusions, and the Northern/Ireland Feminist Constitutions project.
In politics, the Joseph Rowntree Charitable Trust (JRCT) funded the 'Mini-Public Deliberative Forum on Constitutional Futures' from the Constitutional Futures After Brexit project, led by Dr Paul Gillespie, UCD School of Politics and International Relations, Professor John Garry, The Democracy Unit, Queen's, and Professor Brendan O'Leary, Centre for the Study of Ethnic Conflict in University of Pennsylvania. The deliberative forum held in April 2021 was organised to ensure greater citizen engagement in public policy and political decisions through an inclusive, fair and accurate consultation process open to multiple perspectives.
Outside of the UCD-Queen's relationship, Dr Charles Ivar McGrath, UCD School of History, and Dr Suzanne Forbes, Open University, have conducted seminal research on 'Our Shared Built Military Heritage' (the online mapping, inventorying and recording of the army barracks of Ireland, 1690-1921). Funded by the Government of Ireland 'Shared Island' fund though the HEA North-South Research Programme, the project is uncovering the story of barracks on both sides of the border to help the public learn more about the sites and develop a new understanding and appreciation for that history and its place within the island's shares built heritage and culture.
Language and Culture Revival
The GFA expressly stipulated the creation of a North-South implementation body for the promotion of both Irish and the Ulster Scots languages. Under the auspices of this body, Tha Boord O Ulstèr-Scotch and Foras na Gaeilge carry out promotion of the languages throughout the island of Ireland and work toward building a more inclusive society.
Foras na Gaeilge is chaired by Professor Regina Ni Chollatain, College Principal of UCD College of Arts and Humanities, and has former Queen's research staff and alumni on its board of management. Both universities have been energetic in their promotion and revival of the Irish language especially, through their education and research programmes and student societies.
One programme supported is Turas, led by Irish language activist Linda Ervine MBE (pictured right), which seeks to foster peace and inclusivity by establishing an Irish language project in the heart of East Belfast. Last year, she gave a keynote address at Queen's, followed by a question and answer session chaired by Professor Mícheál Ó Mainnín (pictured left) from the university's School of Arts, English and Languages.
The Journey to Sustainable Energy
Led by the UCD Energy Institute and supported by Queen's and seven other research organisations (ESRI, DCU, NUI Galway, Maynooth University, Trinity College Dublin, UCC, and Ulster University), and nine co-funding industry partners, the cross-border consortium has an ambitious plan for development of energy integration technology that will pave the way towards net zero transition in the energy industry on the island of Ireland. NexSys (Next Generation Energy Systems) will also deliver a comprehensive programme of training for researchers in collaboration with industry over the next five years.
Director of NexSys and UCD Energy Institute, Professor Andrew Keane said: "NexSys is about the future, the future of our energy system and how we get to 'Net Zero Carbon' and also about developing our island's talent to shape our future energy system. Solutions are front and centre of what we are developing. We are uniquely placed with our industry partnerships to develop cutting edge technologies alongside developing engagement and dialogue with society on the energy transition. The partnership will have potentially transformative socio-economic impacts, and will further enhance the global reputation of Irish research in the energy sector."