Research
SMARTlab is engaged in transdisciplinary research around how Creative Technology Innovation can improve the lives of people and help the planet thrive. The practice-based PhD-programme integrates a mix of academic- and industry-led focus.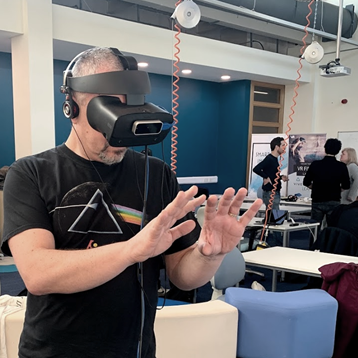 SMARTlab Research
SMARTlab is engaged in a broad spectrum of research areas, all with a focus around how Creative Technology Innovation can make a positive impact on the planet and humanity. SMARTlab researchers are active in the design of new bespoke tools and assessing their potential through socially based research models.
The SMARTlab method is intrinsically transdisciplinary, and brings together specialists from around the world. The group works collaboratively together and with practitioners and experts from relevant fields.
The programme currently supports a cohort of 35 international PhD candidates. Research topics include: Affective Computing, Artificial Intelligence, Arts and Culture, Assistive Technologies and Inclusive Design, Bioengineering, Diversity and Inclusion, Emerging Tech and Deep Tech, Foresight and Futures, Game Design, Gender and Representation Studies, Human Computer Interaction (HCI), Immersive Storytelling, Media and Performance Technologies, Robotics, Social Innovation, Sonic Arts & 360 Experience Design, Unconscious Bias and Equality, Wearables and Smart Textiles, Women's Leadership, and XR.
Globally, SMARTlab has graduated more practice-based PhDs in interdisciplinary impact areas than any other PhD programme and has influenced Academia, Arts, Culture and Media, Economics, Education and Learning, Engineering and Architecture, Health and Wellbeing, Labour and Work, Manufacturing, Mobility and Transportation, and Public Policy.
Graduates are university presidents and esteemed chairs, technology industry leaders and heads of NGOs, as well as teachers, social entrepreneurs, and innovators.