UCD School of Archaeology is sad to record the death of our former colleague Hilary Richardson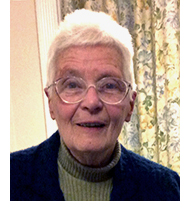 The UCD School of Archaeology is sad to record the death of our former colleague Hilary Richardson who passed away aged 85 in the first week of November 2015. Hilary, who retired from UCD in the early 1990s, will be remembered fondly by older generations of former students for the distinctive style of her lectures on Early Medieval insular artwork and its background. Those who sought her assistance individually will remember her overwhelming generosity with her time and expertise.
A Cambridge graduate in Archaeology and Anthropology, where she studied under Glyn Daniel amongst others, she later studied History of Art under the guidance of Françoise Henry at UCD and developed her interests further at the National College of Art in Dublin. On Françoise Henry's appointment as first head of the Department of the History of European Painting at UCD (coincidentally fifty years ago, in 1965), Hilary became curator of Dr. Henry's archive in the UCD School of Archaeology. Her research and lectures on manuscript illumination, metalwork decoration and stone carving brought her increasingly into contact with the East Mediterranean and the Caucasus, and in 1985 she was the first holder of the Royal Irish Academy's exchange fellowship with the former USSR Academy of Sciences.
Hilary Richardson contributed to international conferences and published many papers on her research interests. Today she may be best remembered for her bookIntroduction to Irish High Crosses (with John Scarry), published by Mercier Press, Cork, 1990, and her chapter on Visual Arts and Society in A New History of Ireland, vol. I, Oxford , 2005. Some of her work might be considered traditional by today's tastes but she represented a strand of scholarship that will be difficult to sustain without her. She was an academic in the truest sense and was still to be seen at the photocopying machines in the Newman Building up to a few months before she died. Hilary was also a gifted artist and illustrator. Her most famous piece of illustration is perhaps the classic development of the decoration on the famous Knowth mace head, first published in volume 112 of the Journal of the Royal Society of Antiquaries of Ireland (1982) as part of the paper she co-authored with George Eogan on his discovery of the mace head in that year.