Settling the Prehistoric Landscape: the Burren Uplands, Co. Clare.
PhD Candidate: Christine Grant
Supervisors: Professor Gabriel Cooney
Funded By: Department of Arts, Heritage and the Gaeltacht
Abstract
The Burren is one of the best preserved archaeological landscapes in Ireland. Recent research has shown that the number of prehistoric enclosures on the Burren Uplands is currently under represented in the record. It is intended to assess the significance of the record of prehistoric enclosures on the Burren Uplands, their associated land use systems and the implications for identifying patterns of social organisation. This study will assess the enclosures in terms of their structure, layout and location. It will also examine their relationship to boundary patterns, and associated funerary/ritual monuments.
Different types and different arrangements of enclosures may imply different functional areas within larger land-use systems and different periods of occupation. Some of the settlements appear to have elements from various periods of prehistory. Similarities and variations in structure, size, location and layout may facilitate an overview of the development of settlement features across the landscape throughout prehistory.
This study will sample four areas on the uplands, two located on the plateau, at Kilcorney and Cahermackirilla, and two on the northern hills, at Ceapagh an Bháile and Aillwee Hill. In each of the four study areas there are notable differences between the scale of activity and the resulting relationships between the settlement enclosures and associated monuments. The areas chosen provide an opportunity to compare variations in approach to settlement and land use between similar topographic areas.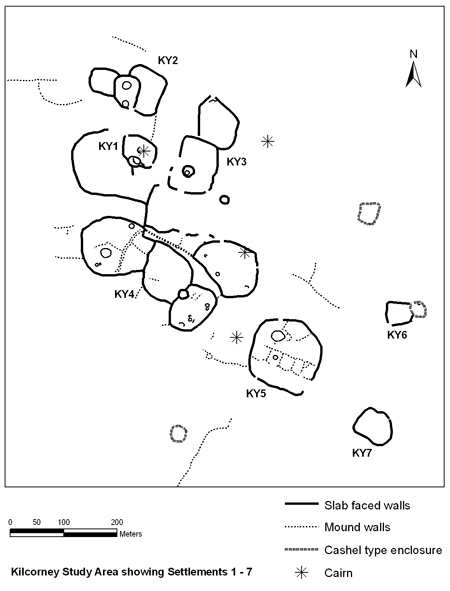 This project will have a significant fieldwork element. A simplified remote sensing methodology has been developed to identify and map archaeological remains from the study areas. Each settlement area will be mapped along with its immediate environs, to include field boundaries and funerary monuments. The mapped features will then be classified through field survey. Subsequent analysis using GIS will consider the association of settlement enclosures and field boundaries in relation to topography and also the role of funerary/ritual monuments in terms of defining space within these systems. In order to understand the significance of choices made in relation to the placement and organisation of settlement features it is essential to understand the landscape in which this activity takes place, from topography and availability of natural resources to the agricultural potential, as well as movement and contact with surrounding regions. A deeper understanding of settlement and land use systems is necessary in order to expand our knowledge of social organisation in the prehistoric period.
Previous researchers have proposed theoretical models of social organisation and land use based on enclosure types from different periods of the Bronze Age and with associated field systems. These studies will be used as a basis for comparative analysis. Previous work conducted on boundaries on the Burren and elsewhere in Ireland and Europe will form the basis of assessing prehistoric boundaries and their relationship to the enclosure settlements.